Sharp Showcases New Quattron 3D LCD TVs at IFA 2010
LCD pioneer Sharp is showacasing its Quattron technology for LCD TVs at IFA 2010, promising to offer the best picture on an LCD TV currently available with the lowest energy consumption at the same time ? in 2D and 3D. Quattron is the technological basis for Sharp's LCD business. It is a four-primary-color technology. The technology adds Y (yellow) to the three RBG (red, blue, green) primary colors, resulting to vivid, high-quality images. It is based on Sharp's proprietary UV2A technology, Sharp's photo-alignment technology that can precisely control the alignment of liquid crystal molecules using a manufacturing method based on UV light exposure.
Sharp is presenting in Quattron 3D its technological approach for the brilliant display of three-dimensional pictures for screens in sizes of up to 60 inches.
"Whether people opt for 2D or 3D, the top trend for consumers is and remains achieving the best picture on an LCD TV. In Quattron we are presenting a one-of-a-kind technology which once again is setting new standards in terms of picture quality and energy consumption in LCD TVs and which is being recognised by customers. This is clearly evidenced by the success of our new four-colour technology in Europe," says Hiroshi Sasaoka, CEO Sharp Electronics Europe GmbH. "In Quattron we have developed the technological basis for the months ahead in our core business of LCD TVs which is ensuring a huge lead for us over the competition, particularly in the fiercely contested segment of large-format 3D-ready TVs," Sasaoka continues.
At IFA 2010, Sharp presented the LE925E series of 3D LCD TVs. Available in screen sizes of 152 and 117 centimetres, these TVs combine Quattron 3D, a 200 Hertz Scanning Backlight System, AQUOS Net+, a digital triple tuner (HD DVB-S2, DVB-C, DVB-T) and 8 GB Timeshift. Further, a significant improvement in a brightness of approximately 1.8 times greater than the conventional three-primary-color LCD panels (Sharp's previous technology) enables users to 3D images with minimal crosstalk.
Its sister model the 40LE924E is available with a screen size of 102 centimetres. The LE824 and LE814E series are respectively upgrades of the LE822E and LE812 LCD TVs launched on the market in July. These televisions, available in 117 and 102 centimetres respectively, also integrate the AQUOS NET+ internet interface. This feature provides users with TV websites specially optimised for AQUOS, such as YouTube, eBay or Facebook.
With its Quattron models, Sharp has also introduced a new AQUOS design. Rounded shapes, high-quality materials such as glass or metal and innovative controls such as a touch panel on the underside of the frame speak for themselves. In addition, for easier operation, the most important controls have been placed directly on the remote control ? which now also includes an Eco Control Button, or, in the case of the LE925E, a 3D button. Sharp has also built a 2.1 Sound Effect System with subwoofer unit into these slim TVs.
The five models will be released in Europe in September
The latest generation of AQUOS Quattron LCD TVs comes from Sakai, the world's first and only G10 LCD factory.
Major Features
1. Four-primary-color technology faithfully renders colors to provide high-quality images.
2. 3D images with screen brightness approximately 1.8 times higher than previous models (LE925 Series).
3. AQUOS NET+ allows user to easily view a wide variety of video contents and services on the internet.
4. Stylish models feature thin and seamless full-flat design just 3.9 cm thick (LE925, LE924, LE824 Series).
5. Industry's leading class level high energy performance.
Ultra Slim a 3D capable Blu-ray Player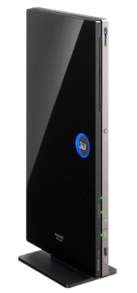 As a technical high-end device, the new BD-HP90S transmits 3D and 2D pictures to your television set.
It has a built-in wireless LAN function, allowing users to establish a wireless connection via DLNA to other devices in the home network in order to transmit music, photos or videos from PC to TV. Another practical feature is its ability to play YouTube videos directly. Additionally, the Internet connection has the further advantage of enabling automatic updates of the Blu-ray player software.
With the new "On-Screen Control Panel" function, the basic functions of the Sharp Blu-ray player can be controlled from an on-screen menu by means of a suitably equipped TV remote control, even from other manufacturers.
The fact that the BD-HP90S finds its perfect partner in a Sharp AQUOS LCD TV can particularly be seen in the "AQUOS Pure Mode" function. After connecting the Blu-ray player to a Sharp AQUOS LCD TV by HDMI cable, the BD HP90S automatically optimises the picture transmission settings.
The 3D Blu-ray player (BD-HP90S) is also available in the UK from November 2010. It will be priced at &pounds;379.99.