Sony Released The BWU-500S 12x Blu-ray Disc Burner
Sony Optiarc has launched a new 12x Blu-ray Disc writer, the BWU-500S. The company also released a new external 6x Blu-ray Disc writer for intensive media users called BDX-S500U.
Sony BWU-500S 12x BD burner
The BWU-500S writes high-resolution TV images and personal memories in optimum quality to Blu-ray Discs or DVDs. It can be also used as playback unit for HD flat screens or HD computer projectors. The BWU-500S is also equipped for future movie, TV and gaming applications - and it plays back 3D movies.
The device comes with a complete CyberLink software suite, which includes programs such as the DVD/Blu-ray Disc playback software, PowerDVD, the video editing software, PowerDirector, and the DVD/BD authoring software, PowerProducer.
The new half-height BWU-500S Blu-ray Disc writer from Sony Optiarc takes around 10 minutes to write a single layer BD-R disc (25 GB) at 12x. It also writes dual-layer BD-Rs (50 GB) at up to 8x speed. The drive can also write DVDs at up to 16x speed, DVD-RAMs at up to 12x speed and CDs at up to 48x speed.
A bulk version of the Blu-ray Disc writer is also available from Sony Optiarc with the product designation BD-5300S. Both devices will be available from October onwards. Sony Optiarc offers a 24-month warranty on the drives.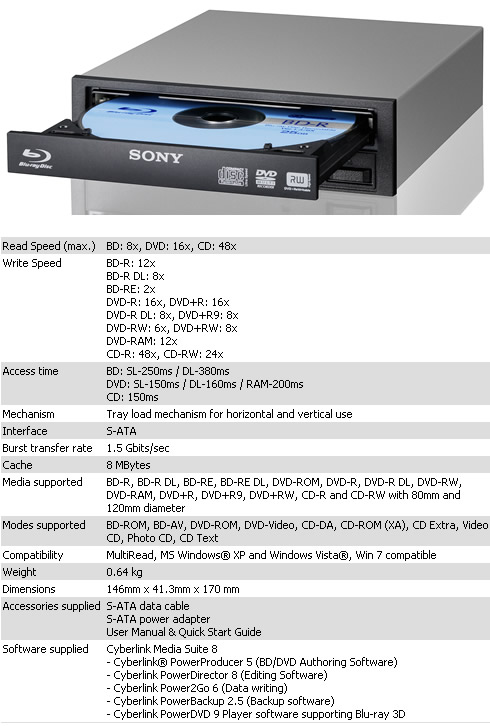 Sony BDX-S500U 6x External BD burner
Sony Optiarc has also launched a new external Blu-ray Disc writer called BDX-S500U. The device replaces writes to Blu-ray Disc at 6x speed, plays Blu-ray Disc movies, DVDs and CDs, archives large quantities of data and is suitable as a back-up medium and playback unit for practically any kind of terminal device.
Delivered with the CyberLink BD Suite, the external burner could replace the DVD player in the home cinema system. It is also optimally equipped for future home cinema applications as one of the first Blu-ray Disc players for 3D movies.
The burner comes with CyberLink's Media Suite 8.
Sony Optiarc?s new flagship product writes single layer BD-R media (25 GB) in around 20 minutes (6x) and double layer BD-R (50 GB) media at up to 4x speed. The BDX-S500U can write DVDs at up to 8x speed, DVD-RAMs at up to 5x speed and CDs at up to 24x speed.
Available from September onwards, it comes with a 25 GB blank so that it?s ready for use straight away.
Sony Optiarc Europe offers a 24-month warranty on the drive.