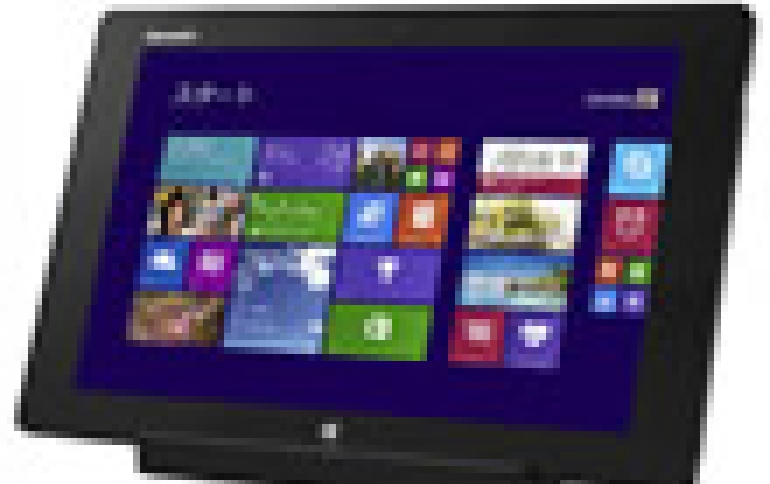 Sharp Showcases Medius Pad Tablet, MEMS Display At CEATEC
Sharp is showcasing its new Windows 8 tablet, the Mebius Pad, coming with a 2,560 x 1,600 resolution , IGZO display, at the CEATEC show in Japan. Set for release in January 2014, the tablet features a 10.1-inch IGZO panel (331ppi density, 16:10 aspect ratio) and it is powered by an Intel Z3370 quad-core Atom processor.
The 331 pixels per inch screen is sharper than the 9.7-inch iPad (264 ppi).
The tablet will be available in versions running both Windows 8.1 and Windows Pro 8.1. The Windows 8.1 model will arrive with Office for free. In adition, the tablet is both water and dust-proof and features LTE radios on board.
Sharp on Monday also showed off its latest prototypes of microelectromechanical systems (MEMS) displays, a new type of display screen that it says brings advantages over today's liquid crystal display (LCD) screens.
The displays are based on a MEMS-based digital micro shutter that modulates light from an RGB LED backlight. A high switching speed makes it suitable for applications ranging from full-speed video to e-reader operation and Sharp claims that the displays the same basic characteristics - wide viewing angles, contrast ratio and color depth - wile it consumes significantly less power compared to equivalent in size and resolution liquid crystal displays.
The screens on show at Ceatec were 7-inch models with 800 pixel by 1,280 pixel resolution at 220 ppi. Sharp also showed a version of the screen working in several low power modes.
The development work with Qualcomm began earlier this year when the U.S. company said it would invest $120 million into Sharp.
Sharp has also on display at CEATEC a 15.6-inch 4K2K (282ppi) IGZO display for notebooks and a 13.3-inch 2,560 x 1,440 (221ppi) IGZO touch panel prototype.