Sharp Returns to CES With Consumer 8K Cameras, Dynabook Revival
Sharp returned to the CES 2019 event for the first time in four years since Sharp set up a full-scale exhibit in Las Vegas.
Speaking at the company's booth, Bob Ishida, Executive Vice President and Head of AIoT Business Strategy Office, emphasized the message at the core of the company's global positioning: "Changing the world with 8K and AIoT." Sharp's booth includes four areas dedicated to 8K, AIoT, Home, and Business.
The company is showcsaing an "8K Ecosystem" built upon 8K-related equipment, devices, and solutions and "AIoT Solutions" driven by AIoT home appliances, robotics, sensors, and other devices. Moreover, Sharp provided home and B2B scenarios.
Sharp's 8K Ecosystem and AIoT Solutions, like the COCORO+ service, has been so far focused on the Japanese market. The company is now trying to expand to the global markets and especially the U.S.
Sharp's AQUOS TV brand had been licensed in Chinese Hisense, meaning that Sharp itself was not able to AQUOS TV in the U.S. Now, under the Hon Hai umbrella, Sharp wants to make a come back, with the promotion of the new 8K TVs.
At its booth, Sharp has on display reference designs of professional and consumer 8K cameras, BtoB proposals of 8K displays with 5G connectivity, 8K TV monitors, a an image processing SoC for 8K TVs, a 280-inch 8K video wall based on 16 displays, along with a flexible OLED. Also on display are 8K solutions (developments for IP transmission, 5G, and education) and 8K up-conversion technology concepts.
Among the interesting products on display is a 8K prosumer camera, although it was a was a mock-up. Sharp said that it plans to bring it in production in 2019. The company is looking to bring it to market for around US$5,000.
The camera uses a Shark 8K CMOS sensor, and has a Micro Four Thirds mount. Sharp has said it's working to include image stabilization, and that the camera can do 8K at 30 fps, but could possible reach 8K 60fps.
The 10-bit camera uses the H.265 codec and has an SD Card slot, along with HDMI and USB Type-C connections, along with headphone, microphone, and mini XLR ports. It also has a 5" flip-out screen.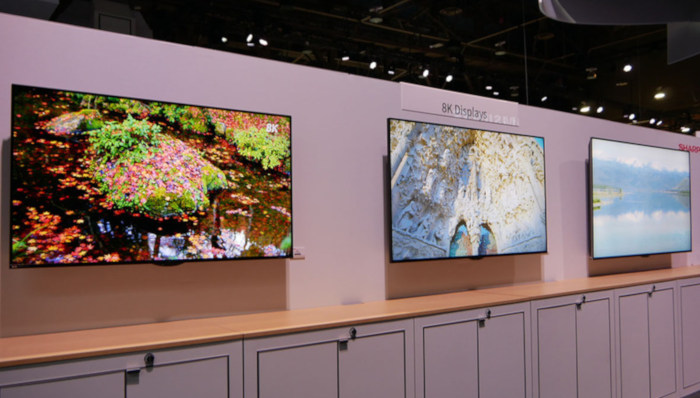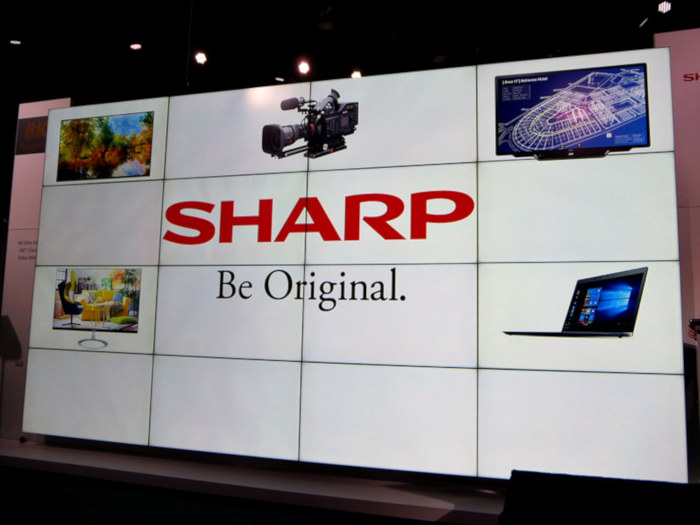 Sharp has acquired an 80.1 percent stake in Toshiba's PC unit. Earlier this week, Toshiba America Client Solutions, Inc. (TACS) announced plans to use dynabook branding on its portfolio of mobile computers and IoT Solutions in the United States. The has started implementing the dynabook branding on its products and services.
TACS showcased the new branding on its existing product lines at CES 2019 in the Sharp Booth.
In the the AIoT / Home segment, Shap showcases pet solutions (pet care monitor for cats, vital statistics system for dogs), RoBoHoN application solutions, a kitchen suite along with home appliances (superheated steam oven, air purifier, related applications).