Samsung's 2017 Home Entertainment Lineup Available In The U.S.
Samsung today announced availability of its premium flagship QLED televisions in the U.S. and revealed a new lifestyle TV, The Frame. The company also highlighted its new AV lineup including the Sound+ soundbar and new UBD-M9500 Blu-ray player.
The latest QLED TVs focus on addressing three key consumer paint points through the solutions known as Q Picture, Q Smart and Q Style. Samsung collaborated with Yves Behar, a renowned Swiss designer, to create its latest lifestyle TV, The Frame, to offer an elegant TV that blends into the interior of any home.
The QLED TV brings advancements in light efficiency, stability and a wider color spectrum. Samsung claims that with the new metal Quantum dots, the QLED TV addresses all the major aspects of picture quality, including viewing angle, color volume, brightness and bold contrast. The QLED TV achieves 100 percent color volume - the highest on the market today.
In addition, the QLED TV's HDR 1500 functionality allows users to see every hidden detail as it was meant to be seen, with no loss or distortion of color.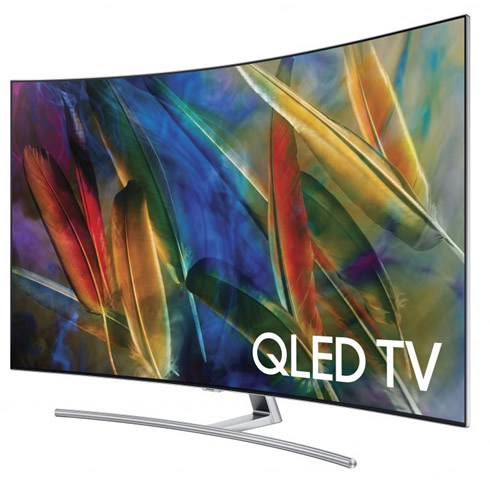 Samsung's Smart Hub has been expanded. The enhanced Samsung One Remote Control now supports more devices and offers voice control capabilities across more Smart TV features. Paired with the latest Smart View App - available on Android or iOS mobile devices - users will enjoy their personalized Smart Hub.
Additionally, Samsung's TV Plus service offers am easy way to find, purchase and watch the latest 4K films and entertainment. Samsung has placed all of its music partners within the music tile, and the user has a unified view of all their playlists and radio stations across services.
This year, Samsung introduced new design elements that can fit into any home. The all-new Invisible Connection cable helps manage unsightly cords and clutter with a single cord system. Consumers can now design their space with a single optical cable that brings all devices together.
Samsung has also introduced the No Gap Wall-mount which brings the TV flush against the wall, closer than ever before. For those who do not wish to mount their TV onto the wall, there is also a range of Samsung TV stands.
Samsung's 2017 QLED TV lineup is available now starting at $2,799.
Samsung also today announced more details surrounding its newest innovation - The Frame. Teased at CES 2017, The Frame looks like a picture frame hanging on a wall when 'Art Mode' is on. Instead of fading to black like a conventional TV, The Frame's display transforms into a work of art, letting the users select custom-designed digital art pieces. Paired with the numerous options for art layouts and colors, as well as customizable accessory options including interchangeable bezels and an optional Studio Stand, it complements the user's living space.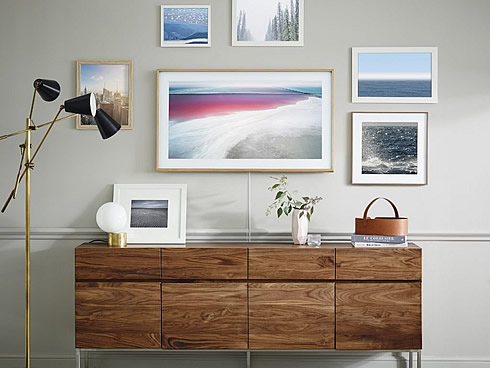 Furthermore, The Frame is outfitted with Samsung's new Invisible Connection and No Gap Wall-mount, allowing users to hang it virtually anywhere because it can blend into any living space without unsightly cables or wires. The Frame will be available this Spring.
The MS750 Sound+ Soundbar features a "one body" design. No need for a separate subwoofer that collects dust and takes up space. With new Anti-Distortion Technology, the Sound+ can go as low as 35 Hz. Sound+ delivers 5-channel sound. The bass is rounded out with wide-band, front- and top-mounted tweeters, and mid-range speakers. Depending on your preferences, the sound bar can fit neatly on a console below the display- or, with no extra drilling required, you can attach it directly to the bottom of the TV with an optional bracket for an even more minimal look. You even have the ability to plug your TV's power cord into the MS750 - eliminating the need to plug it directly into the wall, allowing for a clean installation. The power cord adaptor comes with the optional TV mounting bracket. It will be available this summer.
The new UBD-M9500 Blu-ray player builds on the legacy of Samsung's UBD-K8500 introduced last year. The new Blu-ray player integrates a Smart platform that mirrors Samsung's TV interface and can act as the hub for all entertainment needs. Samsung is also introducing Blu-ray to Mobile - a functionality that allows the playback of two sources at the same time. One user can be watching their favorite TV show while another can stream content on their UBD-M9500 from a Blu-ray disc to their mobile device. The UBD-K8500 will be available this April at $399.