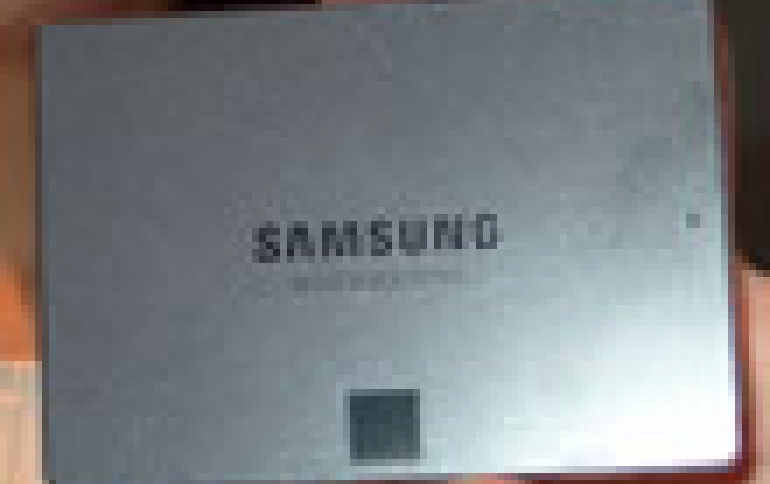 Samsung Unveils New 840 EVO, XS1715 Solid State Drives at its Annual SSD Global Summit
Samsung today held the 2013 Samsung SSD Global Summit at the Westin Chosun Seoul in celebration of the launch of its new solid state drive (SSD), the Samsung SSD 840 EVO. Along with the announcement of its latest SSD under the theme of "SSDs for everyone", the Samsung SSD Global Summit also explored the future of the global SSD market, which is quickly replacing the HDD market. "After accelerating the growth of the SSD market by last year's launch of entry-level, high-performance SSDs we are introducing a much faster SSDs with up to 1TB capacities offering consumers a wider range of choices," said Young-Hyun Jun, executive vice president, memory sales & marketing, Samsung Electronics. "Samsung continues to enhance its SSD brand image by delivering the industry's highest quality solutions and continuously increasing its SSD market share by expanding the adoption of higher density SSDs especially in client PC segments"
At this year's event, Samsung unveiled new high-performance, high-density SSDs that offer over 1TB memory storage. Among the highlights were the 840 EVO, a consumer-oriented entry-level SATA based SSD offering up to 1TB, and the XS1715, an ultra-fast NVMe SSD for enterprise storage use offering up to 1.6TB.
Samsung plans to initially introduce the Samsung SSD 840 EVO to major global markets in early August.
The new Samsung SSD 840 EVO line-up makes use of 10-nanometer class 128Gb high-performance NAND flash memory, which Samsung began mass producing in April. With these chips and Samsung's proprietary multi-core controller, the Samsung SSD 840 EVO promises to achieve high value for performance with improved sequential read and write speeds.
The '840 EVO' line-up has significantly higher sequential write performance. Utilizing the industry's most compact 10nm-class 128Gb high-performance NAND, Samsung proprietary controller and Turbo Write drive, the Samsung SSD 840 EVO boasts superior performance. The Samsung SSD 840 EVO also has flexible product supply capacity, making it the most competitive device on the market today.
Compared with the 250GB 840 Series SSD, the highest selling capacity of the 840 lineup, the new 250GB 840 EVO now delivers 520MB/s sequential write speed ? making it more than 2 times faster than last generation. In the case of 120GB model, the 840 EVO achieves 410MB/s sequential write speed, which is approximately 3 times as fast as that of the 120GB 840 Series SSD.
Samsung SSD 840 EVO Specifications
Capacity
120GB
250GB
500GB 
750GB
1000GB
Sequential Read
540MB/s
540MB/s
540MB/s
540MB/s
Sequential Write
410MB/s
520MB/s
520MB/s
520MB/s
4KB Random Read (QD32)
94K IOPS
97K IOPS
98K IOPS
98K IOPS
4KB Random Write (QD32)
35K IOPS
66K IOPS
90K IOPS
90K IOPS
Cache (LPDDR2)
256MB
512MB
512MB
1GB
Samsung SSD comparison
 
Samsung
SSD 830
(256GB)
Samsung
SSD 840
(250GB)
Samsung SSD 840 Pro
(256GB)
Samsung SSD 840 EVO
(250 GB)
Controller
Samsung MCX
Samsung MDX
Samsung MDX
Samsung
MEX
NAND
27nm Toggle-Mode
1.1 MLC
21nm Toggle-Mode
2.0 TLC
21nm Toggle-Mode
MLC
19nm Toggle-Mode
2.0 TLC
Sequential Read
520MB/s
540MB/s
540MB/s
540MB/s
Sequential Write
400MB/s
250MB/s
520MB/s
520MB/s
Random Read
80K IOPS
96K IOPS
100K IOPS
97K IOPS
Random Write
36K IOPS
62K IOPS
90K IOPS
66K IOPS
Warranty
3 years
3 years
5 years
3 years
For the 1TB 840 EVO SSD, the sequential read/write performance has reached 540MB/s and 520MB/s. Furthermore, both the random read and write performance have achieved the highest level, reaching 98,000 IOPS (Input Output Operations Per Second) and 90,000 IOPS, respectively.
The Samsung SSD 840 EVO line-up is available in five capacities: 120GB, 250GB, 500GB, 750GB, and 1TB.
The 1 terabyte SSD Samsung launched costs $650 while a same-capacity hard disk drive by biggest manufacturer Western Digital Corp sells for less than $100.
In addition, Samsung has developed the XS1715, the first 2.5-inch NVMe SSD line-up. This device will expand Samsung's market base for enterprise SSDs, and the company will make them available in the second half of this year.
The new NVMe SSD XS1715 delivers random read performance that is over 10 times faster than Samsung's former high-end enterprise storage SSD. The new NVMe SSD utilizes both the PCIe 3.0 interface, which is approximately two times faster than the PCIe 2.0 interface, and NVM express technology which accelerates the SSD's overall speed.
The 1.6TB NVMe SSD provides a sequential read speed at 3,000MB/s, which allows it to process 500GB of data (equivalent to 100 Full HD movies 5GB in length) in less than 3 minutes. When compared to other products with similar specifications, this new SSD is 14 times faster than a high-end enterprise HDD for server use, and six times faster than Samsung's former high-end enterprise SSD storage.
The XS1715's random read performance reaches up to 740,000 IOPS (Input Output Operations Per Second), which is more than 10 times as fast as existing high-end SSD storage options.
The new NVMe SSD XS1715 comes in 400GB, 800GB and 1.6TB versions. It can also be found on the NVMe Integrators List (IL), which makes it an easy-to-manage and reliable solution for data centers and servers. System performance can be improved dramatically by upgrading to the NVMe SSD XS1715 from a 2.5-inch HDD or a 2.5-inch SATA SSD.
Over the next several years, Samsung expects to continue to develop a variety of NVMe SSD products with increasingly high performance levels.
Chipmakers are betting on SSDs to become a fresh earnings driver in the $24 billion flash memory market, which is currently booming thanks to strong demand for cut-price tablets and smartphones in China.
Samsung is building a $7 billion chip plant in China, while Toshiba Corp and SK Hynix are also boosting production.
Samsung accounts for around 40 percent of global NAND flash market and competes with Toshiba, Micron Technology and SK Hynix. In the SSD market, it competes with Toshiba, Sandisk and Intel.