Samsung Unveils Galaxy S Android Phone at CTIA
Samsung today introduced the 9.9 millimeters thick Galaxy S (Model: GT-I9000), a smartphone based on Google 's Android software. JK Shin, president and head of Samsung Electronics' Mobile Communications Business announced the global launch of the Galaxy S at his keynote speech at the International CTIA Wireless 2010. The Galaxy S will be available in Europe, North America, Latin America, Australia, and Asia soon.
The Android-powered Galaxy S incorporates a 4-inch Super AMOLED touchscreen and a 1 GHz application processor that enables vibrant HD videos, rich augmented reality content through Layar Reality Browser, and advanced LBS (Location Based Services). The 'Social Hub' provides always-on social networks connectivity.
The mDNIe (mobile Digital Natural Image engine) - a technology used in Samsung's LCD and LED TVs - promises to offer even sharper and crisper viewing experience for photos, videos, and e-books. Users have access to a variety of applications from Android Market and Google mobile services, such as Google Search, Gmail, and Google Maps.
The phone also features a user-defined daily briefing, fast processing speeds and location-based search options like Layar Reality Browser.
"The Android-powered Galaxy S will set a new standard for smartphones," said JK Shin, president and head of Mobile Communications Business. "The Galaxy S is the perfect device for people in all corners of the world who want that extra edge; to be more effective, productive, better connected, and in tune with their smart life ? both personal and professional - all in a very easy and simple way."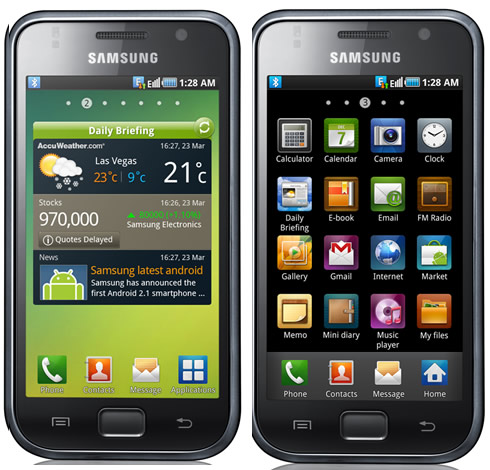 Other Key Features
- Daily Briefing: Offers access to weather, news, stocks, and the scheduler.
- All Share: Enables inter-device connectivity via DLNA (Digtal Living Network Alliance) technology.
- Home Cradle: Enables use as a digital photo frame, table clock, calendar, and music station.
- Write and go: Jot down an idea first and later decide on a format such as SMS/ MMS, email, calendar or memo.
- Swype: Provides fast and easy way to input text on screen while on-the-move.
- ThinkFree: Apps to view and edit Microsoft Office 2007 documents.
- Smart Alarm: Wakes up with a natural alarm sound and automatically turned-on display light.
World's First DivX HD Certified Mobile Phone
Samsung also announced that the Samsung Wave is the world's first mobile phone to be DivX Certified for HD video playback at 720p resolution. The Samsung Wave is based on Samsung's new smartphone platform bada.
Additionally, the two companies said that they would work together on HD Certification for the upcoming Samsung Galaxy S. Samsung and DivX are demonstrating DivX HD playback on the Wave and Galaxy S at the CTIA Wireless Show .
New Samsung Mobile SDK Offers support for BONDI
Samsung also today announced the availability of the mobile widget software developer kit (SDK) which provides support for BONDI-capable Samsung devices. The Samsung Mobile Widget SDK with BONDI support will allow developers to build, emulate and test BONDI features with their Samsung Widgets, with full documentation and code completion capabilities for BONDI APIs.
BONDI, an open source industry collaboration for widget and web technologies, provides a consistent web services interface that can be used by all web developers across multiple device platforms. With the release of the Samsung Mobile Widget SDK with BONDI support, developers will have the opportunity to create widgets for different Samsung phones across multiple platforms.
The Samsung Mobile Widget SDK provides access to BONDI APIs, including:
- Launch device applications (Camera, SMS, MMS, Browser, Phone, Email, Media Player)
- Access PIM information (Address Book, Tasks, Calendar)
- Native file system
- Media gallery
Through the Samsung Mobile Innovator program, developers have real-time, 24/7 access to Samsung's Virtual Device Lab, where they can check out and remotely test their applications on all current Samsung phones. After the development process, Samsung offers application developers and content providers the opportunity to distribute their widgets to millions of Samsung mobile users across the globe through its seller site - http://seller.samsungapps.com.
The Samsung Wave, the first mobile handset to be released on Samsung's new, open mobile platform, Samsung bada, is also, Samsung's first BONDI-capable device. Samsung will launch additional BONDI-capable devices in both the U.S. and globally in 2010.
For more information on Samsung Mobile Innovator and to download the Samsung Mobile Widget SDK with BONDI support, visit http://innovator.samsungmobile.com.