Samsung Rolls Out First Bada smartphone, Sony Ericsson Respond With New Android and Symbian Offerings
Samsung and Sony Ericsson unveiled their new top smartphone models on Sunday, both hoping to improve their positions in the more lucrative part of the phone market.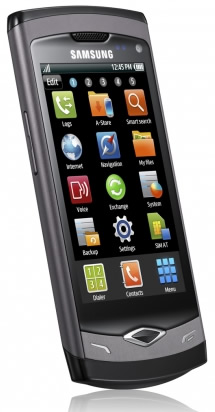 Samsung, the world No 2 handset maker, unveiled its flagship smartphone model Wave (Model: S8500) -- using a new touch screen technology and the first phone to use its bada operating system.
The Samsung Wave offers a Super AMOLED 3.3" display, a Social Hub and TouchWiz 3.0 user interface. The full touch mobile will be available globally from April 2010.
"Samsung Wave sees our platform vision become a reality. For the first time, developers have the freedom to create applications across multiple platforms, for consumption on a huge range of devices. In the Wave, our developer partners can see the ocean of opportunity that is offered by the bada mobile platform and our device technology," said JK Shin, President and Head of Mobile Communications Business at Samsung Electronics.
Samsung claims that the Super AMOLED offers much brighter, clearer, and less reflective AMOLED OnCell display, featuring a high resolution WVGA (800x480 pixels) screen with mDNIe (mobile Digital Natural Image engine) technology. DNIe technology is proven display technology which incorporated to Samsung?s LCD TV and LED TV lineups. With a free viewing angle and super fast response, the Samsung Wave display provides high image quality for viewing both videos and photos.
Social Hub has been designed from the ground up to seamlessly integrate all major portal?s email, IM and SNS services directly into the Samsung Wave. With its TouchWiz 3.0 UI, it provides users easy-flow integrated experience of messaging, managing contacts and viewing calendar events. Social Hub is powered by the push technology to deliver email messages, calendar events and SNS updates in real-time.
The Samsung Wave provides a fully customizable menus and home-page. For those who demand access to their social networking sites at all times, the device allows users to change the layout of the home-page to allow instant access to Twitter, Facebook and a host of other social networking services. For those who love music, the device home-page can be turned into a media player; while for those who take and share a lot of photos, the home page can be customized to feature favourite images. Users will also benefit from Quick Panel, a way of prioritizing and aggregating applications into one screen for instant access.
The Samsung Wave benefits from a 1GHz processor which offers increased graphic performance. Its speed makes the touch screen user interface more responsive and more importantly, means that the 3D and memory-intensive graphic and video performance is unsurpassed.
Other features of the new smarthone inlcude multi-codec support for DivX Xvid, MP4 and WMV, support for virtual 5.1 surround sound and HD video (720p) decoding and recording capabilities.
For the first time in the world, Samsung Wave is incorporated Bluetooth 3.0 and WiFi 802.11n standard.
Samsung?s bada platform allows mobile users to easily download applications from Samsung Apps, an integrated application store accessible from the device and online.
Samsung said it plans to launch five to seven phone models using bada software in 2010.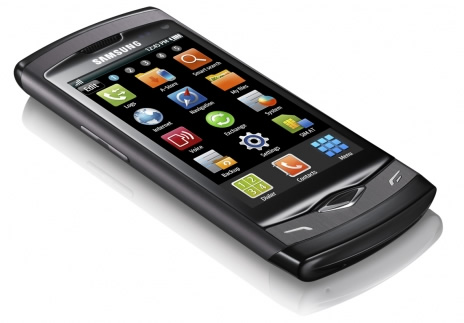 Sony Ericsson
The world's fourth-largest phone maker Sony Ericsson, which has reported seven straight quarterly losses, unveiled three smartphone models, using Google's Android operating system in two of them, and Nokia's Symbian in one.
Sony Ericsson unveilled the new Xperia X10 mini, the Xperia X10mini pro and the Sony Ericsson Vivaz pro smartphones.
The Xperia X10 mini and X10 mini pro are compact versions of Xperia X10.
The Xperia X10 mini and X10 mini pro with slide out QWERTY keyboard are combining the Android platform with signature applications and a customisable UX platform. Users are able to choose from a multitude of applications at Android Market. Users can go one step further and customise the home screen?s four corners and widgets to access the most needed applications.
The two sister mobile phones incorporate the signature application Sony Ericsson Timescape which brings all communication together in one place so users can see at a glance text messages, missed calls, and Facebook and Twitter updates, without having to open lots of different applications. The interactive music player also uses the "infinite button" to pull together all music content from the music store and YouTube ? a smart way to search for new tracks from a favourite artist.
"With the X10 mini and X10 mini pro we have pushed the boundaries of what is possible with smaller devices and are giving consumers exactly what they want; two high performance mobile phones with a fully customisable user experience platform and a stunning ultra-compact design," Said Rikko Sakaguchi, EVP and Chief Creation Officer, Sony Ericsson.
Basic features
- Sony Ericsson Timescape - brings together all communication in one place
- Four corner control ? applications, calls, web, the consumer decides. Four customisable icons for better control
- 5 megapixel camera and video
- Music player links to music stores and YouTube - access the world of music
- Android platform - with Google services and Android Market
- QWERTY keyboard - slide and text for quick and easy messaging (Xperia X10 mini pro only)
- 2.55 inches touchscreen (240 x 320 pixels)
X10 mini and X10 mini pro supports HSPA 900/2100 and EDGE 850/900/1800/1900, HSPA 850/1900/2100 and EDGE 850/900/1800/1900.
The X10 mini will be available in selected markets from Q2 in the colours Pearl White, Black, Pink, Lime, Red and Silver
The X10 mini pro will be available in selected markets from Q2 in the colours Black and Red.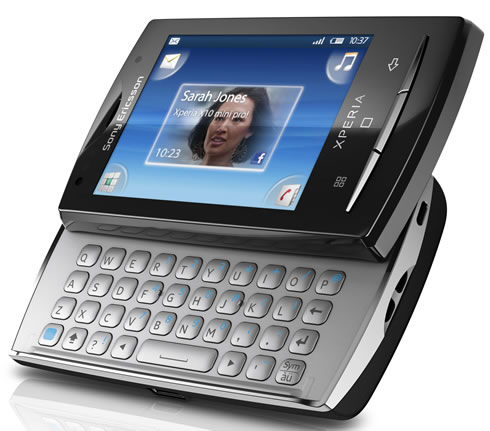 Sony Ericsson also anounced ther Vivaz pro phone. Just like flagship phone Sony Ericsson Vivaz, announced in January, Sony Ericsson Vivaz pro allows consumers to produce and broadcast HD video. The open platform also allows users to personalise their entertainment experience by downloading great through PlayNow and the Symbian Developer Community.
"Sony Ericsson Vivaz pro meets the increased consumer demand for QWERTY devices without compromising on any entertainment features," said Daniel Sandblom Marketing Business Manager, Sony Ericsson.
Sony Ericsson Vivaz pro features the new design philosophy 'human curvature', which will become a consistent feature of the Sony Ericsson portfolio going forward. Designed to mirror the shape of the human body, and at the same time delivering a precise way of interacting with the phone, Sony Ericsson Vivaz pro is instantly recognisable.
Sony Ericsson Vivaz pro
* Full slide-out keyboard
* Stay in touch through email, Twitter, Facebook, blogging and chat
* 3.2" 16:9 wide touchscreen
* Capture the action in HD resolution ? upload to YouTube via Wi-Fi
* PlayNow ? immediate online access to applications, games and music.
Sony Ericsson Vivaz pro supports UMTS HSPA 900/2100 and GSM GPRS/EDGE 850/900/1800/1900, UMTS HSPA 850/1900/2100 and GSM GPRS/EDGE 850/900/1800/1900.
Sony Ericsson Vivaz pro will be available in selected markets from Q2 in the colours Black and White.