Samsung Introduces the New Notebook 7 Spin, Notebook 9 (2018) and Notebook 9 Pen
Samsung Electronics today announced three new devices: the Samsung Notebook 7 Spin (2018), a convertible tablet with a 360-degree 13-inch display; the Notebook 9 (2018) and the Notebook 9 Pen
Designed for working professionals, students and those looking for entertainment, the Notebook 7 Spin (2018) offers modern features including a 360-degree touchscreen ; an Active Pen (sold separately) for note-taking; as well as the power and performance for more efficient multi-tasking.
At CES 2018, Samsung will showcase the new Notebook 7 Spin (2018) and a variety of features including:
360-Degree Rotating Touchscreen - Provides the flexibility to view content as preferred, whether it be as a tablet or as a traditional PC in landscape mode
Active Pen-enabled - Lets users create a sketch or jot down notes on the fly
Secure Fingerprint Log-in - Through simple fingerprint scanning, users can quickly log-in with Windows Hello and keep files secure in their own Privacy Folder
Power and Performance - Runs on Windows 10 operating system and equipped with an Intel i5 processor and 256GB SSD drive
Voice Note - Advanced smart recording featuring an integrated far field microphone to capture every detail of important meetings, which can be stored and shared via Samsung Cloud
Battery and Backlit Keyboard - Extended battery power to keep users connected throughout the day
Studio Plus - For users who wish to express their creative side, Studio Plus allows them to produce personalized movies featuring their favorite photos and videos
The Samsung Notebook 7 Spin (2018) will be available in select countries starting in the first quarter of 2018 in the U.S.
Samsung Notebook 7 Spin (2018) Product Specifications
PROCESSOR
8th i5 Quad Core
MEMORY
8GB, 256GB
MATERIAL
A/C Metal
LCD
13.3" FHD PLS
DIMENSION
315.8 x 215.4 x 18.5mm
POWER
43Wh
WEIGHT
1.53kg
PORTS
USB-C, USB 3.0 x1, USB 2.0x 1, HDMI, HP/Mic
CAMERA
VGA
STYLUS
Active Pen
SECURITY
Fingerprint, Windows Hello, Privacy Folder
KEYBOARD
Backlit KBD, Keystroke 1.5mm, Curved keycap
Clickpad (Precision Touchpad)
Samsung Notebook 9 Pen
The Notebook 9 Pen 2-in-1 PC features a full metal chassis with premium magnesium aluminum - lighter than aluminum - alloy called Metal12 for increased durability and lightness at 2.2 pounds. The 360-degree hinge allows you to convert to a tablet from a laptop by rotating the keyboard behind the screen.
The Notebook 9 Pen provides convenience with a built-in, refined S Pen that gives you the freedom to doodle, write, sketch, paint and more with Windows Ink. The S Pen is battery free, built into the device and designed for immediate use. The S Pen can recognize 4,096 levels of pressure with a fine 0.7mm tip and convenient tilt detection to allow a more natural writing and drawing experience.
Samsung Notebook 9 (2018)
With three different versions offering a 13.3" to a 15" screen and enhanced graphics capabilities, the Notebook 9 (2018) weighs up to 2.84 pounds and measures 15.4mm. The bezel around the screen measures 6.2mm. This means great portability without sacrificing screen size, as well as a stronger, more durable metal body featuring Metal12. The new line-up lights up some of the best of Windows 10 - including your digital personal assistant Cortana, Windows Hello, Windows Ink, protection with Windows Defender and more.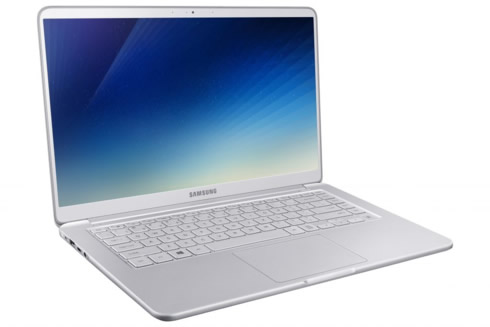 Other features include:
Made from Metal12 complemented by Micro Arc Oxidation (MAO) technology, both devices are lighter than most metal laptops, yet durable with the MAO treatment of oxide coating on the surface.
Built-in security: Windows Hello is built-in with Windows 10 for secure authentication through the fingerprint sensor without having to type in a password, while the Notebook 9 Pen also features an IR front-facing camera for facial recognition login through Windows Hello.
RealView display
Performance: Both devices also feature the latest 8th generation Intel Core i7 processor and Samsung Dual Channel Memory for speed without reduced performance or speed.
The Samsung Notebook 9 Pen and Notebook 9 is available in select countries starting in December 2017 in Korea, and in the first quarter of 2018 in the U.S.