Samsung Introduces Finger-Slim LED Monitor
Samsung today announced the Samsung XL2370, a new LED monitor featuring advanced energy-saving technologies and a "finger-slim" design.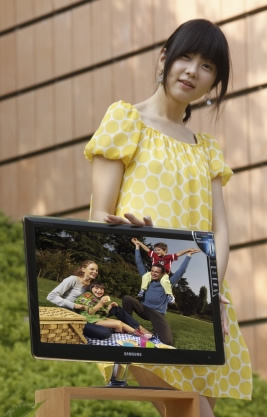 The XL2370 features Samsung's Touch of Color (ToC) design reducing the reflection of light and glare. The monitor also offers a suite of eco-conscious features including reduced energy consumption, requiring about 40% less power to operate compared with typical monitors of a similar size. In addition, the product does not contain toxic-materials such as halogen or mercury by adopting a LED backlight unit. The ToC manufacturing process eliminates harmful paints and sprays, increasing the monitor's recyclability.
The monitor offers a mega dynamic contrast ratio (5M:1) while its 2ms (GTG) video response time minimizes blurring when watching sports and fast-moving gameplay. The XL2370 also offers Full HD 1080p resolution (1920x1080) for optimized viewing of HD content.
The product will be available in Korea in mid July, and ready to be shipped to European countries and other parts of the world from August.
Features
- Mega DCR
- Full HD 1080p (1920x1080) resolution
- Fast 2ms (GTG) video response
- Reduced power consumption
- Touch of Color (ToC) technology
- VOC-free crystal-like bezel frame to help reduce glare
- Starlight Touch Controls