Samsung GALAXY Tab Challenges iPad at IFA 2010
Among other products, Samsung has officially unveiled the Samsung GALAXY Tab (Model: GT-P1000) Android 2.2 tablet device at IFA 2010. The company has also on display new HD camcorders and digital cameras, new portable multimedia players, a new 65-inch Full HD 3D LED TV, two new 3D Plasma HDTVs, a new Blu-ray home theater system, a new 3D home projector and a new HD/3D Blu-ray player, the "Samsung Smart TV Challenge".
"Software is the connective tissue for creating a smarter life," said Boo-Keun Yoon, President, Visual Display Business, Samsung Electronics, during his remarks opening the company's press conference held today at IFA 2010 in Berlin. "It's the intelligence that moves content from one device to another ? binding our product suites into a collective whole ? and empowering consumers to orchestrate their lifestyles as never before," he added.
Yoon opened the event with a five-minute address that highlighted Samsung's success in 2010 ? the first two quarters have each yielded record operating profits - as well its category leadership in TV and mobile. Samsung said that the company's projected sales of 3D TVs in 2010 are over 2 million units worldwide.
Samsung Galaxy Tab
Samsung introduced the GALAXY Tab (Model: GT-P1000), the company's first "smart media device". The Android 2.2 device allows users to experience PC-like web-browsing and enjoy all forms of multimedia content on the 7-inch TFT-LCD display. The lightweight (380g) supports the latest Adobe Flash Player 10.1 for seamless viewing of every single page of the web.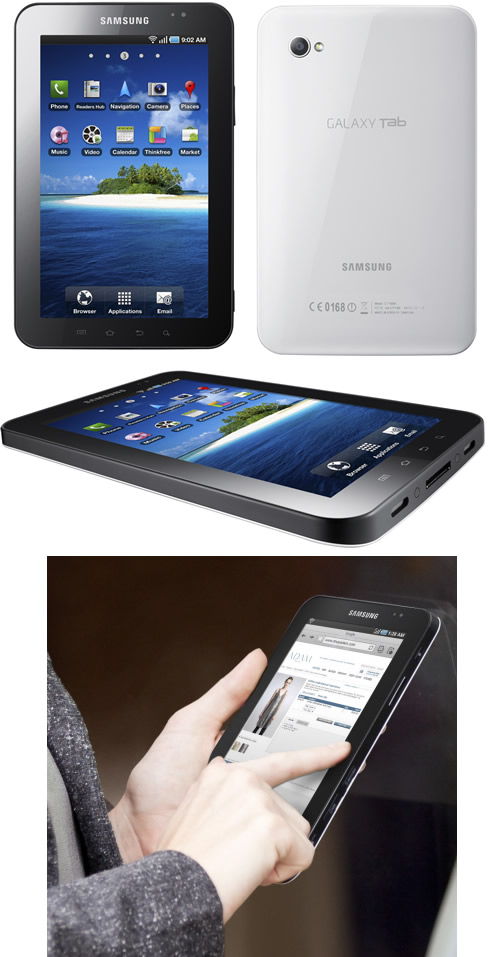 Connectivity options inlcude 3G HSPA, 802.11n Wi-Fi, and Bluetooth 3.0. Moreover, users can continuously communicate via e-mail, voice and video call, SMS/MMS or social network with the optimized user interface.
Powered by a Cortex A8 1.0GHz application processor, the Samsung GALAXY Tab is designed to deliver high performance. At the same time, HD video contents are supported by a wide range of multimedia formats (DivX, XviD, MPEG4, H.263, H.264 and more).
While the front-facing camera allows face-to-face video telephony over 3G, the rear-facing camera captures still images and video that you can edit, upload and share, all without any hassle.
To provide abundant content to its users, Samsung GALAXY Tab comes with the 'Readers Hub,' Samsung?s e-reading application that provides easy access to a digital library. At the same time, Samsung unveils 'Media Hub,' a gateway to a world of films and videos, and 'Music Hub,' an application giving access to music tunes.
The Samsung GALAXY Tab will be launched in Europe in mid September, and in other markets including Korea, the US and Asia in coming months.
3D and Arrival of Smart TV
Building on the success of its 3D launches earlier this year , Samsung announced it will launch seven more 3D TV models during the second half of 2010 to expand its 3D total solution line-up in the European market. This expansion brings its total to an industry-leading 25 models, Included among these is a 50-inch Full HD 3D Plasma.
The new Samsung LED C8000 is the world?s largest Full HD 3D LED TV available, boasting an ultra-slim 65-inch screen. Besides its sleek appearance, the TV also provides high picture quality with Samsung?s proprietary 3D processor, Precision Dimming technology and a motion clarity of 800 CMR. The LED C8000 is also Wi-Fi ready and Samsung Apps.
Samsung also showacased its new generation of 3D PDP TVs, the C680 and C490. This new generation of Plasma+ offers superior picture quality with its Clear Image Panel technology, a wider viewing angle, and consumes 40 percent less power compared to 2009 models.
The new models also offer consumers more options in creating a personal, affordable, at-home 3D experience. Featuring Samsung's 3D Hyper Real engine control for color, contrast and motion, the C680 and C490 also deliver optimal picture quality with 3D stereo images on 50-inch screen. The C680, in particular, allows consumers to share content from other DLNA certified devices on the TV via AllShare.
Samsung has also on display its new 3D Blu-ray Home Theater System, the HT-C9950W. The system features a modern metallic finish, touch control buttons, a premium volume wheel and slot-in disc loading. The 7.1 channel, multi-dimensional surround system includes a touch remote control, four floor-standing speakers, two satellite speakers, one center channel unit, an active subwoofer with an anti-vibration solution and two HDMI inputs. The HT-C9950W includes a wireless LAN Adapter, allowing for easy access to Samsung Apps, or Samsung?s AllShare to watch content from all other DLNA certified devices on the TV.
The C8900 is the first 3D Blu-ray to combine recording and storing functionalities. Featuring digital broadcasting tuners for DVB-T/C or DVB-S2, the BD-C8900 allows recording of up to 120 hours of HD quality digital broadcasting (on a HDD) without losing picture quality, and even 3D broadcast recording and playback are enabled.
Serving as a hub for home entertainment, the BD-C8900 enables consumers to consolidate all digital media files in a single device with its 500GB/250GB hard disk drive. It also allows for easier content sharing with other devices using wireless AllShare or USB 2.0 connectivity, and includes a wireless LAN Adapter with access to Samsung Apps.
Incorporating Samsung's Active 3D technology, the Samsung SP-A8000 is the latest iteration to its A800 projector. Featuring 1,000 ANSI lumens (max) brightness, a 10,000:1 contrast ratio, 1500-2000 hours of lamp time, an image size ranging from 40-250 inches and two HDMI inputs, the Samsung SP-A8000 allows for 3D viewing with original resolution and 3D realism with Active Shutter Glasses, without viewing angle restrictions. Capable of reproducing broadcast-standard colorimetric, the Full 3D HD 1080p home projector ensures that colors are reproduced exactly the way they were intended to be.
Michael Zoeller, European Marketing Director for Television and Audio Visual Products, explained to the audience that while Samsung's 3D leadership will continue to expand, it is also a part of a larger emerging trend - Smart TV. Zoeller displayed Samsung?s premium Smart 3D TV, the C9000, and discussed the growth of Samsung Apps for TV since its launch in January.
That growth is the basis for Samsung's consecutive announcements of apps contests in Europe, Korea and United States. Samsung announced the Samsung Smart TV Challenge at IFA and more than 500,000 Euros will be awarded to developers across Europe for the best apps designed for Samsung TVs. To help developers understand Samsung's Smart TV, the Samsung Apps platform and the SDK (Software Development Kit) for the contest, European Developer Days will be hosted in Germany, France, and the UK in October, and final winners will be announced in February 2011.
Multimedia players
Samsung also launched of four new portable multimedia players for the second half of 2010. These are the Galaxy Player 50, YP-Q3, YP-U6 and the TicToc models.
The Samsung Galaxy Player 50, equipped with SoundAlive, offers users high sound quality and is based on the Android 2.1 OS. It has a 3.2" display supporting "Drag & Drop" operation. The Galaxy Player 50, enables users to play content without the need to convert files as it comes with DivX.
The YP-Q3 has a vibrant and colorful design. Available in black or white, the Q3 has a glossy back, 2.2" TFT LCD display and stylish aluminum edges. The Q3 uses Samsung's own sound engine, SoundAlive, giving music more clarity through the use of signal processing.
YP-U6 makes digital audio simple and easy. Its hard aluminum body and secure slide-and-hide USB connector are matched perfectly with a bright color display. The U6's robust design and fitness function allows users to time their workouts. Along with FM radio and voice recording features, it delivers a powerful performance in compact body.
TicToc shows that it is hip to be square, with its minimalist design and fun and easy usability. TicToc's G-Sensor recognizes your motion and you need no more than one button and three LED icons to select the music you want. All operations can be done with a simple click and shake using fun motion control. Through Voice guide feature, users can discover the information related the music easily. Users can also manage their playlists using the 'tempo analysis feature' that consolidates the music based on the speed.
Full HD camcorder
Samsung also unveiled its HMX-T10 camcorder. The full HD HMX-T10 features a 20-degree Slanted Lens that ensures that the user can enjoy their recording experience without any discomfort to their arm or wrist.
The HMX-T10 is part of Samsung's next-generation line up of compact digital camcorders that make it easier for consumers to shoot and capture in high-quality, full HD video.
The camcorder has a stylish finish and slim design and features a 2.7-inch touch screen LCD and the ability to capture still images and video footage at the same time. A
The camcorder boasts full HD technology for all video footage to ensure clear recordings and 4.7 megapixel still images, plus Optical Image Stabilization .
The HMX-T10 also incorporates an advanced BSI (Back Side Illuminated) CMOS sensor which provides twice the sensitivity of conventional CMOS sensors.
The HMX-T10 also comes with intelli-studio 2.0 software, allowing for easy managing and editing of movies and images.