Panasonic Unveils "3D your world" at IFA 2010
Panasonic is showcasing its range of 2D and 3D products at this year's IFA, Europe's leading consumer electronics fair from September 3 - 8 in Berlin. Coining this year's theme as "3D your world," the company has plenty of highlights at its booth. At this year's IFA exhibition, Panasonic is further expanding its 3D offerings by presenting the world's first consumer 3D camcorder - the SDT-750 - which allows consumers to shoot their own 3D content by simply attaching a 3D conversion lens. The SDT750 model that was introduced in July as the world's first 3D-compatible camcorder is also making its first public appearance at IFA.
The main features of this year's Panasonic booth are as follows:
Panasonic End-to-End 3D solutions
The Panasonic 3D offerings range from
professional 3D camcorders
like the AG-3DA1, for creating 3D content, to 3D authoring and encoding facilities (Panasonic Hollywood Labs) to 3D VIERA televisions and Blu-ray players that display High Definition 3D content with unmatched image quality for people's homes and living rooms.
The "3D Experience Area"
The Panasonic booth features a 3D mass display that incorporates Panasonic 3D TVs ranging from 42" to 152". In addition, a 152" 3D theatre will offer visitors the ultimate 3D experience.
Professional 3D camcorders are shown in action during live shooting and post-production at a 3D broadcast station.
In addition to the consumer products, visitors to the booth will also be able to see Panasonic's line-up of 3D professional plasma displays in 85", 103" and 152" (ultra-high-resolution, 4K2K 4096 x 2160).
The company is also introducing several new 3D Home AV products. Three separate 3D Home Cinema Systems, as well as the SC-HTB 500 3D Soundbar and the DMP-BDT100 3D Blu-ray Player.
VIERA Highlights at IFA
Panasonic's extensive product line-up of 19" - 65" LCD and Plasma VIERA model televisions are also be on display in Berlin. In fact, Panasonic is extending its 3D TV line-up at IFA by adding two new 42" (42VT20) and 46" (46VT20) models in the VT20 series. Furthermore, the company is officially unveiling its new GT20 3D TV series with a 42" model.
In addition to the two new members of the VIERA family, Panasonic will is also launching yet another new 3D series, the TX-P42GT20 Plasma, at IFA. The new 42" TX-P42GT20 is also offering many of the same key features, including 24p Smooth Film for 3D, 2D-3D Conversion, 600Hz, THX and a High Contrast Filter. Unlike the other models in the VIERA VT20 series, the TX-P42GT20E does not come with 3D eyewear.
Panasonic Full HD 3D TVs combine NeoPDP technology with high-performance 3D processing. NeoPDP 3D technology guarantees improved brightness through shorter emission cycles or what Panasonic refers to as High Efficiency Response Technology. In addition, Crosstalk Reduction Technology actually prevents double images from occurring by clearly separating left-eye and right-eye images. NeoPDP technology in combination with 600Hz sub-field Drive technology promise to takes picture quality to the next level for watching sports and movies, as well as gaming - in both 2D and 3D.
The 3D Eyewear line-up is also on display in its new S, M, and L sizes. While the VT20 series comes with two pairs of high precision Active Shutter Eyewear (TY-EW3D10), 3D glasses will be available for the GT20 series as an optional accessory. In addition to the battery-type universal TY-EW3D10 eyewear, Panasonic will be introducing 3 new models of Active Shutter Eyewear at IFA. In fact, 3 different models of rechargeable 3D eyewear are now available in 3 different sizes as optional accessories (large: TY-EW3D2L, medium: TY-EW3D2M, small: TY-EW3D2S). This eyewear is currently the world?s lightest at approx. 38 g, thanks to the roughly 40% reduction in weight that was achieved by slimming the lens portion and simplifying the structure. The eyewear?s built-in rechargeable battery can be charged using a USB terminal. One charge of approx. 2 hours allows for 30 hours of continuous use. The power can be turned off with a slide switch. The 3D eyewear can also be worn over ordinary prescription glasses quite comfortably.
LED-LCD models

Visitors to IFA will also have the chance to discover Panasonic's VIERA LED-LCD line-up that features the 1080p Full HD V20 (42", 37" and 32"), D28 (37" and 32") and D25 (42", 37" and 32") series, as well as the HD ready D28 (22? and 19?) series. All of these LED-backlit LCD TVs come in a slim design and boast high picture quality due to their wide viewing angle and what Panasonic calls 200 Backlight blinking Intelligent Frame Creation Pro3. Their thin profile of only 1.5 inches makes them just perfect for being hung on a wall. Most of the LED-LCD TVs come with the same networking features as the NeoPDP models.




Popular Internet content, like Twitter and YouTube, can be easily on VIERA, while European 3D broadcasts can be enjoyed through the new 3D on demand services in collaboration with Eurosport. Skype video calls can also be made on a VIERA.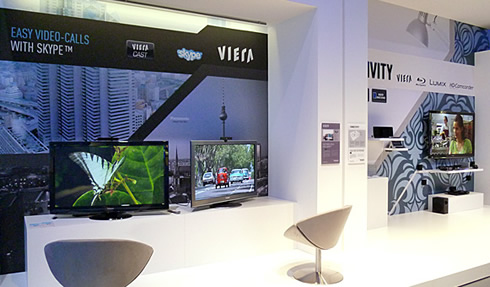 Home AV

Panasonic is introducing the DMR-BS885 / DMR-BS785, the company's new Blu-ray Disc Recorder for sale in Germany only. The DMR-BS885 and BS785 are the successors of the DMR-BS850 and BS750, which were Germany?s first Blu-ray Disc Recorders. Both Blu-ray Disc Recorder line-ups feature twin HD satellite tuners, which enable customers to record digital broadcasts in Full-HD quality. The twin HD tuners also allow users without a digital TV to watch a digital broadcast and record it simultaneously. 5.1-channel surround sound (Dolby Digital or Dolby Digital Plus) signal and subtitles that are included in digital broadcasts can also be recorded, allowing users to enjoy surround sound and subtitles during playback.

The DMR-BS885/BS785 also archive onto a dual-layer Blu-ray Disc, and they come with an SD memory card slot, making it easy to view motion (AVCHD format) and still images captured with an HD camcorder or digital still camera. Both models also feature an HD Archiving function that makes it possible to save beautiful Full-HD images from an SD memory card onto the built-in hard disk drive and a Blu-ray Disc. Also, in addition to a High Speed Copying function, a DR File Conversion function makes it possible to convert TV programmes recorded in DR mode on HDD into HG, HX, HE, HL or HM mode (High Definition). This shortens the time required to archive recorded programmes in HDD onto BD-RE or BD-R.

In addition, Panasonic is unveiling the DMR-BW880 / DMR-BW780, two new models specifically for the French market.

DMP-BDT100 and DMP-BT300 3D Blu-ray Players

Panasonic's DMP-BDT100 reproduces the ultimate in 3D images. The BD player features a 0.5-second Ultra Fast Booting and networking functions like VIERA CAST, which brings a variety of streaming services including YouTube Videos into the living room. Wireless LAN capability eliminates the need to connect a LAN cable, so the DMP-BDT100 can be flexibly used without having to worry about the length of the cable. Users can watch 2D images (JPEG) and movies (AVCHD MPEG2 ) from digital cameras and camcorders via the integrated SD card and USB slot, as well as 3D Content

A single chip LSI called UniPhier is used for image signal processing. Unification of this LSI helps to lower power consumption and achieve a more compact design (reducing the DMP-BDT100 size by 38mm ) while also decreasing the burden on the environment by using limited natural resources more efficiently.

Panasonic?s second Full HD 3D Blu-ray Disc player is the DMP-BDT300. It features the brand new exclusively developed UniPhier LSI chip for processing the large volume of Full HD 3D movies. This new UniPhier enables the player to output Full HD images in 1920x1080 resolutions in the so-called frame-sequential method. With this method, the images for left and right eye are displayed in alteration in order to create 3D images.

In addition to its 3D playback capabilities, the DMP-BDT300 also delivers high picture quality for both conventional Blu-ray Disc and DVD movies. Especially for Blu-ray Disc movies, Adaptive Chroma Upsampling reproduces original colour in the finest details. I/P conversion technology for DVD movies has been further advanced by Enhanced Full HD Upsampling to re-create and enhance missing details.

The DMP-BDT300 is also equipped with great networking functions including VIERA CAST, DLNA capability and a Wireless LAN adaptor. Users can also watch content from their digital cameras and camcorders by means of the integrated SD card slot and USB port. With the integrated SD card slot, AVCHD, MPEG2 and JPEG files taken with Camcorders or Digital Cameras can be played back, and with the integrated USB port, JPEG, DIvX Plus HD, and MP3 files can be played back. With its twin HDMI output, one output can be dedicated as an Audio signal output, thus achieving better sound quality and matching the needs of users who own customised cinema systems and legacy audio equipment.

Both new 3D Blu-ray players will be joined by the SC-BTT 350 and SC BTT755, two new 3D Home Cinema Systems.

Last, but not least, Panasonic is presenting its impressive EISA Award-winning 3D Soundbar, the SC-HTB 500 that comes with a wireless subwoofer for powerful bass. Furthermore, Panasonic's bamboo cone speakers and 'Clear-Mode' dialog feature help this Soundbar to achieve a full-bodied sound.




Digital Imaging

Panasonic is also showing the latest additions to its Lumix family inside a special area of its booth devoted to digital imaging. These products include the LX5, FZ100, FZ45, FX700 and FT10 that feature technologies like Power O.I.S., Face Recognition, iA (intelligent Auto mode), enhanced shake suppression, and the ability to record movies in HD (AVCHD Lite). In addition, Panasonic is exhibiting its HM-TA1, an pocket-size lifestyle camera that allows for easy uploading of videos to the web.

Press conference

Panasonic's press conference was held. The first key speaker that appeared on stage was Mr. Laurent Abadie, Chairman and Chief Executive Officer of Panasonic Europe Ltd.

Although the economic environment has been stagnant, Panasonic said that its global sales rose 135% and it also marked a 134% growth in Europe during the first quarter of FY2010 in comparison to the same quarter the previous year. Mr. Abadie also stated that by 2018, its 100th birthday, Panasonic aims to become the "No.1 Green Innovation Company in the Electronics Industry."

Next, Mr. Makoto Nagura, Director of the Video Camera Business Unit, Network Business Group, AVC Networks Company, Panasonic Corporation appeared on stage. He introduced the world's first AVCHD 3D consumer camcorder, the HDC-SDT750 (European model number). By combining it with the 3D conversion lens, consumers can now shoot in 3D very easily. The 3D footage of children and young people having fun at the beach showcased on the plasma displays placed in front of the press.

Next, Mr. Hirotoshi Uehara, Director of the TV Business Unit, Visual Products and Display Devices Business Group, AVC Networks Company, Panasonic stepped up to the stage and introduced the history of Panasonic's leadership with respect to FULL HD 3D technology. He highlighted the line-up of 3D products, which include the above mentioned 3D consumer camcorder as well as 3D plasma display panels for professional use, and the allure of Panasonic's ever expanding world of 3D made possible with the collaboration with various partners resulting in 3D broadcasting of Rolland Garros (French Open) and the US Open and a wide range of 3D gaming content.

The press were given 3D glasses, and as part of the presentation they got to watch demonstrative video clips in 3D.