Samsung Display Introduces Mirror and Transparent OLED Display Panels
Samsung Display unveiled the first Mirror and Transparent OLED display panels in a showcase for personalized shopping and informational browsing, held this week at the Hong Kong Convention and Exhibition Centre. The exhibit features the first retail use of commercial OLED panels – a "virtual necklace" display for the Sang Sang jewelry company.
The new panel combines Intel'a Real Sense technology with Samsung's OLED technology to provide a digital viewing platform for making the consumer purchasing experience more engaging. An interactive closet or "self-modeling" wardrobe is created that can enable consumers to virtually "see" clothes or other retail items.
Together, the two technologies create a "virtual fitting room" that will be used to help consumers see themselves wearing clothing apparel, shoes or jewelry that they might wish to buy. Once retailers adopt the combined
The Samsung Mirror Display may also replace home mirrors in the future, providing digital information services to consumers in the same space where they now just have a traditional mirror.
Samsung Display's Mirror OLED display panel, with its more than 75 percent reflectance level, delivers at least 50 percent higher reflectance than competitive Mirror LCDs now in limited availability and a much improved color gamut (over 100 percent vs. around 70 percent of NTSC), as well as a high contrast ratio (over 100,000:1 vs. 4,000:1) and a much faster response time (under 1ms vs. 8ms) than LCD transparent panels. In addition, the new mirror display technology does not need the ambient backlight for displaying on-screen images that LCD technology requires.
Like the Samsung Mirror Display, the new Samsung Transparent Display will visually accentuate the gesture and voice control of Real Sense 3D-rotatable viewing systems, with OLED's Full HD video playback. Collectively, these features will enhance consumer-facing displays in car dealerships, and other signage applications in public information and transportation environments.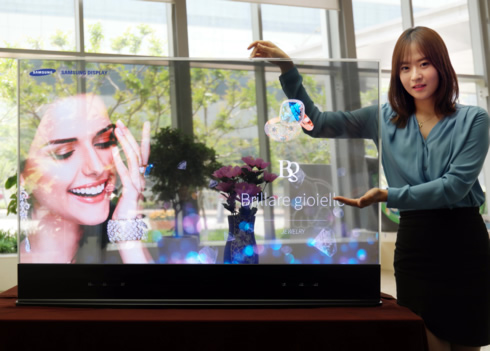 Compared to conventional LCD alternatives for today's digital signage market, Samsung Display's Full HD Transparent OLED display panel has a substantially higher color gamut (100 percent vs. around 70 percent of NTSC), increased transmittance (45 percent vs. around 10 percent), and better clarity through a wider range of viewing angles. It features a transparency level of over 40 percent, much higher than the 10 percent level of today's transparent LCD displays.
Intel Real Sense features a front-facing camera that captures even the most subtle facial movements, precisely tracks widely varying finger and hand movements, and distinguishes between backgrounds and foregrounds. In addition, the Intel technology includes a rear-facing camera that can accurately scan and measure rooms and objects, and a snapshot camera that can alter a photo's background after a photo has been taken.
Samsung officials say the product represents company efforts to expand in the commercial display market rather than spend more on the development of OLED TVs, which is still at an early stage.
Samsung is competing with chief local rival LG Display for supremacy in next-generation displays.
While LG is teaming with leading Chinese and Japanese TV manufacturers to promote OLED TV panels as groundwork for the creation of a new ecosystem, Samsung Display has identified commercial and retail markets as its target sectors for profit.