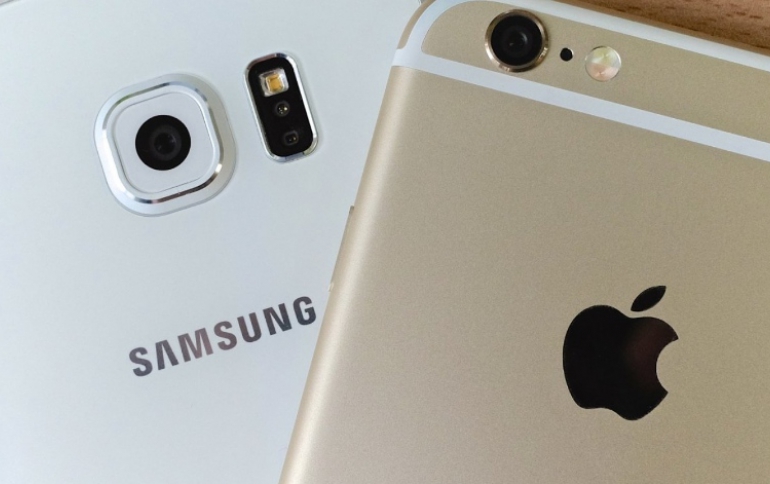 Samsung, Apple To Narrow Down Legal Differences Over Royalty Payments: report
Samsung Electronics has reportedly recently resumed negotiations with Apple to resolve disputes over patent-infringement claims. An unnamed official at the Fair Trade Commission (FTC)source told the
The Korea Times
that the companies had resumed "working-level discussions toward the signing of a potential deal," adding that they were "in the process of narrowing differences over royalty payments."
The report adds that the FTC had teamed up with anti-trust regulators in Europe and the United States to discuss the matter.
The companies earlier agreed to submit a settlement proposal before Jan. 8 to U.S. federal judge Lucy H. Koh, who has been presiding over the patents case since April 2011.
Last year, then Samsung Electronics CEO Choi Gee-sung met with Apple CEO Tim Cook in San Francisco but they failed to reach an agreement because Samsung would not accept Apple's demand for royalties.
A Samsung source said Shin Jong-kyun, Samsung Mobile's head, may fly to the U.S. for another round of top-level talks with the Apple CEO sometime early next year.
But it seems that Samsung and Apple are still poles apart over the patent values that each has.
Samsung is said to prefer to sign a comprehensive cross-licensing deal, while Apple is asking Samsung to pay over $30 per device for Samsung's patent violations.
Since April 2011, the two companies have been involved in legal tussles over 30 different cases in nine different countries.
JJudge Koh nearly halved Samsung's payment to Apple, to $600 million from a $1.05 billion, which was slapped on Samsung in a California verdict. The U.S. court ordered Samsung to pay an additional $290 million, raising Samsung?s payment to a total of $890 million.
The Samsung-Apple patent infringement case will resume in March with flagship products by each, such as the Galaxy S3 and iPhone5, the subjects of debate.