Roku 3 Media Player Goes On Sale
Roku has announced the Roku 3, the latest version of its flagship media player that will go on sale online Wednesday for $99. The company says that the new player is the fastest and most powerful streaming player to-date. It features a new interface, a remote with built-in headphone jack for private listening.
The new Roku interface features a streamlined layout to provide quicker access 750+ channels. The Roku Channel Store and Search are now fully integrated into the home screen, and both have been redesigned.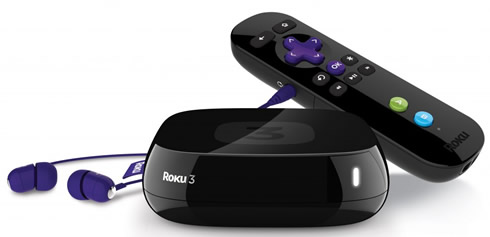 The new interface will also automatically roll out as a free software update in April to all Roku 2 models, Roku HD (model 2500), Roku LT and the Roku Streaming Stick.
The Roku 3 replaces the Roku 2 XS but will still have the ability to do the same types of functions, including showing full 1080p HD video and the capability of 7.1 and 5.1 surround sound. The device will also be capable of connecting to the Internet through an Ethernet port, it comes with USB ports and it'll also have a microSD card slot.
The Roku 3 is available now for $99.99 in the U.S. through Roku.com, Amazon.com and several other leading online retailers. It will be available at major retail chains beginning in April.
Specifications
Networking: 802.11 dual-band (a/b/g/n compatible) with WEP, WPA, and WPA2 support
10/100 Base-T Ethernet
Video Outputs: 480p, 720p, 1080p
Audio Output: Digital over HDMI (7.1 and 5.1 surround pass through)
Storage Expansion: microSD card slot for additional game and channel storage
Remote Control: Roku 3 enhanced remote with headphone jack and motion-control (uses Wi-Fi Direct)
Streaming player includes IR receiver (compatible with various universal remotes)
Power Consumption: Less than 3.5W (typical) when streaming HD video
Power Input: 12V – 1A power adapter
Video: MP4 (H.264), MKV (H.264)Audio: AAC, MP3Image: JPG, PNG
Size: 3.5 x 3.5 x 1 inches
Weight: 5 ounces