2. Features
- Features
Patent pending AUTO ON-OFF function makes you hands-free, once you place the device in place.
Patent pending Easy-Place function makes the device steady, without sliding around the car.
Wireless transmission positioning status up to 10 meters.
High sensitivity receiver acquires 32 satellite signals in parallel, while providing first fast fix and low power consumption.
Automatic baud rate setting, user does not need to do any selection.
FLASH based program memory: New software revisions upgradable both for GPS and Bluetooth. (For distributor only).
LED display status: The LED provides users with visible operating status for Recharging, Battery power level, Bluetooth and GPS. No extra devices needed.
Rechargeable Li-ION battery provides long duration use.
For our testing purposes, Rikaline sent us the retail package that includes:
GPS-6033 (Bluetooth GPS Receiver)
a lithium-ION rechargeable battery
a travel charger (110V/230V)
a car cigarette adapter
two easy-place pad
a documentation CD
warranty card
a quick installation reference
The current price for the product is around US$85.95, as found around the net.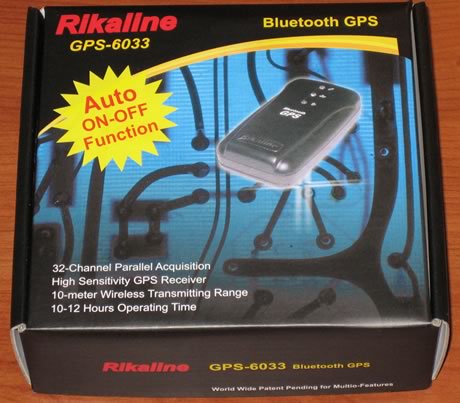 The contents of the retail package are showed below:
Looking at the device, on the front there are three LEDs which show device status. The Auto/on/off and power jack are located at the top.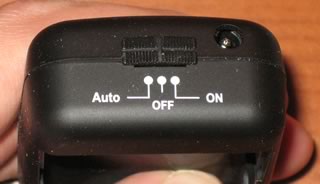 On the bottom, we find the external antenna jack
Also on the bottom, we find the battery cover, which has a rubber surface to make the device stable when placed on the car dashboard:
The three LEDs are constantly lit when the device is operating. Other functions can be found in the following table: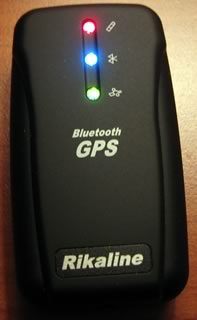 Putting the Rikaline and its rival BT-338 side by side, we can see that the Rikaline is larger: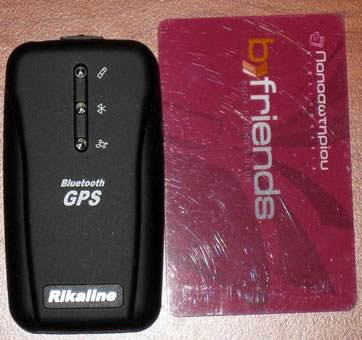 The included Li-Ion battery is rated at 3.7V with 1000mAh capacity.
Removing the battery cover we can find some info about the Rikaline GPS-6033: