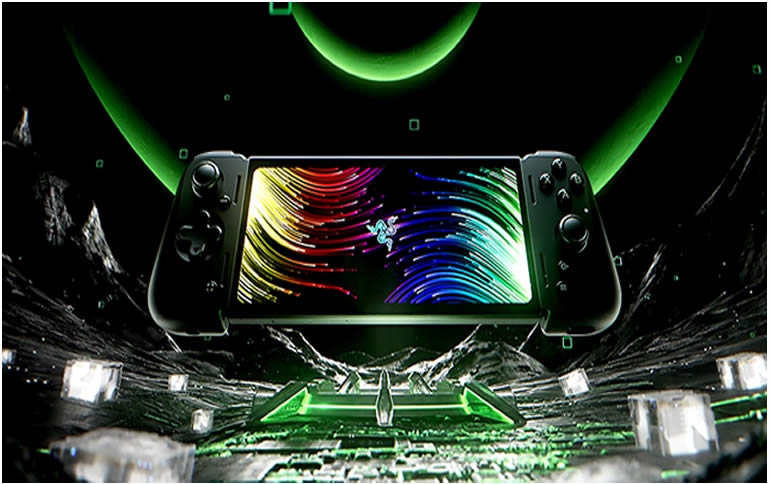 Qualcomm Partners with Razer and Verizon to Introduce the Ultimate 5G Handheld Gaming Device powered by Snapdragon G3x
Razer unveiled the highly anticipated Razer Edge 5G designed in collaboration with Qualcomm Technologies, Inc. and Verizon. This groundbreaking collaboration introduces the world's first dedicated 5G handheld gaming device, equipped with the latest processing power from the Snapdragon G3x and Razer's industry-leading gaming hardware. Designed with gamers in mind throughout every element, the device features:
Premier Hardware: The Razer Edge is engineered to be the ultimate handheld gaming hardware and at the heart of this is Snapdragon G3x Gen 1. The platform is built from the ground up to deliver industry-leading graphics and performance per watt, so gamers will never have to compromise in long gaming sessions. Snapdragon Elite Gaming unlocks smooth interactions, blazing-fast response, and ultra-realistic graphics with cinematic detail. The AMOLED display is optimized for efficiency, leading to hours of gaming on the 5000mAh capacity battery.
Game Virtually Anywhere: No longer held back by cords, the Razer Edge offers robust connectivity that features best-in-class antennas giving gamers the option to experience near-zero latency gaming with Verizon 5G mmWave while out and about or crisp Wi-Fi 6E connections at home with FastConnect 6900. Bringing blazing fast speeds and ultra-low sustained latency, FastConnect 6900 is the premium Wi-Fi and Bluetooth platform to deliver the ultimate edge.
Unlimited Play Across Platforms: From the get-go, Razer Edge will have thousands of AAA games compatible with the device, whether it be native Android games and pre-installed launchers like Epic Games, cloud streaming services like Xbox Game Pass or remote play options offering full access to PC libraries.
"In collaboration with Razer and Verizon, we are paving the way for a powerful new category of gaming devices," said Micah Knapp, senior director of product management, Qualcomm Technologies, Inc. "Uniting our unparalleled technologies with Razer's award-winning hardware has resulted in a revolutionary device that we're proud to break new ground for next generation of innovated gaming."
More details, including pricing and availability, please visit: https://www.razer.com/.
For more information on the Snapdragon G3x Gen 1 Gaming Platform at https://www.qualcomm.com/products/catalog/snapdragon-g3x-gen-1-gaming-pl...
The Razer Edge is the world's first dedicated 5G gaming device, with thousands of compatible AAA games from day one. Whether it be native Android games and pre-installed launchers like Epic Games (Fortnite and Rocket League Sideswipe), cloud streaming services like Xbox Cloud Gaming (Beta) and Nvidia GeForce Now, or remote play options offering full access to PC libraries like Steam Link, Moonlight, and Parsec. With unlimited access to catalogs of games on the go, the Razer Edge delivers ultimate quality without sacrificing remote accessibility or content availability. Equipped with an advanced 6.8" AMOLED display with a 144hz refresh rate at 2400×1080 FHD+ resolution, the Razer Edge provides 87% more pixels than competitive offerings. Powered by the latest Snapdragon® G3x Gen 1 Gaming Platform, specifically engineered to provide the best gaming performance while on the go, the Razer Edge boasts a 3Ghz octa-core Kryo CPU with an Adreno GPU built for maximum graphics and industry leading performance per watt. For long lasting battery life over hours of gaming, the Razer Edge is powered by a 5000mAh capacity battery. Available in both Wi-Fi or Verizon 5G models, the Razer Edge will initially be offered for the U.S. market only and comes bundled with the new Razer Kishi V2 Pro, featuring all the award-winning technologies, customization options and features of the Kishi V2 mobile controller, with two additions: Razer HyperSense advanced-haptic feedback and a 3.5mm audio port. Microswitches in the face buttons and D-pad deliver tactical response and instantaneous actuation to yield true console-quality controls on a handheld gaming platform.
For more information on the Razer Edge, please see https://www.razer.com/mobile-handhelds/razer-edge
The Razer Edge 5G will be available exclusively from Verizon. Final pricing and availability will be provided by Verizon.
The Razer Edge Wi-Fi will be available January 2023 at $399.99 USD exclusively at Razer.com and RazerStore locations. In order to reserve your Razer Edge Wi-Fi, Razer.com is accepting refundable preorder deposits of only $5 from U.S. based customers to ensure you are guaranteed one of the first units upon official release. Interested users can reserve their Razer Edge unit at https://www.razer.com/mobile-handhelds/razer-edge/reservation