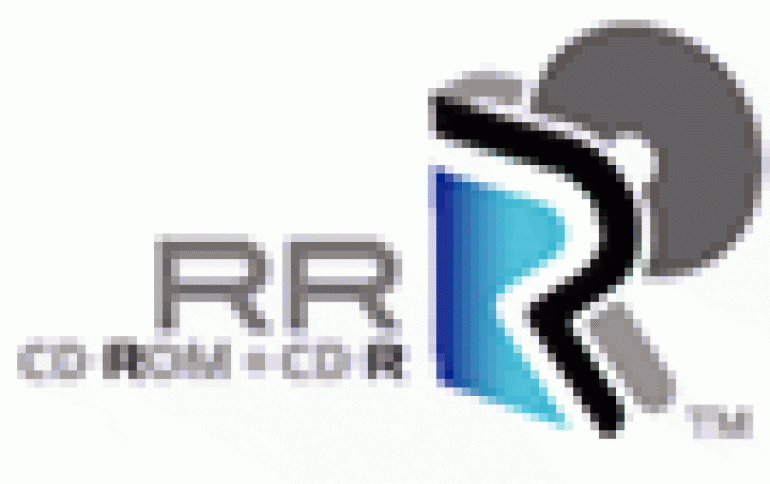 Protect your data with Ricoh EncryptEase
Ricoh announced the availability of its encryptable hybrid CD-R media in Europe. The new hybrid, mulltisession CD-R disc (conforms to CD-R Orange Book) has been available in the Japanese market for some time now, named as "
CryptDisc
".
Ricoh's "EncryptEase" data security concept, is a CD-R disc which combines both ROM area and write once recordable area in one disc. This enables the user to encrypt data and record it in the CD-R section, set a password and thus ensure safe data storage.
"EncryptEase" uses unique the Ricoh hybrid CD-R technology, which has the same input and retrieval functions as a conventional CD-R, but stores a pre-recorded encryption application in the ROM section and uses the recordable section for writing user data.
Data is automatically encrypted and stored in the CD-R section of this disc, and can only be decrypted and retrieved with a password set by the user.
The "RR" product family concept
The "RR" represents Ricoh's hybrid CD-R product family, while "RR" stands for the combination of both the CD-ROM and CD-R section in just one disc. A new color-coded logo has been created which will immediately identify the "RR" products, in blue for IT applications and orange for entertainment applications. These will appear on all product packages launched in the future. "EncryptEase" is the first product addressing to IT applications.
Encoding/decoding, data compression, writing and copy-guard functions are pre-installed in the ROM section, so there is no user need to install any additional software or hardware.
Being a multisession CD-R "EncryptEase" allows to add data up to 20 times. It can be recorded at 40x speed max, A tab is attached to each addition, making data management easy.
The Ricoh high security data storage ?EncryptEase? hybrid CD-R comes in a JewelCase and is expected to be available on the European market at the end of December 2005. Recommend selling price will be 6 Euro plus VAT.