Powerful iMac Pro is Available Today, Starting at $5,000
The latest iMac Pro is available today, aimed at pro users who love the all-in-one design of iMac and require workstation-class performance.
With Xeon processors up to 18 cores, up to 22 Teraflops of graphics performance, and a 27-inch Retina 5K display, iMac Pro is the fastest, most powerful Mac ever made.
With such a high compute power, the new device can handle real-time 3D rendering, VR, intensive developer workflows, high megapixel photography, complex simulations, audio projects and real-time 4K and 8K video editing.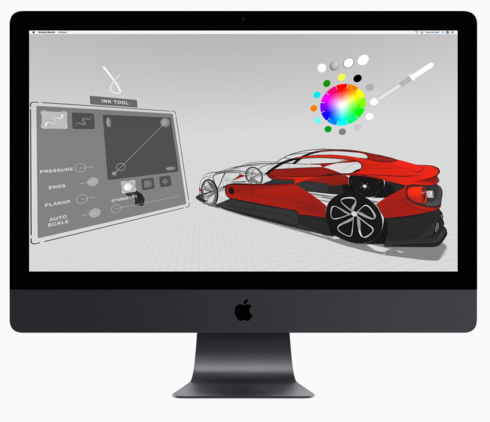 Featuring an all-new thermal architecture, iMac Pro delivers up to 80 percent more cooling capacity in the same thin aluminum and glass enclosure met in previous models - still just 5mm at its edge. It comes in a new space gray finish with a matching Magic Keyboard, Magic Mouse and optional Magic Trackpad, and the Mac display offers 500 nits of brightness, a P3 wide color gamut and supports 1 billion colors. iMac Pro also comes with four microphones with beamforming technology, a new 1080p FaceTime HD camera with enhanced low-light performance, and new speakers that are up to 50 percent louder.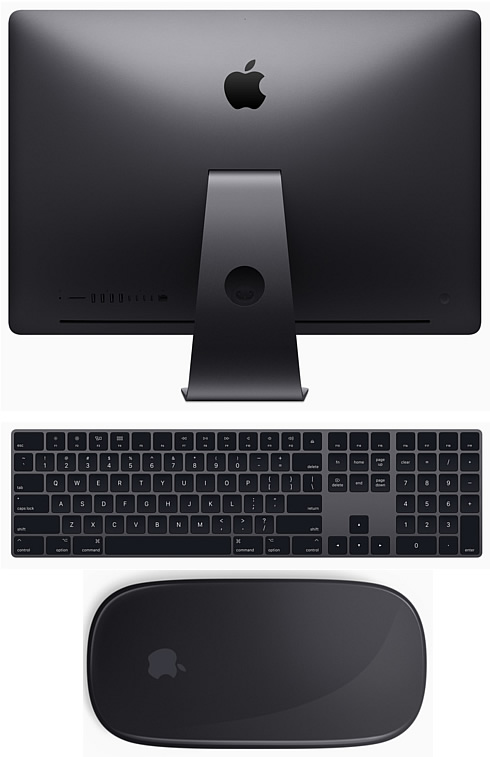 Featuring a next-generation compute core and up to 16GB of on-package high-bandwidth memory (HBM2), iMac Pro with the Vega GPU delivers up to 11 Teraflops of single-precision compute power.
iMac Pro also supports up to 4TB of SSD and up to 128GB of ECC memory, and with four Thunderbolt 3 ports, can connect up to two high-performance RAID arrays and two 5K displays at the same time. For the first time on a Mac, iMac Pro features 10Gb Ethernet.
iMac Pro brings new security features to the Mac with the T2 chip, Apple's second generation custom Mac silicon. By designing and integrating several new controllers - such as the System Management Controller, image signal processor, audio controller and SSD controller - T2 delivers new capabilities to the Mac like enhanced imaging processing for the FaceTime HD camera. T2 also enables a new level of security by including a secure enclave coprocessor that provides the foundation for new encrypted storage and secure boot capabilities. Dedicated AES hardware encrypts data on the SSD without affecting performance, while secure boot ensures that only trusted software loads at startup.
In addition to the new iMac Pro, Apple is working on a redesigned Mac Pro architected for pros.
iMac Pro is available today starting at an Apple retail price of $4,999 (US).
If the base model isn't enough, you can upgrade to a 10-core, 14-core or 18-core processor or can opt for 64GB or 128GB. For storage, you can upgrade to 2TB or 4TB.
Final Cut Pro gets support for VR and HDR video editing
While the new iMac Pro is available today, Apple has released a major update to Final Cut Pro. The new v10.4 comes with support for 360 VR, HDR, and new color grading tools that may make it a more appealing option for videographers.
360-degree video can be edited in monoscopic and stereoscopic formats, depending on whether you're intending it to be viewed on a flat screen or a VR headset. An update to companion app Motion allows you to insert graphics and text into the video, and you can view your project in real time through a connected VR headset.
Final Cut Pro's HDR support lets you produce video for the standard HDR10 format as well as HLG. You can hook up an HDR-capable display to view your results, or check the raw brightness values on a standard monitor.
Final Cut Pro 10.4 also includes extra features like the ability to import projects from the iOS version of iMovie, HEVC format export, and audio effects plug-ins from Logic Pro.