2. DVD Recording Tests
We burned 4315MB of a DVD-Video compilation on various DVD±R, DVD±RW media. We used the maximum allowed writing speed for each disc. For our tests we used, as always, the latest Nero Burning Rom 6 version, the 6.6.0.16.
- DVD-R/-RW media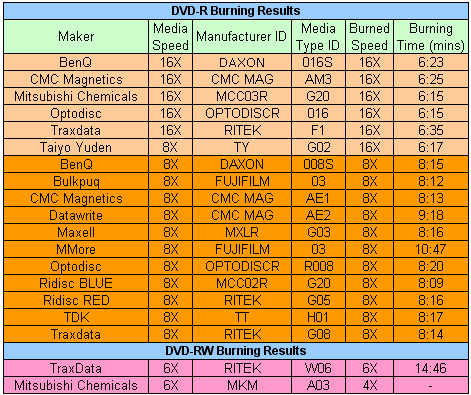 Generally the drive reported a very stable performance at both 8X or 16X speeds. The fastest time when burning at 16X with DVD-R media according to our tests, was 6:15min. We didn't noticed any 8X certified media to allow 12X, but the 16X compatibility list includes many media. In case of MMore medium it seems that the drive had to slow down in order to prevent any possible burning failure. This justify the increased writing time of 10:47min.
With DVD-RW media, the drive allowed writing at only 4X with 6X certified media from Mitsubishi Chemicals, while in case of Traxdata, although the reported writing speed was 6X, the time was actually closer to 4X.
- DVD+R/+RW media
Large 16X compatibility list once again, while with two of our tested 8X media, burning speed was 12X. Best 16X time was 6:08min. Although Nero reported 8X with CMC Magnetics, the time seems to be closer to 4X. Once again, the drive slows its writing speed in order to prevent any possible burning failures.
The writing times with DVD+RW media were rather slow, especially with Ricoh media.