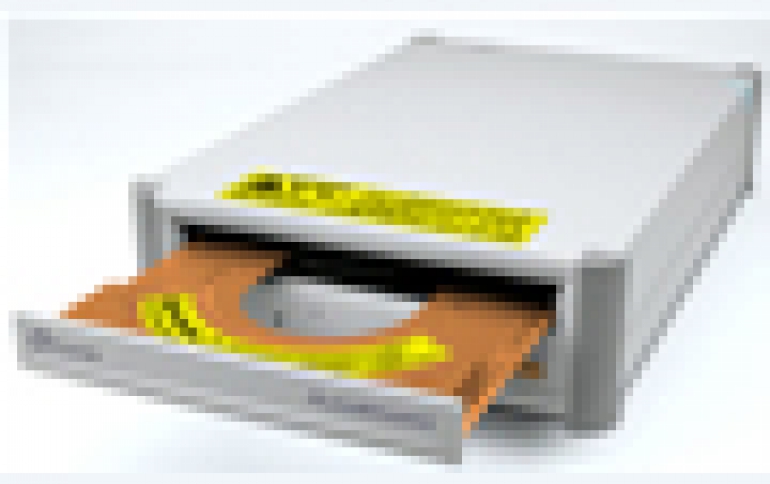 Plextor Destroys Data on CD, DVD Media
Japanese hardware maker Plextor will release in the middle of September the PLEXERASER, a device that will help users and enterprises avoid leakage of sensitive data stored on CD/DVD media by destroying them in a few minutes. The device looks like an ordinary PC drive and will be available in the Japanese market first, for about 25,000 yen.
The product operates as a standalone external device, which means that no PC connection is required. When a disk is inserted into the drive, its data are automatically destroyed.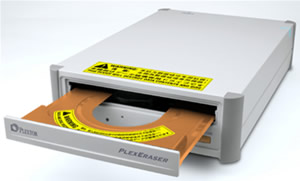 The PLEXERASER adopts the "PlexLaser Del" technology, which uses the laser power in order to destroy the recording layer of an optical disc (organic pigment layer), making the reading of the disc impossible. A fully recorded dual-layer DVD will be erased in six minutes. According to Plextor, the specific data destructing method is more environmental-friendly and allows easy recycling of the discs, compared to the physical destruction methods for CD/DVD media used by the optical disc industry.
The drive supports 8cm/12cm DVD±R DL/±R/±RW and CD-R/RW media. It doesn't support erasing of CD-ROM, DVD-ROM, and DVD-RAM discs.
Specifications
Product: PLEXERASER PX-OE100E
Supported media: 12cm/8cm DVD-R, DVD-RW and DVD-R DL, DVD+R, DVD+RW and DVD+R DL, CD-R
Data destruction time:
DVD SL: 3 minutes
DVD DL: 6 minutes
CD: 3 minutes
Loading system: Tray system
Power: AC100~240V (50/60Hz)
AC adapter: DC+12 (±10%) 3A
Power consumption 17.4W
Weight: 1.7kg
Size: 167.1mm x 53mm x 253.5mm (W x H x D)
Warranty: 1 year
The new Plextor PX-608AL
In related news, Plextor also announced today a new slim Super-multi DVD burner for notebooks. The PX-608AL features a slot-loading tray its special disc loading mechanism assures the physical protection of the inserted CD/DVD media.
The drive supports 4x writing for DVD±R DL, 5x for DVD-RAM, 6x for DVD-RW, 8x for DVD±R/+RW and 24x CD-R/-RW media.
Plextor Japan will offer the device in September to OEM customers.
Specifications:
Product name: PX-608AL
Interface: ATA/ATAPI 5 UltraATA/66 (Ultra DMA Mode 4)
Supported media:
DVD-ROM 1 layer /2 layer
DVD-R (4.7GB for General Ver.2.1)
DVD-RW (Ver.1.1/1.2)
DVD-R DL (Ver.3.0)
DVD+R (Ver1.3)
DVD+RW (Part1 Vol.1 Ver.1.3 and Part1 Vol.2 Ver1.0)
DVD+R DL (Ver1.0)
DVD-RAM (Ver.2.0/2.1/2.2)
CD
Red-book, yellow book, green book, white book and blue book, Orange book part 2, orange book part 3
Write:
DVD+R/+RW/-R: 8x ZCLV
DVD-RW: 6x ZCLV
DVD+R/-R DL: 4x ZCLV
DVD-RAM: 5x ZCLV
CD-R/RW: 24x ZCLV
Read:
DVD-ROM SL: 8x
DVD-ROM DL: 6x
DVD+R/-R: 8x
DVD+R/-R DL: 6x
DVD+RW/-RW: 8x
DVD-RAM: 5x ZCLV
CD-ROM/-R/RW: 24x ZCLV
Buffer: 2MB
Seek times: 160ms
Weight: 180g