Plextor Announces New 10x DVD+R DL DVD Burner
Japanese Plextor released today another DVD burner, capable of recording on DVD+R DL media at 10x, and DVD±R at 16x. The PX-755 series will come with ATAPI and S-ATA interfaces in Japan, and is expected in the market late December. The drive will be available in the European region in its ATAPI version only.
Both PX-755A (ATAPI) and PX-755SA (SATA) models will come in three different colors (white, black and silver face plates). In the performance side, the drives support 16x recording for DVD±R media, 10x for DVD+R DL (P-CAV), 6x for DVD-R DL, 8x for DVD+RW, 6x for DVD-RW, 48x for CD-R and 24x for CD-RW.
The drives will also support the Autostrategy technology, which selects the optimum recording strategy according to the quality/type of DVD recordable media. If necessary, the technology creates a new write strategy for unknown media (DVD+/-R).
Plextor introduced the 10x DVD+R DL recording speed some weeks ago with the announcement of the PX-760 series of recorders, which will be available at the market
later than scheduled
. According to Plextor, the 18x writing quality of the PX-760A drive in combination with the available media did not meet Plextor's internal writing quality standards, and the company will announce a new launcing date soon.
The 10x speed for DVD+R DL is achieved by using a customized P-CAV recording strategy. The drive start burning the disc at 6x and accelerates at the maximum 10x approximately at the 1.5 GB mark of the DVD+R DL (8GB) disc. However, the recording speed gradually decreases again to 6x, in the outer part of the disc, in order to meet the writing quality standards. Plextor says that a full DVD+R DL disc will be recorded in 11 minutes.
Last, the drives will bundle with the PlexTools Proffessional software, which allows users to evaluate the quality of the media they burn, as well with other popular software packages from Cyberlink, Nero, Pinnacle and Sonic. In addition, the drive features the SecureRecording, GigaRec and VariRec functions, already-known by the company's previous Premium models.
Basic specifications PX-755 Series:
Write:
16x CAV DVD+R, DVD-R
6x CLV DVD-R DL, DVD-RW
10x PCAV DVD+R DL
8x PCAV DVD+RW
48x CAV CD-R
24x ZCLV CD-RW
Read:
12x CAV DVD+R, DVD+RW, DVD-RW, DVD-R
8x CAV DVD+R DL, DVD-R DL
16x CAV DVD-ROM SL
12x CAV DVD-ROM DL
48x CAV CD-R/RW
Buffer: 2MB
Average seek time: 150msec DVD, 100msec CD
In addition, Plextor announced a portable DVD writer, the PX-608U. The stylish device measures just 22.2 mm thick and offers double layer DVD+/- writing, multi-format DVD-RAM capability and high-speed USB 2.0 data transfer. It is capable of the following DVD speeds: 4x DVD+/-R DL; 8x DVD+/-R; 8x DVD+RW; 6x DVD-RW and 5x DVD-RAM.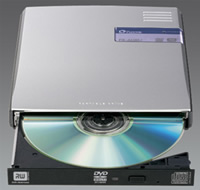 Also available from Plextor is its new 16x DVD+R media. The discs are manufactured for Plextor by Taiyo Yuden and is available in 25x and 50x spindle packs.
The Plextor PX-608U and PX-755A will be available from December 2005 at Plextor's network of dealers. The recommended retail prices will be:
- PX-608U: 165 euros (excl. VAT & taxes)
- PX-755A: 90 euros (excl. VAT & taxes)