Plextor Announces First 18x DVD±R Recorder
Plextor seems to push its hardware to the limits with the announcement of the new PX-760 DVD burner, capable of recording on DVD±R media at the blazing 18x speed. The company also announced a super-multi DVD recorder, codenamed PX-750. The Japanese company will launch both an ATAPI (PX-760A) and a SATA (PX-760SA) version of the drive. The PX-760 series is the first recorder to support 18x CAV recording on selected 16x DVD±R media (Taiyo Yuden, MKM) as well as 10x PCAV recording on 8x DVD+R DL media. The PX-760A is expected in the Japanese market by the end of November for 15,000 Yen (US $132), while the SATA version will be launched early December for 18,000 Yen (US $160).
According to Plextor, the 18x recording speed was successfully managed by using new servo mechanisms as well as by utilizing the "AutoStrategy" technology.
Originally developed by Taiyo Yuden, the "AutoStrategy" could be comparable with the "SolidBurn" technology, introduced by Philips/BenQ. This function decides the maximum allowed recording speed of the drive according to the blank media type. Using the power calibration areas on a disc, AutoStrategy follows an algorithm that includes power calibration as well as data error checking, in order to decide the optimum writing strategy for each media. The results can be stored in the drive's EEPROM in order to be recalled and used for future recordings of the specific type of disc (MID). In addition, user is able to use the strategy test function only without actually burning the media.
The PX-760 series also supports writing on DVD-R DL at 6x, 8x for DVD+RW, 6x for DVD-RW, and 48x/24x for CD-R/RW. PlexTools Professional is included in the retail package offering the popular Q-Check TA Test, Q-Check PI/PO Test, Q-Check Beta/Jitter Test and Q-Check FE/TE Test features.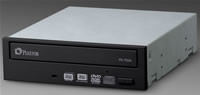 In addition, the first super-multi recorder of Plextor will be available in both internal (ATAPI) and external versions (USB 2.0/IEEE 1394, in Japan only). Both PX-750A and PX-750UF/JP drives support 16x DVD±R, 8x DVD±R DL (initially 6x for DVD-R DL, 8x by Firmware Upgrade)and 5x DVD-RAM recording (non-cartridged only). The ATAPI PX-750A is expected in Japan in the middle of November for 11,000 Yen (US $95), while the PX-750UF/JP is scheduled to hit the market early December priced at 14,000 Yen (US $123).
 

PX-750 Series

PX-760 Series

 

Read

Write

Read

Write

DVD+R
10x CAV
16x CAV
12x CAV
18x CAV
DVD+RW
8x CAV
8x ZCLV
12x CAV
8x CAV
DVD+R DL
8x CAV
8x ZCLV
8x CAV
8x ZCLV
DVD-R
10x CAV
16x CAV
12x CAV
18x CAV
DVD-RW
8x CAV
6x CLV
12x CAV
6x CLV
DVD-R DL
8x CAV
8x ZCLV
8x CAV
8x ZCLV
DVD-RAM
5x CLV
5x CLV
N/A
N/A
CD-R
40x CAV
40x CAV
48x CAV
48x CAV
CD-RW
40x CAV
24x CAV
40x CAV
24x CAV
CD-ROM
40x CAV
 
48x CAV
 
DVD-ROM

SL 16x CAV

DL 8x CAV

 

SL 16x CAV

DL 8x CAV

 
Buffer

2MB

Seek TimesCD
130 msec
100 msec
Seek TimesDVD
140 msec
150 msec