Pioneer Unveils BDR-203BK, its First 8x Blu-ray Writer
Pioneer Europe today unveiled its latest Blu-ray writer, the BDR-203BK, that's capable of writing at 8X speeds to Single Layer (25GB SL) and Dual Layer (50GB DL) BD-R discs. The product is also compatible with a wide range of Blu-ray, DVD-R/RW, +R/RW, DVD-RAM and CD media types, with other key specifications including: 2X write speed for BD-RE (SL and DL), 16X write speed for DVD-R/+R, 8X write speed for DVD-R DL/+R DL and 32X write speed for CD-R media.
While initial Blu-ray writers were aimed at professional users, the BDR-203BK has far wider appeal. The growing community of consumers with large digital image, HD-video and music libraries will especially appreciate the greater convenience of higher capacity media. For instance, an average feature length movie of 135 minutes of HD footage requires approximately 19.6GB of storage space. This demands five single-layer DVDs - a job that can be managed by a single BD disc. With digital music, depending on the exact compression format, a 50GB BD disc can store around 12,000 digital tracks.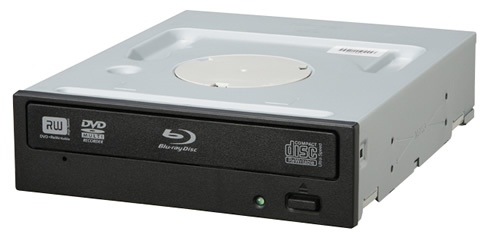 The optical pickup unit on the BDR-203BK achieves a maximum recording speed of 8X on Single and Dual Layer BD-R media and 2X on BD-RE Single and Dual Layer rewritable media.
A range of technologies are incorporated into the BDR-203BK to enhance read/write capabilities. These include:
- Ultra DRA: suppress vibration when reading and writing, a technology based on know-how that Pioneer has been cultivating in the development of DVD writers.
- Limited Equalizer LSI: improves reading reliability
- Multi-Effect Liquid Crystal Tilt Compensator: this advances recording and playback characteristics by adding correction to the laser beam which compensates for disc impurities such as titled media and media of various thickness.
The BDR-203BK includes CyberLink's Blu-ray Disc Suite 6 to enable the creation and playback of BD movies and the creation and playback of DVDs and CDs.
The BDR-203BK (black bezel) will be available on an OEM basis from February 2009.
It can also be purchased through Pioneer?s distribution network. While prices will be set by distributors, unit costs are expected to be in the region of €250.
Pioneer will also release the BDR-S03/BDR-S03BK (beige/black, Pioneer branded retail models) in the U.S. later this month.
Specifications