Pioneer BDR-WFS05J Blu-ray Burner Supports Wireless BD Playback
Pioneer will release later this month in Japan the BDR-WFS05J, a portable BD /DVD/CD burner that can wirelessly stream Blu-ray disc video to a computer.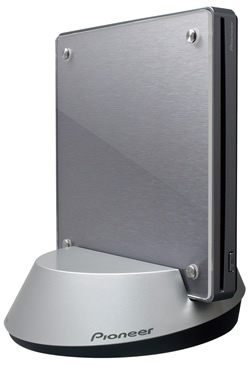 The drive features a dock with a wireless LAN connectivity, allowing users to connect to a LAN PC within the IEEE 802.11a/b/g/n range (2.4HGz/5GHz) and stream BD video or burn data stored on the remote PC without any cable connection. Of course, a fast IEEE 802.11n (300Mbps) Wi-Fi connection is a better choice for a better streaming experience.
The drive can be directly to your LAN's router is either a "station mode" or an "Access Point Mode". During BD playback, the access point mode maintains a transmission at 70Mbps.
For CD or DVD video and audio transmission, the station mode can be used.
The drive's dock is powered by an AC adapter. Of course, the dock can be also used as a wireless NAS device, with an external USB HDD or a USB flash drive connected to the dock.
Beyond the wireless connectivity, the BDR-WFS05J shares the same specifications with Pioneer's BDR-XS05J BD burner. The slot-loading drive can write BD-R SL/DL and BD-R LtH discs at up to 6X, BDXL (TL/QL) at 4X, and BD-RE discs at 2X. For DVDs, the drive burns them at 8x, and CDs at 24X. Blu-ray discs are read at speeds of up to 6X, DVDs at 8X, and CDs at 24X. Bundled software include Cyberlink PowerDVD 10, PowerDirector 10, PowerProducer 5, Power2Go 7, InstantBurn 5, PowerBackup 2, LabelPrint 2, and MediaShow 6.
Compatible Windows XP/Vista/7/8 (OS support coming with a firmware update), , the drive will retail in Japan for about 25,000 yen ($252.2).
Specifications
Supported disc firmats (burning)
BD
BD-R (Single / Dual / Triple / Quadruple layer), BD-RE (Single / Dual / Triple layer)
DVD
DVD-R, DVD-R DL, DVD-RW, DVD+R, DVD+R DL, DVD+RW, Highspeed DVD+RW, DVD-RAM
CD
CD-R, CD-RW, HS CD-RW, US CD-RW, US + CD-RW
Supported disc firmats (reading)
BD
BD-ROM (Single/Dual layer), BD-R (Single/Dual/Triple/Quadruple layer), BD-RE (Single/Dual/Triple layer)
DVD
DVD-ROM (Single/Dual layer), DVD-Video, DVD-R, DVD-R DL, DVD-RW, DVD+R, DVD+R DL, DVD+RW, DVD-RAM
CD
CD-ROM (Mode 1 & 2), CD-ROM XA, Photo CD (Single / Multi-session), Video CD, CD-DA, CD-Extra, CD-R, CD-RW
Interface
USB 3.0
Burn speed
BD
-R
2x, 4x, 6x
-R DL
2x, 4x, 6x
-R TL
2x, 4x
-R QL
2x, 4x
-R(LtH)
2x, 4x, 6x
-RE
2x
-RE DL -RE DL
2x 2x
-RE TL -RE TL
2x 2x
DVD
-R
1x, 2x, 4x, 6x, 8x
-R DL
2x, 4x, 6x
-RW
1x, 2x, 4x, 6x
+R
2.4x, 4x, 6x, 8x
+R DL
2.4x, 4x, 6x
+RW
2.4x, 4x, 6x, 8x
-RAM
2x, 3x, 5x
CD
-R -R
4x, 10x, 16x, 24x
-RW
4x, 10x, 16x, 24x
Read speed
BD-ROM SL
6x Max
BD-ROM DL
6x Max
DVD-ROM SL
8x Max
DVD-ROM DL
8x Max
CD-ROM
24x Max
Buffer
4 MB
Installation position
Vertical and horizontal
Dimensions
135 mm × 20.3 mm × 135 mm (W × H × D)
Weight
330 g
Dock station specs
| | |
| --- | --- |
| ARIB Standards | ARIB T66, ARIB T71 |
| Wireless Compliance | IEEE802.11a/b/g/n |
| Modulation | MIMO-OFDM/OFDM/DSSS |
| Security | WEP / WPA/WPA2 (only at station mode) |
| Network Setup | Simple connection method (only station mode) |
| Frequency band | 2.4 GHz / 5 GHz |
| Range | 10 m |
| Data transfer rate | Greater than 54 Mbps (300 Mbps standard time) |
| Recording and playback speed in Wireless Mode | 1.5x (BD) |
| Operating modes | Access Point mode (AP), station mode (ST) |
| Supported OS | Windows 8 , Windows 7 , Windows Vista , Windows XP SP3 (Japanese versions) |
| Dimensions | 118 mm × 35 mm × 142 mm (W × H × D) |
| Weight | 200 g |
| Interface | USB 2.0 |
Blu-ray and DVD video disc playback performance in wireless mode
Wireless LAN standard
Theoritical bandwidth
Access Point Mode
Station mode
40 MHz bandwidth IEEE802.11n
MIMO2×2
300 Mbps
70 Mbps effective speed
BD (2D) · DVD playback renewable
35 Mbps
DVD playback possible
20 MHz bandwidth IEEE802.11n
MIMO2×2
144 Mbps
50 Mbps
DVD playback possible
25 Mbps
DVD playback possible
IEEE802.11a
54 Mbps
20 Mbps
DVD playback possible
11 Mbps
IEEE802.11g
54 Mbps
18 Mbps
DVD playback possible
10 Mbps