Philips Showcases New 3D 21:9 TV at IFA
Philips presents a new range of products for home entertainment such as Blu-ray players and TVs at this year's IFA show. At the company's press conference held today in Berlin, Andrea Ragnetti, CEO Philips Consumer Lifestyle Philips Consumer Lifestyle, presented new product introductions across the company's four platforms: Home Living, Interactive Living, Healthy Life and Personal Care.
Philips presented the EISA award-winning Philips Cinema 21:9 TV with its partner, the EISA award-winning Philips Blu-ray player BDP9100.
"Speaking with consumers provided the insight behind Cinema 21:9. We learned that one of the major disappointments that consumers had, after buying a high definition TV, was losing 30% of the screen to black bars. So 30% of the high definition film was being 'lost' . What we also learnt is that consumers are really looking for is an immersive experience at home - just like the experience they have in the movie theatre. So, we developed a TV that has the proportions of a cinema screen, where the film is shown across the full 56" TV screen, just as the director intended it to be seen," Andrea Ragnetti explained.
Philips also created a prototype 3D Cinema 21:9 TV. However, the company seems to be cautious about the future of 3D technolgy.
"Consumer insights will determine the future developments of our TVs" Philips said.
Of course a 3D TV would not be complete without 3D Blu-ray input, so Philips also created a prototype 3D Blu-ray player. Along with the company's peers in the Blu-ray Disc Association Philips is moving forward with the development of a 3D specification for the Blu-ray Disc format.
The Philips Blu-ray player BDP9100 features subtitle-shift function and Philips presents it as "the ideal partner for the Cinema 21:9 TV." "This Blu-ray player was designed specifically for the Cinema 21:9 TV and features everything you can expect from a high-end Blu-ray player, including a feature which allows you to place subtitles where you want them,"Ragnetti said.
Other innovations in Interactive Living including, the third generation Aurea television, the 8000 series and 9000 series of TVs, Philips Net TV in multiple European languages, new Blu-ray players and Home Theatre Systems, including the latest Philips Soundbar with Ambisound and the new flagship model Philips Blu-ray player BDP9500.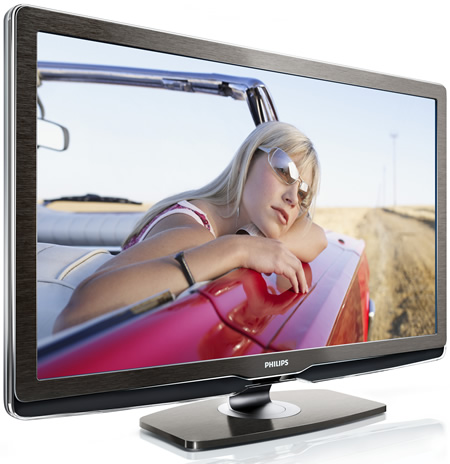 Philips' new range of Blu-ray products includes new Blu-ray versions of the company's Soundbar with Ambisound, conventional home theatre systems and affordable stand alone player.
The BDP9500, philips' new flag-ship Blu-ray player, promises to offer "true cinematic experience through state-of-the-art audio and video processing." Just like all other Philips Blu-ray players, it offers all the important features such as BD-Live, HD audio support and high quality DVD playback.
For design conscious consumers who demand superior sound and picture, the new Philips SoundBar with Ambisound is the right choice. It?s the second product in the company's Blu-ray range. The new SoundBar incorporates a complete home theater system, with integrated high definition Blu-ray Disc playback and an optional iPod dock. This means that users can enjoy all their entertainment in high definition surround sound and Blu-ray Disc picture quality without having multiple speakers.
Creating a cinematic experience in a home can result in lots of cables. To resolve that issue Philips has developed the Philips Wireless HDTV link as the solution for wireless transmission of high-quality pictures.
With this link, users can freely choose how to position your TV, audio and video products and even set-top box without compromising on picture quality. It connects all HDMI certified brands and devices within a range of 20 meters with high definition technology.
Philips will also launch the LCD TV of the Year, the 9704 TV with LED backlighting technology.