Philips Expands Its Series Of Ultra HD TVs Powered by Android
TP Vision, wchich concentrates on developing, manufacturing and marketing Philips branded TV sets, presented the new range of 4k Ultra HD Philips TVs powered by Android.
The European TV brand adds three new models to its 4k Ultra HD portfolio; from high-class to the more affordable, from flat to curved designs. The newly added Philips 7900 is a reasonably priced 4K Ultra HD TV powered by Android that features two-sided Ambilight. It is a good choice for users who are on a tighter budget but don't want to go without UHD picture quality, Android and Ambilight. The picture processing algorithms of its Pixel Precise Ultra HD engine upgrades any input picture into UHD resolution. 600Hz PMR Ultra is responsible for the moving images, and a twin tuner allows users to record a different programme than the one they are watching.
The Philips 8900 is the first-ever curved Philips TV. The 139cm (55") 4k Ultra HD TV is powered by Android and certified by Google. This provides access to Google Play Store with its wealth of apps, games and content. The curved Philips 8900 also features 3-sided Ambilight and has 1000 Hz Perfect Motion Rate Ultra plus Ultra Resolution to ensure motion sharpness. It also features Local Contrast, to further improve the screens? contrast, and Micro Dimming Pro, a sensor-based technology that dynamically adapts the LED backlight depending on the ambient room light.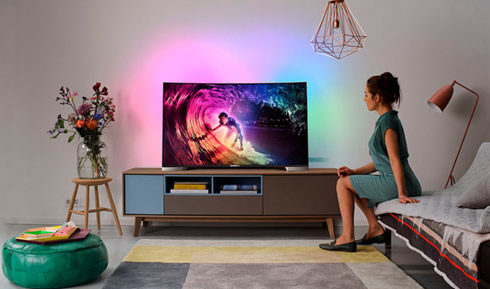 The third new entry to the 4k Ultra HD range, the Philips 9100, combines substantial picture processing power and picture enhancement algorithms, bold design and the capabilities of Android.
The Philips 9100 range, with models of 139cm (55") and 164cm (65"), features the Perfect Pixel Ultra HD picture quality engine that digitally adjusts and optimises picture quality. It also features Ultra Resolution - Philips' upscaling solution - to display non-UHD content as detailed as if it were shot in Ultra HD. 1,000Hz Perfect Motion Rate Ultra delivers flawless moving images, and Micro Dimming Pro further optimises the contrast.
In addition, 4-sided Ambilight in combination with the new 'Arc stand' creates the illusion that the Philips 9100 is floating in a halo of light.
The new Philips 7900, Philips 8900 and Philips 9100 TVs will be available during the third quarter in Europe and Russia.
TP Vision also presented a Philips Media Player that may solve one of the big challenges of the 4K UHD era ? the availability of content. It will allow receiving HEVC encoded content over the internet and watch it on Philips UHD TVs at the best possible picture quality. The Android L-based UHD 880 will be compatible with all 2013 and 2014 Philips UHD TVs.
The Media Player will be able to receive HEVC encoded videos via Wi-Fi, Ethernet and USB. An HDMI 2.0 connection between the media player and Philips UHD TVs allows 4K UHD content to be displayed at up to 60 frames per second.
The Philips UHD 880 will have Google's upcoming operating system, Android L. It will be also upgradable to support any new HEVC video streaming offerings from video service providers that are developed for the Android platform.
The Media Player is expected to be available in the first quarter of 2015 in Europe and Russia at a suggested retail price of 249 EUR. It will be made available for free in Q1 2015 to the owners of 2014 Philips UHD TV in the 8809,8909 curved, 9109 and 9809 series.