PC POWER COOLING Silencer MKIII 1200W review
2. Opening the box
Below you see the white package if the PSU, with its wattage, the 80PLUS Gold certification and the 7-year warranty of the unit to be prominently displayed.
The back of the box lists the technical specifications of the PSU, its basic features along with an explanation of the Dual Thermal Control System. Using a slider switch found at the rear side of the PSU you can set the fan mode to Silent Mode or Normal Mode. Normal mode ensures that the fan is always running and thermally controlled. Silent mode forces the fan off until the unit reaches 50% load at which it then becomes thermally controlled: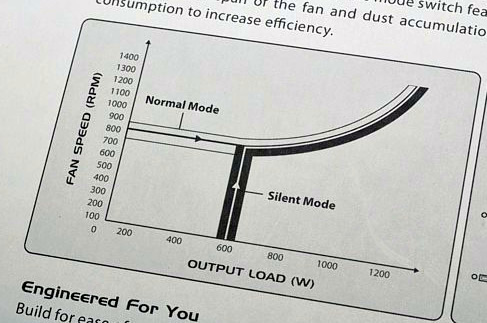 The sides of the box also give the cable and connector availability list:
Inside the box there is the PSU surrounded by foam, wrapped in a cloth bag and sealed in plastic within. Bundled with the Silencer is a manual, mains cable, screws and a set of cable ties.
The black bag you see above includes the modular cables. Each one has a metal connector instead of the plastic you typically see in PSU cables. It is said that is said to provide better and more stable electrical connectivity than regular plastic modular plugs:

Let's have a closer look to the main unit. Like the MK3 units, this PSU is painted white color. It's metallic case is mat and all of its corners are rounded for easier and handling.
On the top side there is a massive Ong Hua fan running on 0.36A and has a 2000rpm maximum speed. As we previously mentioned, there is a fan switch on the back of the PSU and this allows us to select two modes. In the first the fan is always on and temperature controlled. In mode 2 it is fanless up to 50% load and temperature controlled as required.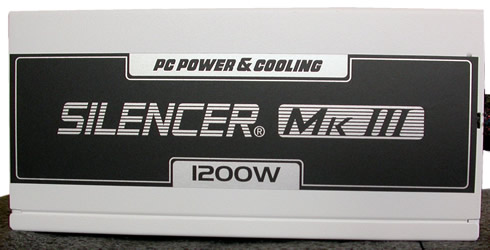 The interesting sides of the PSU is the one with the 8 modular sockets. They are four 6-pin connectors for peripheral cables and four 4-pin for PCI-E cables. These are made out of metal and are actually 4-pin and 6-pin male connectors, with screw caps used to attach the wiring (the modular cables.) As we earlier saw, each module cable also features a female metallic connector.
All the male connectors on the PSU are protected by silicone cap, which should be of course removed when you plug in cable. It would be also decent not to keep any unused connectors uncapped, as this could cause a short. But even in that rare case, the PSU's Short Circuit Protection would kick in to instantly shut the PSU down and protect it.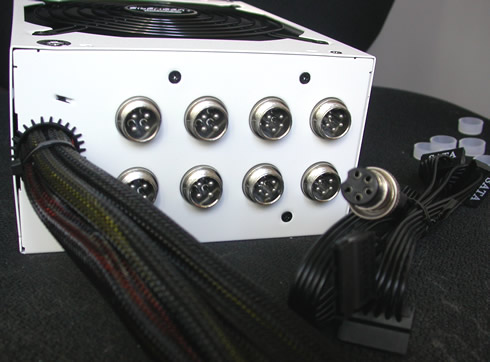 All native cables are also fully sleeved back into the housing, and around the cable exit-hole is a grommet to protect cabling from sharp edges.
The back side is standard with the honeycomb venting as well as the AC input, the on/off and the Dual Thermal Control System switches: