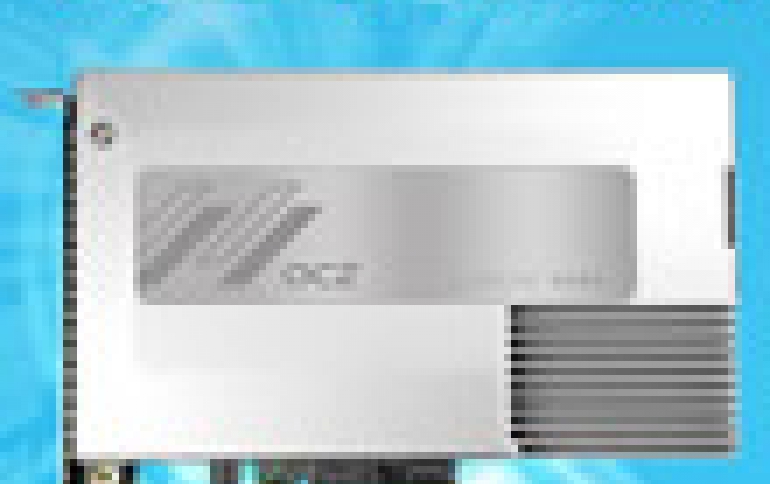 OCZ Launches New Z-Drive 4500 PCIe SSD Series with Windows Accelerator Software
OCZ Storage Solutions today introduced the enterprise-class Z-Drive 4500 PCI Express (PCIe) SSD Series. The new Z-Drive 4500 Series delivers even higher performance in comparison to OCZ's Z-Drive R4 Series, leverages 19 nanometer (nm) MLC NAND flash, and is covering 800GB, 1.6TB and 3.2TB usable capacities.
Each model within the Z-Drive 4500 Series is integrated with OCZ's new Windows Accelerator (WXL) Software -- a flash new management and caching solution for Microsoft Windows Server applications. The software enables IT managers to deliver low-latency flash deployable as a local flash volume, a flash cache for HDD volumes or as a combination of both.
When deployed for caching, WXL Software performs statistical 'out-of-band' processing to intelligently cache the most frequently accessed data on Z-Drive 4500 flash. A cache warm-up and analysis mechanism is also featured enabling demanding analytical jobs to be loaded onto the Z-Drive 4500's flash cache in advance to assure that this critical data is available to the application at the exact time it is needed.
The new Z-Drive 4500 Series are driven by OCZ's proprietary Virtualized Controller Architecture (VCA) and LSI SandForce SF-2582 processors. Based on SNIA test methodologies, the series delivers maximum read bandwidth of up to 2,900 MB/s, maximum write bandwidth of up to 2,200 MB/s, random 4K block read throughput of up to 252,000 input/output operations per second (IOPS) and random 4K block write throughput of up to 76,000 IOPS.
For flash-based virtualization, the Z-Drive 4500 Series works in conjunction with OCZ's VXL Virtualization Software distributing flash cache resources on-demand across virtual machines (VMs) to accelerate application performance.
The Z-Drive 4500 Series also features a suite of tools and capabilities including:
- Power loss data protection that protects in-flight write operations in the event of a sudden power failure
- End-to-end data path protection that performs data integrity checks at every data juncture ensuring that corrupted data is detected and not propagated
- 128-bit AES encryption
- TRIM Command support that enables data pages to be overwritten and re-used
- Temperature sensing and thermal throttling for maintaining consistent operating conditions so drives can continue to function through adverse temperature variances
- New SSD casings for providing a more stable and thermally efficient environment
- A rebuild of the Linux and Windows kernel device drivers from the Z-Drive R4 platform and optimized to improve SSD performance and stability
- Ease of deployment as installation drivers are packaged with RedHat Package Manager (RPM) and Debian (DEB) package files to automate the installation process
Designed in a Full-Height/Half-Length (FHHL) format the available MLC models include 800GB capacity (Model ZD4RPFC8MT300-0800), 1.6TB capacity (Model ZD4RPFC8MT310-1600), and 3.2TB capacity (Model ZD4RPFC8MT320-3200).
All drives come backed with a 5 year warranty.
Specifications
PHYSICAL
Usable Capacities (IDEMA)
800GB / 1600GB / 3200GB
NAND Components
Multi-Level Cell (MLC)
Interface
PCI Express Gen. 2 x8
Form Factor
Full-Height/Half-Length (FH/HL)
Storage Controller
VCA 2.0 (Virtualized Controller ArchitectureTM)
Dimensions (L x W x H)
126.3mm x 180.9mm x 21.6mm
Weight
350g
SUSTAINED PERFORMANCE (based on ZD4RPFC8MT320-3200 model)
Max Read
Up to 2,9000 MB/s
Max Write
Up to 2,200 MB/s
Sustained Random 4K Reads1
Up to 252,000 IOPS
Sustained Random 4K Writes1
Up to 76,000 IOPS
Sustained Random 8K Reads1
Up to 155,000 IOPS
Sustained Random 8K Writes1
Up to 31,000 IOPS
ENVIRONMENTAL
Power Consumption
800GB: 18.4W Idle, 20.8W Active
600GB: 20.3W Idle, 23.1W Active
1600GB: 20W Idle, 22.8W Active
Operating Temperature
0°C ~ 55°C
Non-Operating Temperature
-45°C ~ 85°C
Airflow Requirement
300LFM (Linear Feet per Minute) at 25°C
550LFM (Linear Feet per Minute) at 40°C
Certifications
RoHS, FCC , CE, BSMI, C-TICK, VCCI, KCC, UL
RELIABILITY/SECURITY
Mean Time Between Failures (MTBF)
2 million hours
Endurance Rating
Minimum of 0.68PB (800GB), 1.3PB (1600GB), 2.5PB (3200GB)
Power Fail Protection
Full in-flight data protection for unexpected system power loss
Data Path Protection
End-to-end data path protection at every data juncture
Data Reliability
Read Unrecoverable Bit Error Rate (UBER) 10-17
Data Encryption
Data compression, Data de-duplication, and AES 128bit encryption
Product Health Monitoring
Self-Monitoring, Analysis and Reporting Technology (SMART) support with enteprise attributes
Data Recovery
In case of block failures, RAID mechanisms are used to recover data
COMPATIBILITY
PCI Express
PCI Express x8 or x16 slot; Fully compliant with the PCI Express Electromechanical Specification Rev. 2.0, and PCI Express Base Specification Rev. 2.0
Serial ATA (SATA)
SATA Rev. 2.6 compliant ATA feature set; ATA-8 compliant
Operating Systems
32/64-bit Microsoft Windows 7, 8, 8.1
32/64-bit Windows Server 2008 R2, 2012, 2013 R2
64-bit Linux Red Hat Enterprise, Oracle & Centos 6.x
64-bit SLES 11 SP1-3
64-bit Ubuntu Server 10.04 LTS, 12.x, 13.x
VMware ESX/ESXi 4.1, 5.x
Power Management
Supports ATA Power Management Specification
Power Requirement
PCIe 12V & 3.3V
ADDITIONAL FEATURES
Performance Optimization
TRIM (requires OS support)
Optimize Sustained Latency Performance
Consistent latency IO operations regardless of data entropy
Temperature Sensor
Temperature sensing and thermal throttling without sacrificing performance under normal operation
Custom Configuration Options
Allow performance aggregation across multiple cards for increased performance
Proprietary Virtualized Controller Architecture (VCA) 2.0
Virtualizes SSD devices into a massively parallel array of memory
Consolidated SMART support
Upgradable Firmware
Field-upgradable firmware
Services & Support
5-year warranty; Dedicated FAE support