Nvidia GeForce Experience Adds OpenGL, Vulkan Support
Nvidia is expanding its GeForce Experience software to add gameplay recording and broadcasting support for OpenGL and Vulkan games.
In other words, you can now stream and record your Minecraft and Doom gameplay with the press of one hotkey, and use the built-in overlay to easily share to Facebook, Google, Twitch, and more. It's powered by Nvidia's ShadowPlay technology, so you can capture up to 4K 60 FPS and never miss a beat while you game.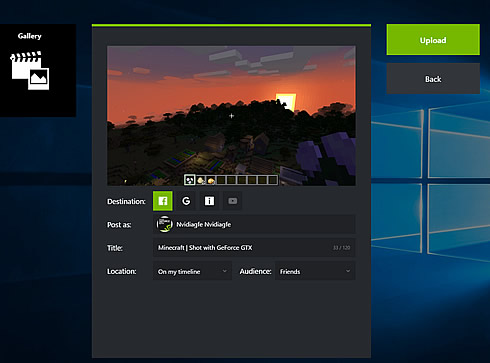 For those familiar with GeForce Experience already, Nvidia has also improved user controls for upload, broadcast, and gallery so sharing gameplay is even easier.
For starters, the Video and Screenshot upload interface is now unified, with identical controls and easy options to switch between supported sites and services. In addition, logging into sites can be done from the same screen, and options for privacy and sharing are all accessible and visible from one view.
On the Broadcast screen, used for Facebook, Twitch and YouTube streaming, Nvidia has applied the same treatment, enabling you to control all broadcast options from a single screen, and to login to services from the same location.
The Gallery sees improvements too, with the addition of an 'upload history' screen showing all prior uploads, and the location they were uploaded to (accessible via a "Copy URL" button). And a button has been added to the Gallery that enables you to instantly jump to the file location of a screenshot or video in Windows Explorer.
Finally, all screenshot, video and broadcast functions are enhanced by the addition of support for native OpenGL and Vulkan capture in all screen modes, enabling you to capture content from games like Doom, Minecraft and No Man's Sky.