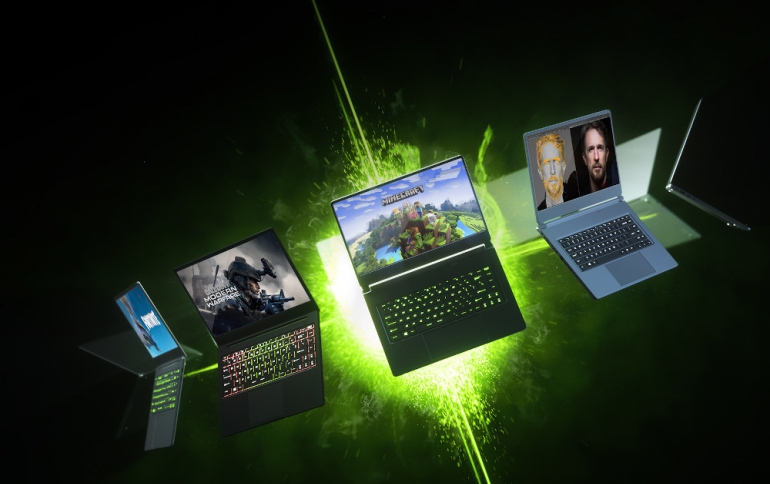 Nvidia Brings Its GTX 2080, 2070 Super to Laptops
Nvidia is bringing its Turing-based Super cards to laptops, in the form of the new RTX 2080 Super and RTX 2070 Super.
Below you see the SKUs:



GEFORCE RTX 2080 SUPER

GEFORCE RTX 2080

GEFORCE RTX 2070 SUPER

GEFORCE RTX 2070

GEFORCE RTX 2060

GPU Engine Specs:

NVIDIA CUDA Cores

3072
2944
2560
2304
1920

RTX-OPS

38 - 55 T
37 - 53 T
34 - 40 T
31 - 38 T
26 T

Giga Rays/s

5 - 7
5 - 7
4 - 5
4 - 5
3.5

Boost Clock (MHz)

1080 - 1560 MHz
1095 - 1590 MHz
1155 - 1380 MHz
1125 - 1455 MHz
1185 - 1200 MHz

Base Clock (MHz)

735 - 1365 MHz
735 - 1380 MHz
930 - 1140 MHz
885 - 1215 MHz
960 MHz

Graphics Subsystem Power (W)

80 - 150+ W
80 - 150+ W
80 - 115 W
80 - 115 W
65-90 W

Memory Specs:

Memory Speed

Up to 14 Gbps
Up to 14 Gbps
Up to 14 Gbps
Up to 14 Gbps
Up to 14 Gbps

Standard Memory Configuration

8GB GDDR6
8GB GDDR6
8GB GDDR6
8GB GDDR6
6GB GDDR6

Memory Interface Width

256-bit
256-bit
256-bit
256-bit
192-bit

Memory Bandwidth (GB/sec)

Up to 448 GB/s
Up to 448 GB/s
Up to 448 GB/s
Up to 448 GB/s
Up to 336 GB/s

Technology Support:

Hardware Accelerated Ray Tracing

Yes
Yes
Yes
Yes
Yes

NVIDIA GeForce Experience

Yes
Yes
Yes
Yes
Yes

NVIDIA Ansel

Yes
Yes
Yes
Yes
Yes

NVIDIA Highlights

Yes
Yes
Yes
Yes
Yes

NVIDIA G-SYNC Compatible

Yes
Yes
Yes
Yes
Yes

NVIDIA Optimus Technology

Yes
Yes
Yes
Yes
Yes

NVIDIA BatteryBoost

Yes
Yes
Yes
Yes
Yes

NVIDIA WhisperMode

Yes
Yes
Yes
Yes
Yes

Game Ready Drivers

Yes
Yes
Yes
Yes
Yes

Microsoft DirectX 12 Ultimate, Vulkan API, OpenGL 4.6

Yes
Yes
Yes
Yes
Yes

DisplayPort 1.4a, HDMI 2.0b1

Yes
Yes
Yes
Yes
Yes

HDCP 2.2

Yes
Yes
Yes
Yes
Yes

NVIDIA GPU Boost

Yes
Yes
Yes
Yes
Yes

VR Ready

Yes
Yes
Yes
Yes
Yes

NVIDIA Encoder (NVENC)

Yes
(Turing)
Yes
(Turing)
Yes
(Turing)
Yes
(Turing)
Yes
(Turing)
In addition, the company is offering up improvements to its laptop-slimming Max-Q technology, as well asthe power-saving Optimus Technology support to systems with screen-smoothing G-Sync displays.
Nvidia announced advancements to its Max-Q technology. These include Dynamic Boost, which is a more dynamic sharing of available thermals. The feature lets the graphics card consume more power when the full power of the CPU isn't necessary. AMD's SmartShift technology, which was introduced in the recently-launched Ryzen Mobile 4000 APUs and is also in the PlayStation 5, works in s similar manner.
Like SmartShift, NVIDIA's Dynamic Boost is designed to take advantage of the fact that in many laptop designs, the GPU and the CPU share a common thermal budget. The cooling capacity of most systems is more than the TDP either of the CPU or GPU alone, but less than the total TDP of those two processors together.
Dynamic Boost is dynamically allocating power between the CPU and the GPU, a system should be able to get a bit more performance by allocating power smarter -- i.e. a CPU to go to a full TDP for a short period of time because the GPU is known to be idle, or borrowing some of the thermal budget from a lightly-loaded CPU and instead spending it on the GPU.
Whereas AMD's SmartShift is designed to work with the combination of AMD APUs and GPUs, NVIDIA as a common GPU supplier for both platforms needed to develop a solution that works with both. So Dynamic Boost can be used with both Intel Core processors and AMD Ryzen processors in a relatively generic manner, meaning that OEMs are able to apply the technology regardless of the CPU they use.
As for the performance benefits, Dynamic Boost will none the less OEMs get a bit more performance out of their GPUs. LDo not expect anything greater than 10%.
Dynamic Boost is an optional feature.
Nvidia is also updating the Optimus tech, which switches over to integrated graphics when not handling GPU-intensive tasks.
Optimus is now supporting G-Sync displays (up to 4K and 120Hz) so you can finally get good battery life while not gaming and smooth variably refreshed frames when you are.
NVIDIA's Advanced Optimus technology is a further enhancement of NVIDIA's Optimus technology, finally allowing for G-Sync to be used with the power-saving technology.
Optimus is NVIDIA's graphics switching technology -- both an iGPU and a dGPU can be eficiently used together.
For Advanced Optimus, NVIDIA is allowing laptops to switch between the iGPU and the dGPU on the fly, without a reboot. This makes the variable refresh technology more accessible.
Ultimately, NVIDIA's goal is to get variable refresh/G-Sync support in a lot more laptops than it is today. This is still an optional feature for OEMs.
In addition, Nvidia says its machine-learning-assisted upscaling DLSS feature (now DLSS 2.0) can improve battery life by up to 20%.
Nivida says GTX 1650 laptops will now start as low as $699, with RTX 2060 laptops starting at $999.
Ten new laptops are joining the RTX Studio lineup.Available from Acer (ConceptD 7 Ezel and ConceptD 7 Ezel Pro), Gigabyte (AERO 15 OLED and AERO 17 HDR), MSI (Creator 15, Creator 17, WS66 and WS75) and Razer (Blade 15 Base RTX Studio Edition and Blade 15 Advanced RTX Studio Edition), these laptops have creator-specific features such as Wacom Pens, 4K OLED and IPS screens with 100 percent Adobe RGB or DCI-P3, and superb industrial design.
In the weeks ahead, HP will also launch new precision-engineered RTX Studio laptops.
For a limited time, these new RTX Studio laptops come with three months of Adobe Creative Cloud (a $238.47 value) for new and existing Adobe customers.
Over 45 of the world's top 3D applications — including the most essential tools for design and content creation from Adobe to Autodesk to Blackmagic Design — are being accelerated with NVIDIA RTX technology.