Nokia Approches Social Internet and Amplifies Music Experience With New Phones
Today, at Nokia World, Nokia nnounced a new location-based service with social networking site Facebook as well as the new Nokia N97 mini, the X3 and the X6 music phones. Olli-Pekka Kallasvuo, CEO, Nokia, commented: "Nokia aims at reaching the many, not the few, with our rich portfolio of services. We are doing this through an increasing number of open partnerships with world leaders in many fields. We are proud to lead the charge in smartphones and beyond as manifested in the Nokia N900 and Nokia Booklet 3G, two great examples of how the world is changing and Nokia is driving this change."
Nokia said its new Booklet 3G, which marks its entry into netbook computers, will go on sale for about 575 euros and run on Microsoft's Windows 7 operating system. Basic specifications of the new netbook include an Intel Atom Z530, 1.6 GHz CPU and Poulsbo US15W chipset, a 10.1", 1280?720 pixels display, 1 GB, DDR2 RAM, 120 GB, 1.8"/5mmH/SATA, 8 MB cache, 4200 RPM HDD, 1.3 MP camera. Connectivity options include 802.11 b/g/n, 2T2R BT 2.1 + EDR and an inbuilt 3G modem. The netbook is powered by a 16 cell, 56.8 Wh, Li-Ion battery and also has an HDMI 1.2 output.
Opening up the next chapter of personal and location-aware internet, Nokia announced lifecasting with Ovi, a partnership with the world's largest social network, Facebook. Lifecasting with Ovi is the first application to let people publish their location and status updates directly to their Facebook account from the home screen of a mobile device. Lifecasting triggers new kinds of communication patterns, such as sending messages or status updates or even navigating to a friend or a place.
Lifecasting will premiere on the new Nokia N97 mini, companion to the Nokia N97. Designed with a social and style-conscious consumer in mind, the Nokia N97 mini is a smaller mobile computer with stylish stainless steel cues, featuring a 3.2" touch display, QWERTY keyboard and fully customizable homescreen.
Lifecasting with Ovi will be available for both the Nokia N97 and Nokia N97 mini via Nokia Beta Labs. The Nokia N97 mini features new software which will be released in October as a free update for the Nokia N97. The new software includes new homescreen widgets and additional usability improvements such as flick scrolling.
The Nokia N97 mini is powered by a new Ovi Maps experience which makes searching, finding and navigating even easier.
The Nokia N97 mini is expected to begin shipping in October 2009 for an estimated retail price of EUR 450 before taxes and subsidies.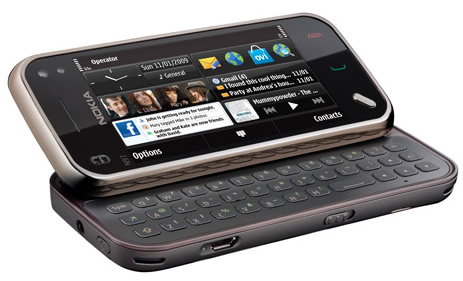 The Comes With Music story continues with the Nokia X6 Capable of playing up to 35 hours of music, the Nokia X6 combines 32GB of on-board memory with a 3.2" finger touch interface.
The Nokia X6 has a 16:9 widescreen and direct access to Ovi Store, bringing 20 friends and virtual communities, like Facebook, to the homescreen.
The new Nokia X3 also joins Nokia's music portfolio. The Nokia X3 is designed for music lovers and is the first Series 40 Ovi Store-enabled device. The Nokia X3 is a sleek and compact music device that comes with stereo speakers, built-in FM radio, and a 3.2 megapixel camera.
The Nokia X6 has an estimated retail price of EUR 450, with the Nokia X3 retailing for an estimated EUR 115. Prices are before taxes and subsidies, and both devices will ship during the fourth quarter of 2009.