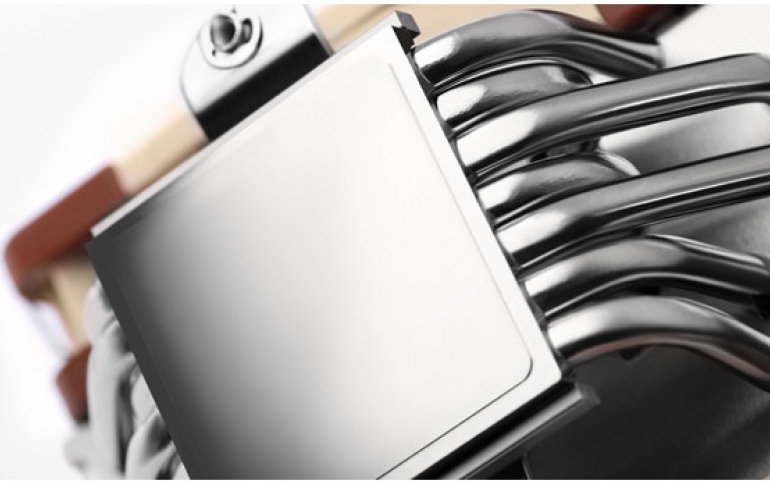 Noctua Launches New NH-U12A Premium 120mm CPU Cooler
Noctua today presented its new NH-U12A premium-quality quiet CPU cooler.
The 5th generation of Noctua's U12 series of 120mm size coolers combines two of Noctua's flagship model NF-A12x25 PWM 120mm fans in a push/pull configuration with a redesigned heatsink featuring 7 heatpipes and an increased fin surface area (37% more compared to the NH-U12S). Noctua claims that the NH-U12A can rival the performance of many 140mm sized coolers while offering 120mm class case and PCIe compatibility.
At the same time, the NH-U12A offers advantages in RAM, case and PCIe compatibility when compared to larger 140mm class coolers: Due to its asymmetric design, it does not overhang the RAM slots on Intel LGA115x and AMD AM4 based motherboards, which ensures easy access and compatibility with modules that have tall heat-spreaders. As far as case compatibility is concerned, the 158mm tall cooler is short enough to fit most modern mid- or high-end tower cases. Measuring 125mm wide (including fan and fan clips), the NH-U12A stays clear of the top PCIe slot on most standard ATX or Micro-ATX motherboards, ensuring compatibility with multi-GPU setups.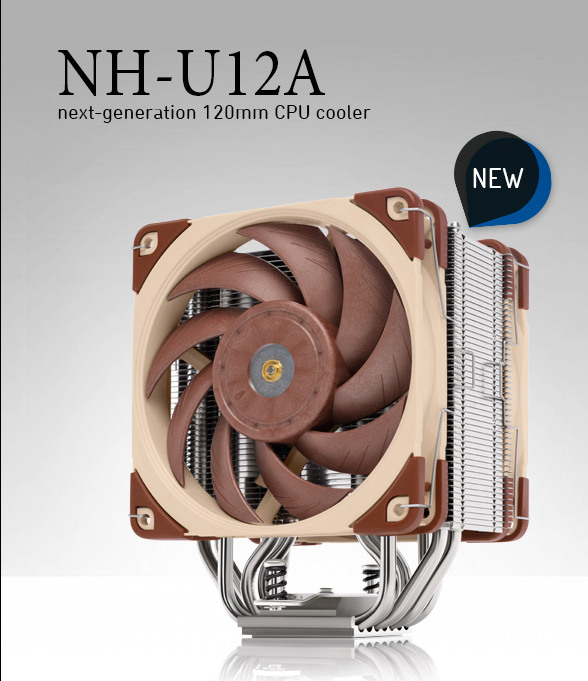 The $100 cooler features Noctua's SecuFirm2 multi-socket mounting system, comes with Noctua's NT-H1 thermal compound and a full 6-year manufacturer's warranty.
Cooler Specification
Socket compatibility: Intel LGA1150, LGA1151, LGA1155, LGA1156, LGA2011, LGA2066 and AMD AM4, AM3(+), AM2(+), FM1, FM2(+)
Height (without fan): 158 mm
Width (without fan): 125 mm
Depth (without fan): 58 mm
Height (with fan): 158 mm
Width (with fan): 125 mm
Depth (with fan): 112 mm
Material: Copper (base and heat-pipes), aluminium (cooling fins), soldered joints & nickel plating
Max. TDP: see CPU compatibility list
Fan compatibility: 120x120x25
Scope of delivery
2x NF-A12x25 PWM 120mm fan
2x Low-Noise Adaptor (L.N.A)
4-pin PWM y-cable
SecuFirm2 mounting system for Intel and AMD
NT-H1 thermal compound
Noctua Metal Case-Badge
Warranty: 6 Years
FAN Specification
Model: Noctua NF-A12x25 PWM
Bearing: SSO2
Max. rotational speed: (+/- 10%) 2000 RPM
Max. rotational speed with L.N.A.: (+/- 10%) 1700 RPM
Min. rotational speed: (PWM, +/-20%) 450 RPM
Max. airflow: 102,1 m³/h
Max. airflow with L.N.A.: 84,5 m³/h
Max. acoustical noise: 22,6 dB(A)
Max. acoustical noise with L.N.A.: 18,8 dB(A)
Voltage range: 12 V
MTTF > 150.000 h