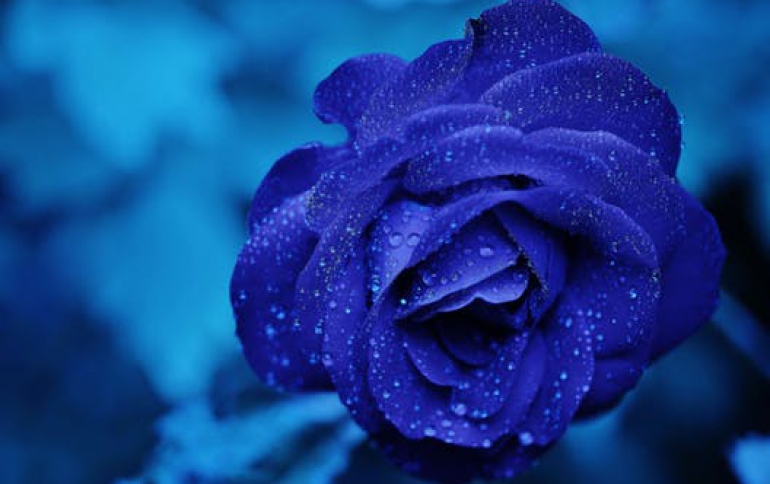 Noctua launches CPU Coolers for LGA3647 Intel Xeon Platforms
Noctua today introduced three quiet CPU coolers for the LGA3647 socket of Intel's Xeon Scalable (Platinum, Gold, Silver, Bronze) and Xeon-Phi processors.
Coming in 140, 120 and 92mm form factors respectively, the new NH-U14S DX-3647, NH-U12S DX-3647 and NH-D9 DX-3647 4U cover all bases from large, high performance workstations all the way to compact 4U size servers.
The new DX-3647 line coolers are customised solutions for Intel's professional LGA3647 platform, which makes them a fit for both Skylake-SP-based Xeon Scalable CPUs (Platinum, Gold, Silver or Bronze, Purley series) and Xeon-Phi processors (code names Knight's Landing or Knight's Mill). At 70x56mm, the heatsinks' copper contact surface is more than double the size of the standard models, tailored to fit the enormous integrated heat-spreaders (IHS) of Intel's LGA3647-based processors.
Whereas the large 14cm NH-U14S DX-3647 and 12cm NH-U12S DX-3647 are designed for tower-style cases and thus lend themselves to use in high-performance quiet workstations, the smaller NH-D9 DX-3647 4U fits 4U cases, which makes it perfect for 4U class rack-mount servers that need to run as quietly as possible. While the 14cm model relies on a single NF-A15 PWM fan to achieve maximum performance, thanks to its large surface area, the 12cm and 9cm models use dual fan configurations with two NF-A12x25 (NH-U12S DX-3647) and NF-A9 HS-PWM (NH-D9 DX-3647 4U) fans.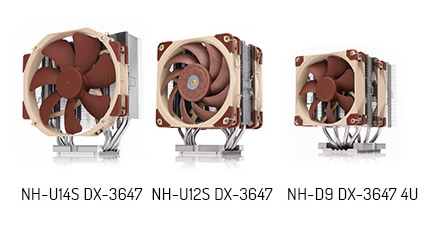 The heatsinks' SecuFirm2 mounting system includes two sets of brackets in order to support both square and narrow-type LGA3647 sockets. Thanks to the pre-installed mounting screws and included processor clips (square type and narrow type without Omni-Path fabric connector, with fabric connector on request), the installation procedure is easy. All three DX-3647 coolers come with NT-H1 thermal compound pre-applied.
The suggested retail prices are as follows:
NH-U14S DX-3647: 89.90 EUR/USD
NH-U12S DX-3647: 99.90 EUR/USD
NH-D9 DX-3647 4U: 89.90 EUR/USD

 
NH-U14S DX-3647
NH-U12S DX-3647
NH-D9 DX-3647
Socket compatibility:
Intel Xeon LGA3647
Height (without fan)
165 mm
158 mm
134 mm
Width (without fan)
150 mm
125 mm
95 mm
Depth (without fan)
52 mm
45 mm
95 mm
Height (with fan)
165 mm
158 mm
134 mm
Width (with fan)
150 mm
125 mm
95 mm
Depth (with fan)
78 mm
97 mm
120 mm
Weight (without fan)
797 g
626 g
584 g
Weight (with fan/s)
957 g
1018 g
769 g
Material
Copper (base and heat-pipes), aluminium (cooling fins), soldered joints & nickel plating
Fan compatibility
140x150x25 (with 120mm mounting holes), 140x140x25 (with 120mm mounting holes), 120x120x25
120x120x25
Warranty
6 Years
FAN
Model
Noctua NF-A15 PWM
2x Noctua NF-A12x25 PWM
2x Noctua NF-A9 HS-PWM
Bearing
SSO2
Max. Rotational Speed (+/- 10%)
1500 RPM
2000 RPM
2500 RPM
Min. Rotational Speed (PWM, +/-20%)
300 RPM
450 RPM
400 RPM
Max. Airflow
140,2 m³/h
102,1 m³/h
96,3 m³/h
Max. Acoustical Noise
24,6 dB(A)
22,6 dB(A)
30,6 dB(A)
Input Power
1,56 W
1,68 W
1,68 W
Voltage Range
12 V
MTTF
> 150.000 h