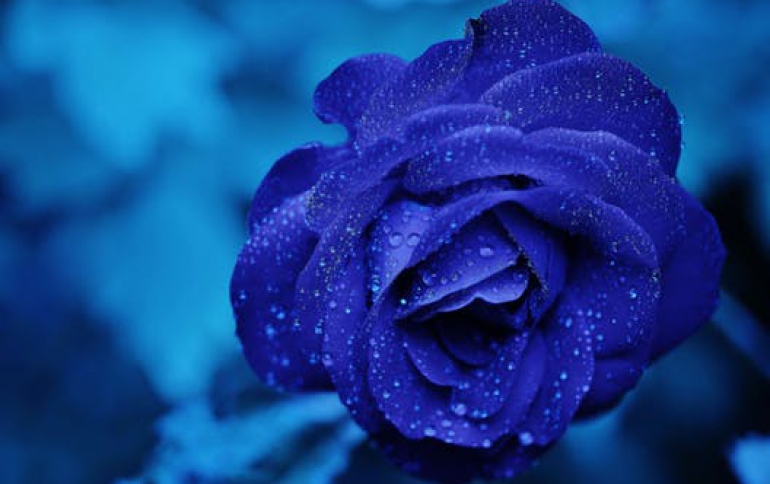 Noctua Introduces Chromax Line Fans, Cables and Heatsink Covers
Noctua today introduced the chromax editions of its 120mm and 140mm fan models as well as chromax line cables and heatsink covers for its NH-U12S and NH-D15 series CPU coolers.
All the new chromax line products allow users to colour-customise their Noctua cooling systems in order to match popular build colour schemes.
The NF-A15, NF-A14, NF-F12 and NF-S12A are among Noctua's most renowned 140mm and 120mm fans. The new chromax.black.swap edition combines their signature quiet cooling performance with an all-black design and a bundle of swappable red, white, blue, green, yellow and black anti-vibration pads that allow the colour-customisation of the fans. The fans feature Noctua's premium-grade SSO2 bearing, more than 150,000 hours MTTF and a 6-year manufacturer's warranty.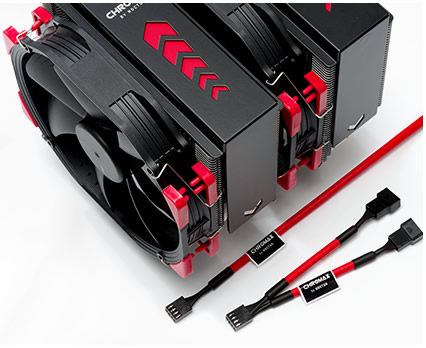 Noctua's new chromax line NA-SEC1 extension cable and NA-SYC1 y-cable sets enable users to take one step further in colour-customising their fans: available with red, blue, green, yellow, black and white sleeving, the cables allow a PC build to be colour-coordinated down to the smallest detail and are an ideal match for the new chromax.black.swap edition fans. While the NA-EC1 30cm extension cables provide extra reach in larger enclosures, the NA-YC1 y-cables make it possible to run two 4-pin PWM fans on a single fan header and to let the motherboard control the speed of both fans simultaneously.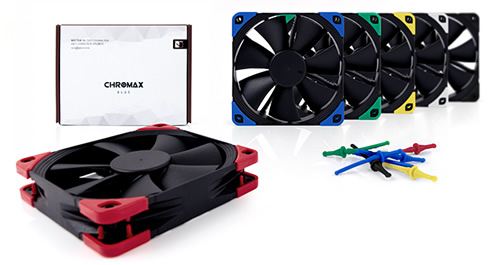 The new NA-HC heatsink covers are add-on accessories for Noctua's NH-U12S and NH-D15(S) series CPU coolers. Made from powder-coated aluminium and available in black (chromax.black), white (chromax.white) and black with swappable inlays in black, white, red, blue, green and yellow (chromax.black.swap), they allow users to colour-customise their coolers in order to coordinate them with popular build colour schemes such as all-black, black and white or black and red.
Prices and availability
All products are currently shipping and will be available shortly. The manufacturer's suggested retail prices are as follows:
NF-A15 HS-PWM chromax.black.swap: EUR 26.90/USD 26.90
NF-A14 PWM chromax.black.swap: EUR 24.90/USD 24.90
NF-F12 PWM chromax.black.swap: EUR 22.90/USD 22.90
NF-S12A PWM chromax.black.swap: EUR 22.90/USD 22.90
NA-HC1 chromax.black.swap: EUR 19.90/USD 19.90
NA-HC2 chromax.black: EUR 19.90/USD 19.90
NA-HC2 chromax.white: EUR 19.90/USD 19.90
NA-HC3 chromax.black.swap: EUR 29.90/USD 29.90
NA-HC4 chromax.black: EUR 29.90/USD 29.90
NA-HC4 chromax.white: EUR 29.90/USD 29.90
NA-SEC1 chromax.black: EUR 9.90/USD 9.90
NA-SEC1 chromax.blue: EUR 9.90/USD 9.90
NA-SEC1 chromax.green: EUR 9.90/USD 9.90
NA-SEC1 chromax.red: EUR 9.90/USD 9.90
NA-SEC1 chromax.white: EUR 9.90/USD 9.90
NA-SEC1 chromax.yellow: EUR 9.90/USD 9.90
NA-SYC1 chromax.black: EUR 9.90/USD 9.90
NA-SYC1 chromax.blue: EUR 9.90/USD 9.90
NA-SYC1 chromax.green: EUR 9.90/USD 9.90
NA-SYC1 chromax.red: EUR 9.90/USD 9.90
NA-SYC1 chromax.white: EUR 9.90/USD 9.90
NA-SYC1 chromax.yellow: EUR 9.90/USD 9.90