HUAWEI Mate 10 and HUAWEI Mate 10 Pro Feature LTE Cat 18 , First Kirin AI Processor
Huawei today unveiled three new flagship smartphones - HUAWEI Mate 10, Mate 10 Pro and the Porsche Design HUAWEI Mate 10 - with notable features to the company's first Kirin AI mobile chipset, the Kirin 970 and a category 18 LTE modem.
Key features of the new smartphones include:
Mate 10
5.9" LCD display, 16:9, 2560x1440.
LTE Cat 16.
Includes micro SD card & headphone socket.
4GB Ram, 64GB storage, IP53.
Front fingerprint sensor.
Euro 699, available late October.
Mate 10 Pro
6" OLED display, 18:9, 2160x1080
LTE Cat 18, 1.2Gbps via 4x4 MIMO, 256 QAM & 3CC CA.
No micro SD card or headphone socket.
6GB Ram, 128GB storage, IP67.
Rear fingerprint sensor.
Euro 799, available mid-November.
Both have:
Kirin 970 chipset, 10nm process, with Huawei "neural processing unit" (NPU)
Support for USB-C based connection to a large display.
HDR10 video display support.
Dual SIM versions support dual LTE.
Dual f1.6 Leica lens, 12MP RGB & 20MP mono sensors, "3D glass" rear case.
A range of AI software features evolved from prior Mate 9, P10 and Honor Magic models,
Plus the Mate 10 Porsche Edition: Euro 1395, available mid-November.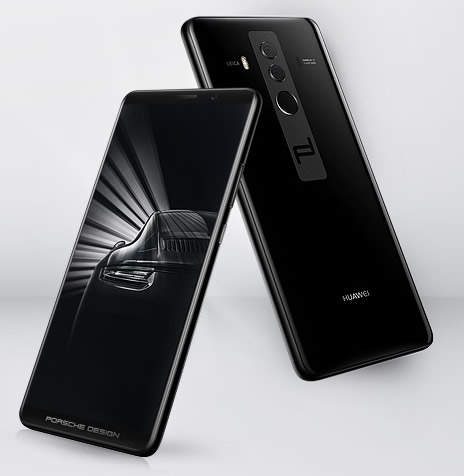 Thanks to the Mate 10 Pro's Kirin 970 chip, the camera's imbued with AI smarts. New Real-Time Scene and Object Recognition help it understand what's in front of it and adjust camera settings accordingly. AI Motion Detection enhances the sharpness of images, and photo-taking apps that tap into the NPU benefit from accelerated image processing. Huawei says it can process 2,000 images per second.
 

Huawei Mate 10 Pro

Size
154.2 x 74.5 x 7.9 mm (6.07 x 2.93 x 0.31 inches)
Weight
178 grams (6.28 ounces)
Screen
6-inch OLED
Resolution
2160 x 1080 (402 ppi)
OS
Android 8.0 Oreo
Storage
64GB, 128GB
MicroSD card slot
Yes
NFC support
Yes
Processor
Huawei Kirin 970
RAM
4GB/6GB
Connectivity
LTE (Cat 18), GSM, CDMA, HSPA, EVDO, 802.11a/b/g/n/ac Wi-Fi
Camera
Dual 20-megapixel monochrome and 12-megapixel RGB rear, 8-megapixel front
Video
Up to 4K at 30 fps
Bluetooth
Yes, version 4.2
Fingerprint sensor
Yes
Other sensors
Accelerometer, barometer, gyro, geomagnetic, proximity
Water resistant
Yes, IP67 rated
Battery

4,000mAh

Fast charging

Charging port
USB-C
Marketplace
Google Play Store
Colors
Midnight Blue, Titanium Gray, Mocha Brown, Pink Gold
Availability
November
Price
$945
Mate 10's technology innovations could help the company convince the mobile industry its smartphones are competitive in the premium segment with the best its rivals can offer. Mate shipments have historically represented 8-9% of Huawei smartphone shipments in the launch period but this technologically strong line up should boost volumes for the Mate 10 range and help Huawei strengthen its overall shipment volumes.
The Mate 10 Pro jumps ahead of the competition, including traditional LTE chipset performance leader Qualcomm, by becoming the first smartphone to be announced with a category 18 LTE modem and RF design, which has been made possible by Huawei's ongoing investment in its HiSilicon chipsets. None of Qualcomm, Samsung andApple have equivalent cat 18 modems ready for smartphone use now, although like Huawei they all invest in core chipset capabilities. Mate 10 dual SIM also offers ground breaking dual LTE dual SIM, most dual SIM devices offer only 2G cellular support in the 2nd SIM slot, a few 3G.
The inclusion of an AI-focused "NPU" in the Kirin 970 is the result of decisions made years ago to take this track with product development and is not due to company's embrace of AI and machine learning as a marketing line in 2017 to sell all manner of products. Huawei is not alone in building additional AI-focused computing into its chipsets: Apple has its engine in the A11 powering the iPhone 8 & X; while Qualcomm has been pushing "cognitive computing" in its chipsets for several years. Huawei is among the leaders here, even if it is not in first position.
Huawei's challenge is how to maximize the use of its NPU given it does not develop or control the smartphone operating system its devices use, Android, unlike Apple. Huawei is trying to encourage select developers to build code to support its NPU directly as Microsoft is doing with the pre-loaded Translate app. In addition, the company is supporting standard machine learning APIs, such as Tensorflow Lite and Facebook-backed Caffe 2, because Huawei correctly knows its Kirin chipset market share is too small to rely on just the former approach.
In the past, the Pro and Porsche editions versions of the Mate have been relatively niche products. But this year the Pro version couldtake a much greater share of shipments because the design is more modern, OLED supply is improving, and all major OEMs have been educating consumers to higher flagship smartphone prices in 2017. Even the super-premium Porsche edition should benefit now because of the high iPhone X pricing.
Huawei's "PC Mode" large monitor docking illustrates the ongoing threat Huawei poses to Samsung. Against Samsung's DEX, Huawei's Mate 10 solution shows many advantages as well as a few early drawbacks. For example, unlike DEX the phone display continues to work while connected to the PC monitor allowing either true dual display or the use of the phone as a mini trackpad and soft keyboard. Plus, it does not require a docking cradle, just a USB-C cable or a USB-C to HDMI cable, which makes it more convenient to use on the move.
However, the solution has had less attention to the experience of using apps on the large display than Samsung's DEX and does not charge the phone when using HDMI which will limit the duration of PC mode session lengths.
Alongside Samsung and Apple, Huawei's growing technology capabilities threaten to place market leadership beyond the financial resources of smaller OEMs unless key smartphone suppliers can continue to be competitive with the big three OEM's in-house technologies.
For smaller OEMs, Qualcomm is the best counter, but as the three largest OEMs - Huawei, Samsung and Apple -- continue to reduce their reliance on Qualcomm, in effect reducing Qualcomm's total addressable market, the San Diego HQ'ed firm risks losing the ongoing mobile revenue flows needed to sustain its excellent record of mobile technology investments. Yet the Mate 10 Pro's LTE Cat 18 performance is still unproven until the Mate 10 Pro ships in mid-November. Until then, smaller OEMs and Qualcomm must hope that Mate 10 Pro's LTE Cat 18 chipset and NPU do not deliver on Huawei's marketing claims.
However, even if Mate 10 Pro delivers, Qualcomm will not have completely lost mobile market innovation leadership yet because Qualcomm aims to play the long game: Qualcomm is investing significant time and resources into establishing a similar leadership position on 5G new radio (NR) as it did seven or eight years ago on LTE. If it achieves this position on 5G NR, any win for Huawei now on LTE will prove just a short-term blip