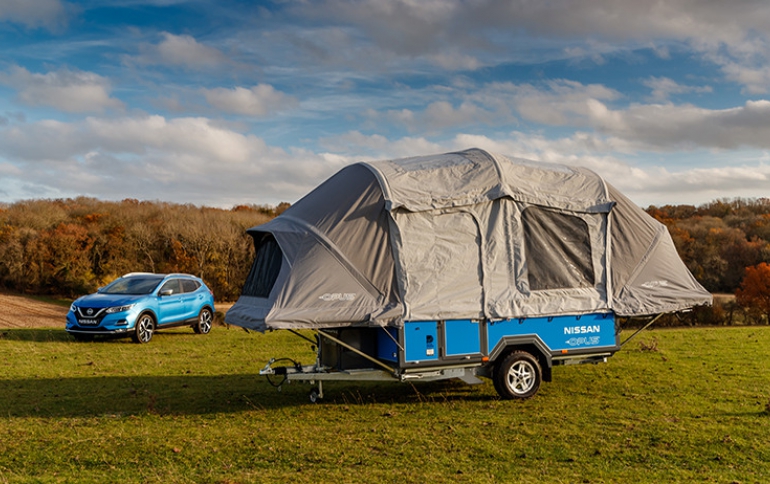 Nissan x OPUS Concept Camper Uses Second-life EV Batteries
Nissan Energy and OPUS Campers have collaborated on a smart camping concept that uses second-life Nissan electric vehicle batteries to deliver up to a week's worth of remote power for "off-grid" adventures.
The Nissan x OPUS concept integrates the recently unveiled Nissan Energy ROAM, a portable, all-in-one, weatherproof power pack harnessing Nissan's EV battery technology for silent power on the go.
With a storage capacity of 700Wh and a power output of 1kW, the ROAM's lithium-ion cells are recovered from first-generation Nissan electric vehicles, ensuring a sustainable second-life for the batteries.
Mounted in a special compartment at the front of the OPUS, the Nissan Energy ROAM unit provides a power supply to both the 230v circuit and the 12v circuit (via recharging of the on-board leisure battery which powers the 12v system). This helps support enough energy autonomy for around seven days of camping, with assistance from a solar panel accessory.
Uniquely, Nissan Energy ROAM can be removed from its housing within the camper and recharged away from the campsite via a standard 230v domestic socket, or by plugging into a solar panel accessory.
The Nissan x OPUS concept will make its public debut on the OPUS stand at the Caravan, Camping and Motorhome Show at The NEC, Birmingham, UK from 19-24 February 2019.
The AIR OPUS range starts from £15,995/approx. €18,000.
The Nissan Energy ROAM will launch in European markets later this year.