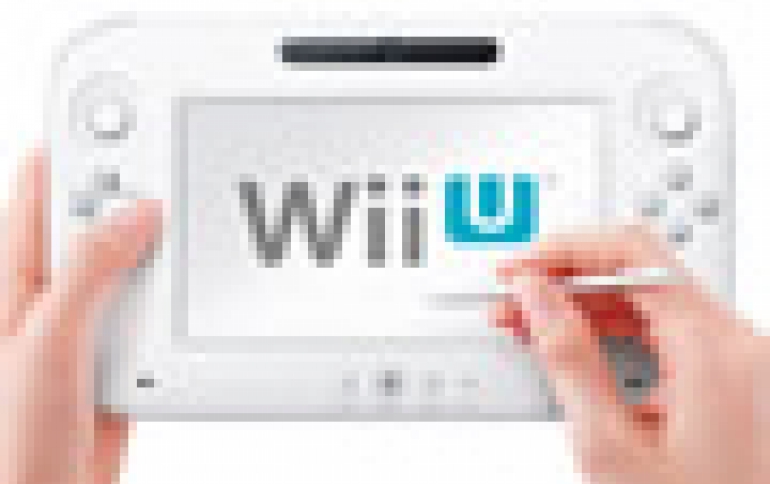 Nintendo Unveils Wii U Game Console
Nintendo today officially announced a new videogame console called the Wii U. As it was expected, the new devvice supports high-definition graphics and features a 6.2-inch touchscreen on its controller. The new device will launch between April and December 2012, the company said at the E3 game show Los Angeles without saying how much it would cost.
Wii U supports HD graphics and its new controller features a 6.2-inch touch-screen that works like a second display, showing the same images being played on a TV screen. The controller can detect motion and interact with what's occurring on a television display. The smaller screen can provide gamers with additional information.
The Wii U's controller can also be used to make voice calls and run old Nintendo games. It has motion-sensor capabilities and works in conjunction with existing Wii controllers, the company said.
The 6.2-inch touchscreen controller can broadcast standard-definition video and features a directional pad, microphone, dual analog sticks, speakers, two pairs of shoulder buttons and a front-facing camera. IBM will provide the 45nm microprocessors that will serve as the heart of the new Wii U system from Nintendo. Graphics are powered by a "custom AMD Radeon HD GPU," according to AMD.
The console itself will use proprietary high-definition optical discs, 1080p HDMI output and internal memory that can be upgraded with USB technology.
At E3, Nintendo Wii U was demonstrated in several ways: displaying a player's inventory in a "Legend of Zelda" game, being used as a shield from incoming attacks, offering an alternative way to play a chasing game and showing the image of a teed-up golf ball on the ground before it was struck to a putting green depicted on a TV.
"Darksiders II," "Batman: Arkham City," "Tekken," "Assassin's Creed" and "Metro: Last Light" were among the titles that would be released for the system.
Nintendo's new video game console might be the successor to the company's now five-year-old Nintendo Wii. However, Wii U is not expected to replace the Wii anytime soon, the both consoles are expected to co-exist. After all, the Wii U will be sold at a premium price compared to the Wii, said Nintendo's Iwata.
Compared to Wii, the new Wii U is different from its predecessor in a number of ways, including the addition of high-definition graphics. But the most important difference between the two is the Wii U's unusual controller, which is essentially a book sized tablet computer with a touch screen display. Although it?s reminiscent of a small Apple iPad, or an Amazon Kindle, Nintendo hopes that the device?s ability to play games independently on its own screen, could compete with those devices in the entertainment gadget space.
Wii U System details
Size: Approximately 1.8 inches tall, 6.8 inches wide and 10.5 inches long.
New Controller: The new controller incorporates a 6.2-inch, 16:9 touch screen and traditional button controls, including two analog Circle Pads. This combination removes the traditional barriers between games, players and the TV by creating a second window into the video game world. The rechargeable controller includes a Power button, Home button, +Control Pad, A/B/X/Y buttons, L/R buttons and ZL/ZR buttons. It includes a built-in accelerometer and gyroscope, rumble feature, camera, a microphone, stereo speakers, a sensor strip and a stylus.
Other Controls: Up to four Wii Remote (or Wii Remote Plus) controllers can be connected at once. The new console supports all Wii controllers and input devices, including the Nunchuk controller, Classic Controller, Classic Controller Pro and Wii Balance Boar.
Media: A single self-loading media bay will play 12-centimeter proprietary high-density optical discs for the new console, as well as 12-centimeter Wii optical discs.
Video Output: Supports 1080p, 1080i, 720p, 480p and 480i. Compatible cables include HDMI, component, S-video and composite.
Audio Output: Uses AV Multi Out connector. Six-channel PCM linear output through HDMI.
Storage: The console will have internal flash memory, as well as the option to expand its memory using either an SD memory card or an external USB hard disk drive.
CPU: IBM Power-based multi-core microprocessor.
Other: Four USB 2.0 connector slots are included. The new console is backward compatible with Wii games and Wii accessories.