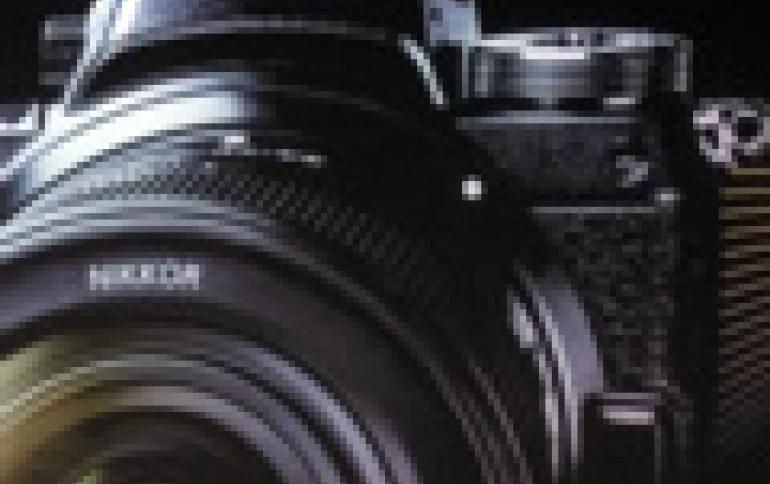 Nikon Takes on Sony With Z7 and Z6 Mirrorless Cameras
Nikon unveiled its first full-frame mirrorless cameras, seeking to make up lost ground against Sony in the professional photography market.
The new Nikon Z7 and Z6 devices will feature new lenses and lens mount, and will be lighter than the current pro-grade cameras, the company said.
The Z 7 and Z 6 are physically almost identical, with the main differences being internal: pixel count, number of autofocus points and maximum burst rate. The $4,000 Z7, which will have a 45.7 megapixel sensor, will go on sale in late September, followed by the Z6, which will have 24.5 megapixels, cost 270,000 yen and hit stores in November.
The Z 7 is a 45.7MP camera with built-in 5-axis image stabilization. It can shoot at up to 9 frames per second and capture 4K video or output a 10-bit 4:2:2 Log video stream over HDMI.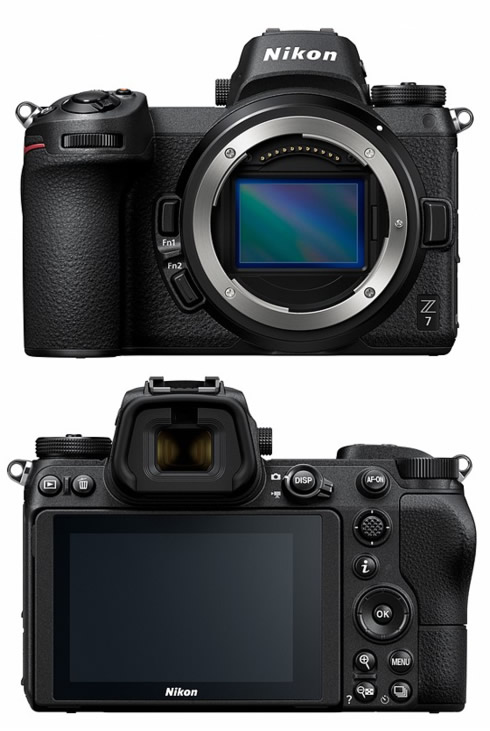 The Z-mount is the largest full-frame mirrorless mount on the market with a diameter of 55mm, allowing it to support lenses as fast as F0.95. The flange distance is just 16mm, the shortest of any full-frame mirrorless system. The Z-mount has a 65% smaller flange and 17% larger diameter than the legacy F-mount.
The Z 7 is the flagship model and has a lot in common with the D850, both in terms of core features and price. It features a Nikon-designed 45.7 BSI-CMOS sensor, 5-axis in-body image stabilization and a hybrid autofocus system with 493 phase-detect points.
It features an ultra-high-resolution electronic viewfinder with 3.6 million dots and 0.8x magnification, along with a 3.2" 2.1M-dot tilting touchscreen display on the rear of the camera. On the top plate is an OLED display showing current camera settings. The Z 7 has a single XQD slot, which will support CFexpress via a firmware upgrade in the near future.
The camera's in-body Vibration Reduction system can reduce shake by up to 5 stops and, when used with the optional F-mount adapter, provides 5-axis stabilization for VR-equipped lenses and 3-axis for those without VR.
The autofocus system features 493 PDAF points with 90% vertical and horizontal coverage. While the camera can detect faces, it lacks an equivalent to Sony's useful Eye AF.
The Z 7 can shoot bursts at 9 fps with full autofocus but with exposure locked on the first shot, or at 5.5 fps with with continuous exposure and focus. The Z 7's buffer fills up after about 18 14-bit compressed and 23 12-bit lossless compressed Raws. Battery life is rated at 330 shots per charge (CIPA) and a battery grip will be available in the future.
The camera captures UHD 4K video at 30p and 24p using the full width of the sensor. When using a Super 35/DX crop of 1.5x, the camera uses all the pixels in that region to produce its video. There are 435 phase-detect points available when capturing video, with both in-body and electronic VR available to reduce shake.
The Z 7 supports 10-bit N-LOG (4:2:2) when output over HDMI as well as the ability to simultaneously output video (8-bit 4:2:0) while recording to the memory card. There's also live focus peaking, zebra stripes, adjustable AF tracking speeds, time code while in 4K mode.
The Z 7 uses the latest version of the company's SnapBridge wireless system, which includes 802.11ac Wi-Fi and Bluetooth. Users can transfer JPEGs and Raws direct to a PC and, of course, remotely control the camera from a smartphone. The currently available WT-7A wireless transmitter set is also compatible, allowing Wi-Fi transfer outside the SnapBridge system.
High-grade mirrorless cameras excel at capturing sharp images of fast-moving objects. Canon has also said that it's considering its own model, setting the stage for a battle for professionals and enthusiasts. Mirrorless cameras have been around for more than a decade, but Sony's efforts in recent years to embed them with the larger full-frame image sensors have put them on par with SLRs in terms of picture quality. The design also makes cameras lighter, smaller and quieter.