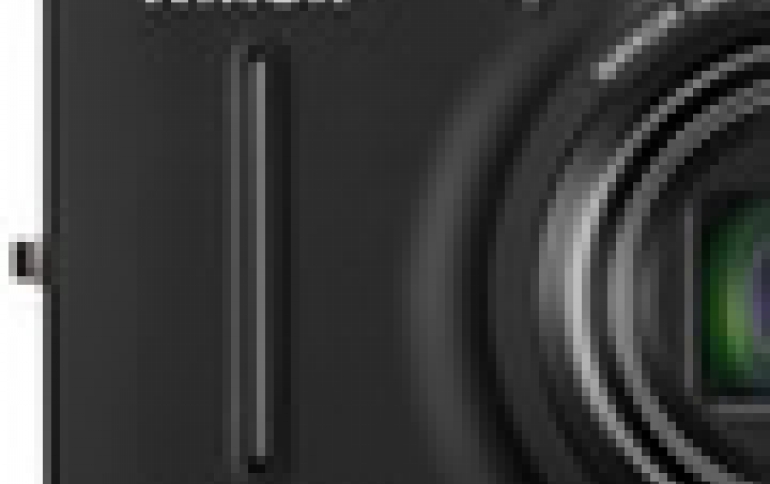 Nikon Introduces New COOLPIX Digital Cameras
Nikon today introduced twelve (!) new digital cameras to the COOLPIX S-series, L-series and P-series lineup.
New S-Series
The new COOLPIX S-series lineup includes the COOLPIX S9300, S9200, S6300, S4300, S3300 and the S30 models.
The S9300 and S9200 are high-power zoom models equipped with 18x optical zoom NIKKOR lenses, thin optics and offer improvements to specifications of the previous Nikon COOLPIX S9100 model eleased in the spring of 2011.
The S9300 features a 16.0-megapixel Backside Illuminated (BSI) CMOS sensor. Nikon's BSI sensor technology increases the flow of light to the sensor's surface, improving the image quality and reducing noise. The camera also records Full HD (1080p) movies with full stereo sound and has a built-in GPS function.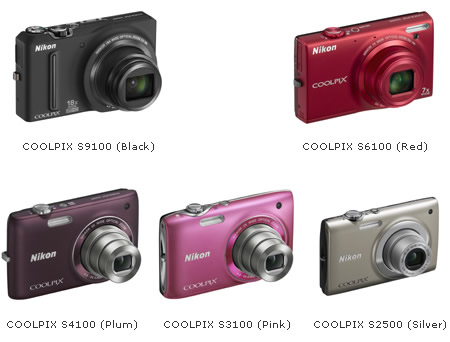 The backside illumination CMOS image sensor and lens-shift vibration reduction (VR) system built into these cameras enable capture of photos of even dimly lit or dark scenes.
The S6300 is a new model for the high-power, compact zoom model class. It offers one of the most compact bodies in its class despite the built-in 10x optical zoom NIKKOR lens. It also offers an effective pixel count of 16.0-megapixel and it is equipped with the a lens-shift vibration reduction (VR) function. The S6300 also shoots full-HD video. The Easy panorama function enable users to create and share landscapes or interiors.
The S4300 and S3300 are slim and stylish models that are slimmer than their predecessors despite their improved zoom function and built-in VR. The 16.0-megapixel COOLPIX S4300 camera captures photos and HD video. The S4300 also features a wide-angle 6x (26mm-156mm) optical Zoom-NIKKOR glass lens and comes with a 3-inch touch screen. Nikon's Smart Portrait System includes the intelligent Smile Shutter function that automatically recognizes when a subject is smiling and releases the shutter for picture-perfect results every time. In addition, a Face-Priority AF can find and focus up to 12 faces.
The Nikon COOLPIX S3300 is a cost-efficient 16.0-megapixel camera with a 6x (26mm-156mm) optical Zoom-NIKKOR glass lens. The camera offers 19 Scene Modes including the Scene Auto Selector, which analyzes a scene and automatically selects from one of six scene modes.
Finally, the S30 is a compact digital camera designed for the entire family. It is designed with a simple symmetrical and familiar form and it sis equipped with a new operation system that anyone can quickly master. What's more, the S30 offers specifications and functions that ensure fun and worry free shooting in a wide variety of situations, including dust resistance and waterproofing to a depth of three meters, shock resistance that withstands falls from heights of up to 80 cm, application of frames to still images with shooting, and a slide show function that incorporates background music and animation.
The COOLPIX S9300 will be available for a suggested retail price (SRP) of $349.95 in black, red and silver, while the COOLPIX S6300 will be available for $199.95 SRP in red, black, silver and blue. The COOLPIX S4300 will be available for $169.95 SRP in plum, black, silver, white and red, while the COOLPIX S3300 will be available for $139.95 SRP in silver, black, pink, purple and red. The new COOLPIX S-series cameras will be available in February 2012.
New COOLPIX P-Series
The updated COOLPIX P-series lineup includes the P310 and the P510 models.
The COOLPIX P510 brings the action close with a 42x optical Zoom-NIKKOR ED glass lens, from a wide 24mm to a 1,000mm focal range. It features the advanced optical Vibration Reduction (VR) image stabilization technology, a 16.1-megapixel BSI CMOS sensor and high-speed continuous shooting performance (capture five images at full resolution in approximately one second.) This compact camera also comes complete with built-in GPS capabilities, full HD (1080p) movie recording with stereo sound, and a 3-inch high resolution (921,000-dot) vari-angle display.
The new COOLPIX P310 tackles demanding low-light conditions with a 16.1-megapixel Backside Illuminated (BSI) CMOS sensor, wide ISO range up to 3200 (Hi1 6400 equivalent) and a fast f/1.8 maximum aperture, NIKKOR glass lens.
The camera further fights blur by incorporating advanced optical VR image stabilization, Advanced Night Portrait mode, Night Landscape mode and Backlight/High Dynamic Range (HDR) mode. The Advanced Night Portrait mode combines consecutive images of the background while the subject is captured using the flash, while the Night Landscape mode combines a series of consecutive shots taken at a fast shutter speed into a single image with reduced noise. The Backlight HDR mode merges images of the same scene at different exposures to achieve a single image with a broad range of tonal detail.
The COOLPIX P310 also comes equipped with several features found in D-SLR cameras including manual exposure control (P/S/A/M) and a new Zoom Memory function that enables the selection of popular prime focal lengths during shooting. For more creativity, the COOLPIX P310 also includes special effects and filter effects that can be added to photos in-camera for a quick artistic touch. To facilitate easy composing, viewing and playback, the COOLPIX P310 features a 3-inch high resolution (921,000-dot) LCD screen. Finaly, the COOLPIX P310 is able to capture Full HD (1080p) video at 30 frames-per-second (fps) with AF, stereo sound and the use of the optical zoom while recording.
The COOLPIX P510 will be available in February 2012 for a suggested retail price (SRP) of $429.95 and will be offered in black and red. The COOLPIX P310 will also be available in February 2012 for $329.95 SRP and will be offered in black only.
COOLPIX L-series
Nikon's updated L-series cameras include the L810, L26 and the L25 models.
The L810 maintains a compact size despite its 26x high-power optical zoom lens. The L26 and L25 are entry-level models that offer 5x optical zoom and automatic shooting functions.
The L810 is equipped with a CCD image sensor with an effective pixel count of 16.1-million pixels, a 26x optical zoom NIKKOR lens that covers angles of view from the wide-angle 22.5 to super telephoto 585 mm (equivalent in 35-mm [135] format), and the lens-shift vibration reduction (VR) function. It offers a side zoom control that have made previous COOLPIX L-series models popular for their high performance.
The L26, with its CCD image sensor with an effective pixel count of 16.1-million pixels, and the L25, successor to the COOLPIX L23, are both equipped with a 5x optical zoom NIKKOR lens and a 3-inch TFT LCD monitor. In addition to Easy auto shooting mode and an independent movie-record button, both of these models are powered by AA batteries that can be purchased anywhere.