Nikon Announces The 24MP Nikon D750 And The COOLPIX S6900
Nikon has released the enthusiast-focused D750, a 24MP full-frame DSLR which sits between the D610 and D810 in the company's lineup. The company also announced the COOLPIX S6900, designed for selfies.
Additionally, Nikon has also announced the SB-500, a compact multimedia Speedlight, and Nikon's fastest ultra wide-angle lens yet, the new AF-S NIKKOR 20mm f/1.8G ED.
The D750 offers an improved version of the 51-point AF system from the D810, a 6.5fps maximum frame-rate, plus built-in Wi-Fi and a vari-angle LCD. Video features include 1080/60p recording and full manual exposure control.
The Advanced Multi-Cam 3500-FX II AF focus system also easily tracks fast moving wildlife or sports, even at the high-speed burst rate of 6.5 frames per second (fps), at full resolution. Similar to the Nikon D4S, the D750 features the 91,000-pixel 3D Color Matrix Meter III and its fast AF system uses 15 cross-type AF sensors, with 11 cross-type sensors that are fully functional up to f/8. In addition to normal, wide area, face priority and subject tracking AF modes, the D750 also features the new Group Area AF mode for enhanced accuracy. The AF system has been also improved with the ability to lock on to subjects in as little as -3 EV illumination, a first for any Nikon D-SLR.
The D750 is Nikon's features a tilting 3.2-inch, 1,229K dot screen LCD, a newly developed 24.3-MP FX-format CMOS sensor and the EXPEED 4 Image Processing Engine. Its ISO range extends from 100-12,800, expandable from (Lo-1) 50 to (Hi-2) 51,200.
The camera features the same level of video functionality as the Nikon D810. The camera can capture video in Full HD 1920x1080 resolution at 60/30/24p. The Power Aperture feature provides smooth transitions while adjusting the aperture during recording, and in manual mode, users can control shutter speed and ISO.
Footage can be recorded to the dual SD memory card slots, or simultaneously output to an external recorder or monitor via HDMI. Camera operators will also enjoy features such as headphone and microphone jacks, Zebra stripes to spot overexposed areas, as well as the ability to select frequency ranges for the internal stereo microphone.
The Nikon D750 is Nikon's first full frame D-SLR to include built-in Wi-Fi. Using Nikon's free Wireless Mobile Utility App, users can connect with their compatible mobile device, such as a smart phone or tablet.
For professional photographers and videographers, the camera also has the capability to transmit images over FTP using the WT-5a wireless transceiver plus the UT-1 Communications Unit.
The camera's structure is also sealed and gasketed to resist dust and moisture, and the shutter has been tested to 150,000 cycles.
The Nikon D750 is compatible with more than 80 FX and DX-format NIKKOR lenses. For those upgrading from a DX-format lens system the D750 can also shoot in DX mode at 10.3-megapixels. The camera is compatible with Nikon's Creative Lighting System (CLS) using the camera's built in flash to control remote Speedlights for creative lighting possibilities. The new MB-D16 battery pack will also be released with the camera.
The AF-S NIKKOR 20mm f/1.8G ED is the latest addition to Nikon's f/1.8 series of FX-format lenses. This is Nikon's first ultra wide angle lens with an f/1.8 aperture, allowing users to shoot in challenging light and create images with a pleasing separation between subject and background. It has a 94-degree angle of view (FX).
The SB-500 Speedlight is an addition to Nikon's Speedlight lineup. It is covering a wide 16mm/24mm (FX/DX), features simplified controls, its head has a 90-degree vertical swivel to bounce light off ceilings, and rotates 180-degrees for soft lighting effects.
For remote lighting possibilities, the SB-500 Speedlight can be integrated into a CLS system with two-group/two-channel control. The LED light (100 lux) is a great option for lighting video, and can be operated independently. Additionally, the SB-500 Speedlight is also powered by only two AA batteries, reducing both its weight and size.
The Nikon D750 D-SLR will be available in late September for the suggested retail price (SRP) of $2299.95 (body only). The Nikon D750 will also be available as a kit with the AF-S NIKKOR 24-120mm f/4 VR lens in mid-October. The MB-D16 battery pack/grip will be available for $485.00 SRP. The AF-S NIKKOR 20mm f/1.8G ED will be available in late September for an SRP of $799.95. The SB-500 Speedlight will also be available in late September for $249.95 SRP.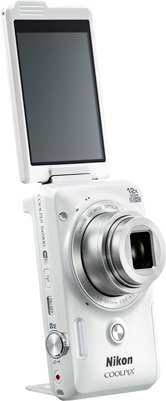 Nikon has also announced the release of the COOLPIX S6900, equipped with a vari-angle LCD monitor for improved operation.
The COOLPIX S6900 is the successor to the COOLPIX S6600, the first COOLPIX S-series camera to be equipped with a vari-angle LCD monitor that supports shooting from a variety of angles. Adoption of a new camera stand and front shutter-release button makes the COOLPIX S6900 a model that offers even better operation for taking self-portraits.
In addition to improvements to operation, including that of the Gesture Control function, which enables remote control using the palm of the hand, the COOLPIX S6900 is equipped with a variety of shooting and editing functions such as the Glamour mode, which allows users to preview effects in the monitor during shooting.
The camera offers an effective pixel count of 16.0-million pixels, and is equipped with a backside illumination CMOS image sensor that enables capture of images exhibiting very little noise, even at high sensitivities, a lens-shift vibration reduction (VR) function, and a NIKKOR lens that supports both 12x optical zoom and 24x Dynamic Fine Zoom with a closest focus distance of just 2 cm for macro photography. With built-in NFC and Wi-Fi, users can transfer images to smart devices such as smartphones and tablets.
The camera can also shoot 1920 x 1080/60i movies with stereo sound with the press of a button.