News Corp Introduced The Daily App For iPad
Today Rupert Murdoch, Chairman and Chief Executive Officer of News Corporation, unveiled The Daily -- the first national daily news publication created from the ground up for iPad. The Daily will be available to iPad users in the United States and will cover everything from national politics to sports to gossip. It will cost 99 cents a week or $39.99 a year. Apple is expected to take a 30 percent cut in the first year.
The Daily application will also be the first subscription product available through Apple's iTunes store. The first two weeks will be free courtesy of Verizon Communications.
News Corp will later roll out the Daily on other tablets.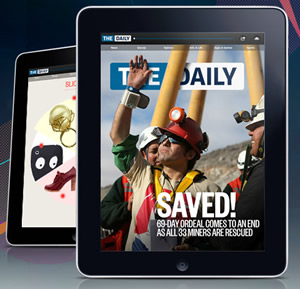 "New times demand new journalism," said Mr. Murdoch. "So we built The Daily completely from scratch -- on the most innovative device to come about in my time -- the iPad."
"The magic of great newspapers -- and great blogs -- lies in their serendipity and surprise, and the touch of a good editor," continued Mr. Murdoch. "We're going to bring that magic to The Daily -- to inform people, to make them think, to help them engage in the great issues of the day. And as we continue to improve and evolve, we are going to use the best in new technology to push the boundaries of reporting."
The Daily's mix of text, photography, audio, video, information graphics, touch interactivity and real-time data and social feeds provides its editors with the ability to decide not only which stories are most important -- but also the best format to deliver these stories to their readers.
The Daily will also feature Sudoku and crossword puzzles, localized weather reports, and a customizable sports package that captures news on the user's favorite teams. Subscribers will also be able to leave comments on Daily stories in either written or audio form -- as well as bookmark them in-app to read later.
The Daily is also featuring full-page ad units. Launch advertisers include HBO, Macy's, Paramount, Pepsi Max, Range Rover, Verizon, and Virgin Atlantic Airways.
At the News Corp's Daily press conference, Apple's next generation iPad was spotted by journalists. According to Reuters, the model had a front-facing camera at the top edge of the glass screen. Rumors indicete that the new iPad will sport two cameras -- one in the front and one in the back -- enabling users to make video calls.
The next version of Apple's tablet computer is expected to be announced in the next few months.