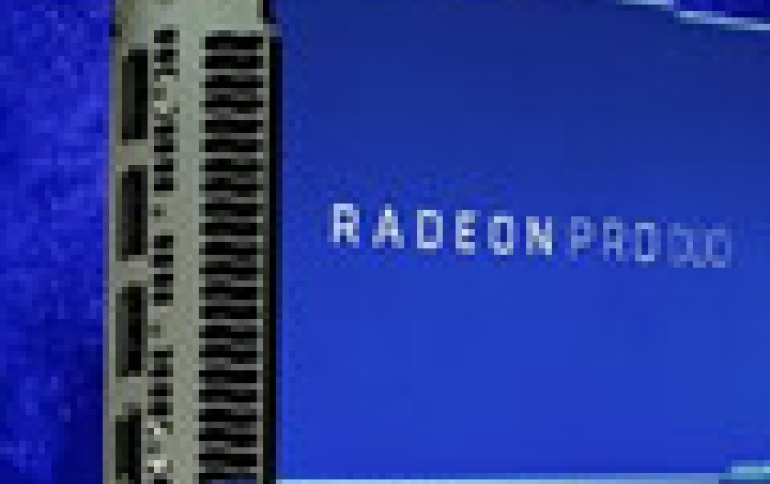 The New Radeon Pro Duo Delivers The Power of Two Polaris 10 GPUs
Today AMD announced at NAB a new dual-GPU graphics card designed for professionals: the Polaris-architecture-based Radeon Pro Duo.
Built on the capabilities of the Radeon Pro WX 7100, the Radeon Pro Duo professional graphics card is designed to power media and entertainment, broadcast, and design and manufacturing workflows.
The Radeon Pro Duo is equipped with 32GB of GDDR5 memory to handle larger data sets with ease. Operating at a max power of 250W, the Radeon Pro Duo harnesses a total of 72 compute units (4608 stream processors) for a combined performance of up to 11.45 TFLOPS of single-precision compute performance on one board, and twice the geometry throughput of the Radeon Pro WX 7100. However, this performance is a downgrade from the 16 teraflops of performance offered by last year's Pro Duo, based on the Fiji architecture. For some reason, AMD opted to lower the power draw and the number of processing cores in the Pro Duo. As result, the product generates less heat. The Pro Duo draws 250 watts of power, compared to 350 watts by its predecessor.
The Radeon Pro Duo enables professionals to work up to four 4K monitors at 60Hz, drive the latest 8K single monitor display at 30Hz using a single cable, or drive an 8K display at 60Hz using a dual cable solution.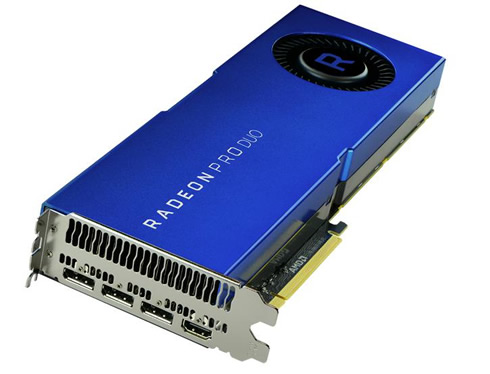 AMD claims that on select professional applications, the Radeon Pro Duo delivers up to 2 times faster performance compared with the Radeon Pro WX 71003 and up to 2 times faster performance than the competing Nvidia Titan X professional graphics card.
The Radeon Pro Duo's planned availability is the end of May at an expected SEP of US$999.
AMD is also giving a demonstration of the force of its upcoming Vega GPU at NAB, showing its ability to handle 4K and 8K graphics.
One demonstration has the Vega GPU handling 8K video processing in Adobe Premiere Pro CC 2017. The other focuses on 4K post-processing with Radeon ProRender, which renders high-end graphics.
AMD's Vega has HBM2 memory and a new graphics rendering engine, which will provide a substantial boost in GPU speed and image quality. It is also being tuned for artificial intelligence with the ability to undertake 8-bit floating point operations, critical in machine learning.
The first GPUs based on Vega are expected to ship in the second quarter of this year.