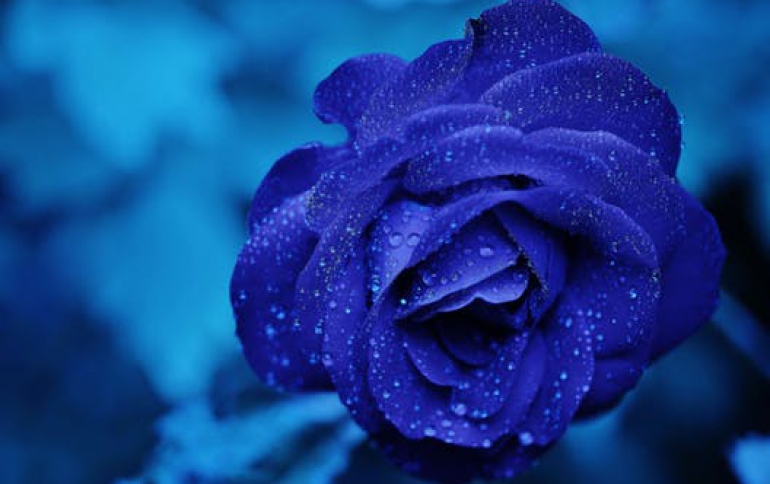 New Nikon D610 HD-SLR Promises FX-Format Quality and Pro-Level Features
Nikon today announced the Nikon D610, the latest FX-format HD-SLR to provide enhanced performance and image quality improvements, coupled with Nikon core technologies. Designed to be an attractive option for those willing to step up to FX-format, the Nikon D610 HD-SLR features a 24.3-megapixel FX-format (35.9 x 24mm) CMOS sensor, Nikon's EXPEED 3 image processing engine, a wide ISO range (ISO 100 to 6,400; 25,600, Hi-2), along with a 39-Point AF System and Scene Recognition System. Users can select single point, continuous, dynamic or 3D autofocus modes to adapt to any shooting situation from static subjects to dynamic athletics. The Nikon D610's 39-point AF system acquires focus throughout the frame, even on fast moving subjects. For further accuracy, the system uses Nikon's 3D Color Matrix Metering II 2016 pixel RGB Sensor in conjunction with the Scene Recognition System to analyze the scene and adjust exposure, white balance and focus. Furthermore, the D610 utilizes nine cross-type sensors, seven of which retain AF ability up to f/8, a boon to wildlife and sports photographers who rely on teleconverters for maximum distance.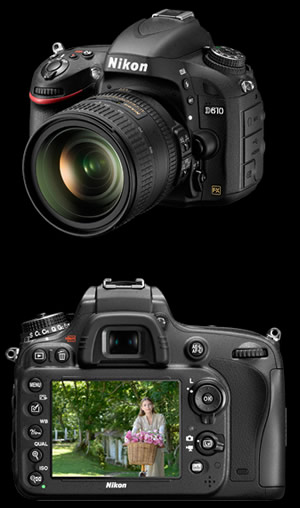 An updated AWB algorithm promises to offer more vivid skies and more natural-appearing reproduction of artificial light than before. A new shutter mechanism in the D610 also affords a faster frame rate. Users can now capture the action at a continuous 6 frames-per-second (fps).
For weddings and other sensitive events, the D610 also features a new Quiet Continuous Shutter Mode. When selected via the main command dial, users can shoot discreetly at up to 3 fps.
The camera's optical viewfinder offers 100% frame coverage. Additionally, the high-resolution 921K dot, 3.2-inch LCD screen is viewable from a wide variety of angles.
With a wide variety of creative modes, a series of images with multiple exposures can be combined with built-in HDR, while users can explore their inner artist with an automatic Time Lapse Mode, or the intervalometer found in all advanced Nikon D-SLR's. To adjust color, saturation and other image parameters on the fly, Picture Controls can be applied to both stills and HD video.
The Nikon D610 accepts two SD memory cards, which users can set to copy and overflow, or mark as one dedicated video when shooting multimedia. Additionally, the D610 accepts SDXC and UHS cards.
The camera captures Full 1080P HD video in a variety of frame rates, including a cinematic 24p and 30p. A feature inherited from professional Nikon cameras, the Nikon D610 can feed 100% full screen, uncompressed video via HDMI to an external device such as a monitor or digital recorder. Additionally, a stereo microphone and headphones can be connected through thoughtfully placed auxiliary input jacks for capturing and monitoring audio.
The Nikon D610 is compatible with a wide variety of NIKKOR Lenses and with Nikon's Creative Lighting (CLS) System.
The Nikon D610 D-SLR will be available in late October 2013 in a variety of configurations:
- Body Only - $1999.95 Suggested Retail Price (SRP)
- With AF-S NIKKOR 24-85MM F/3.5-4.5G ED VR Lens - $2599.95 SRP
- With AF-S NIKKOR 28-300MM F/3.5-5.6G ED VR Lens + 32GB Class 10 memory card + Large Laptop Bag - $3049.95 SRP
- With AF-S NIKKOR 24-85MM F/3.5-4.5G ED VR Lens + AF-S VR ZOOM-NIKKOR 70-300MM F/4.5-5.6G IF-ED Lens + WU-1b Wireless Mobile Adapter + D-SLR Tablet Bag + 32GB Class 10 memory card - $3249.95 SRP
Specifications
Type Single-lens reflex digital camera
Lens Mount Nikon F bayonet mount
Picture Angle Nikon FX format
Effective Pixels 24.3 million
Sensor Size 35.9 mm x 24.0 mm
Image Sensor Format FX
Image Sensor Type CMOS
Total Pixels 24.7 million
Dust-reduction system Image sensor cleaning
Dust-Off Reference Photo Yes
Image Area (pixels) FX-format
(L) 6,016 x 4,016
(M) 4,512 x 3,008
(S) 3,008 x 2,008
DX-format
(L) 3,936 x 2,624
(M) 2,944 x 1,968
(S) 1,968 x 1,312

File Format Still Images JPEG: JPEG-Baseline Compliant; can be selected from Size Priority and Optimal Quality
JPEG: JPEG-Baseline Compliant with fine (approx 1:4), Normal (approx 1:8) or Basic (approx 1:16) Compression
NEF (RAW): Lossless compressed, compressed 12 or 14 bit
Picture Control Landscape
Monochrome
Neutral
Portrait
Standard
User-customizable Settings
Vivid
Storage Media SD
SDHC
SDXC
Card Slot 2 Secure Digital (SD)
File System Compliant with DCF (Design Rule for Camera File System) 2.0
DPOF (Digital Print Order Format)
EXIF 2.3 (Exchangeable Image File Format for Digital Still Cameras)
PictBridge
Viewfinder Eye-level Pentaprism Single-Lens Reflex Viewfinder
Viewfinder Frame Coverage FX (36x24): 100% Horizontal and 100% Vertical (Approx.)
DX (24x16): 97% Horizontal and 97% Vertical (Approx.)

Viewfinder Magnification 0.70x (Approx.)
Viewfinder Eyepoint 20.6mm (-1.0m??)
Viewfinder Diopter Adjustment Built-in diopter adjustment (-3 to +1 m??)
Focusing Screen Type B BriteView Clear Matte Mark VIII with AF Area Brackets (grid lines can be displayed)
Reflex Mirror Quick-return type
Lens Aperture Instant-return type
Depth-of-field Control Yes
Lens Compatibility at a Glance*** AF-S or AF lenses fully compatible
Metering with AI lenses
Compatible Lenses AF NIKKOR lenses, including type G and D lenses (some restrictions apply to PC lenses) and DX lenses (using DX 24 x 16 1.5x image area), AI-P NIKKOR lenses, and non-CPU AI lenses (A and M modes only).
IX NIKKOR lenses, lenses for the F3AF, and non-AI lenses cannot be used.
Shutter Type Electronically controlled vertical-travel focal-plane
Shutter Speed 1/4000 to 30 sec.
Bulb
Fastest Shutter Speed 1/4000 sec.
Slowest Shutter Speed 30 sec.
Flash Sync Speed Up to 1/200 sec.
Synchronizes with shutter at 1/250s or slower
Bulb Shutter Setting Yes
Shutter Release Modes Continuous low-speed [CL] mode; 1-5 frames per second
Continuous high-speed [CH] mode; 6 frames per second
Mirror-up [Mup] mode
Quiet Shutter Release
Quiet Continuous Release
Remote Control
Self-timer Mode
Single-frame [S] mode
Continuous Shooting Options FX-format
CH: Up to 6 frames per second
CL: Up to 1-5 frames per second

Top Continuous Shooting Speed at full resolution 6 frames per second

Self-timer 2, 5, 10, 20 sec. Timer duration electronically controlled
Exposure Metering System TTL exposure metering using 2,016-pixel RGB sensor
Metering Method Center-weighted: Weight of 75% given to 12 mm circle in center of frame
Matrix: 3D color matrix metering II (type G and D lenses); color matrix metering II (other CPU lenses)
Spot: Meters 4 mm circle (about 1.5% of frame) centered on selected focus point
Metering Range 0 to 20 EV (3D color matrix or center-weighted metering)
0 to 20 EV (spot metering)
Exposure Meter Coupling CPU
AI
Exposure Modes Aperture-Priority (A)
Manual (M)
Programmed auto with flexible program (P)
Shutter-Priority Auto (S)
Exposure Compensation ±5 EV in increments of 1/3, 1/2 or 1 EV
Exposure Bracketing 2 to 3 frames in steps of 1/3, 1/2, 2/3, 1 or 2 EV
Exposure Lock Yes
Mirror Lock Up Yes
ISO Sensitivity ISO 100 - 6400
Lo-1 (ISO 50)
Hi-1 (ISO 12,800)
Hi-2 (ISO 25,600)

Lowest Standard ISO Sensitivity 100
Highest Standard ISO Sensitivity 6400
Lowest Expanded ISO Sensitivity Lo-1 (ISO 50 equivalent)
Highest Expanded ISO Sensitivity Hi-2 (ISO 25,600 equivalent)
Expanded ISO Sensitivity Options Hi-1 (ISO 12,800 equivalent)
Hi-2 (ISO 25,600 equivalent)
Long Exposure Noise Reduction Yes
High ISO Noise Reduction Low
Normal
High
Off
Active D-Lighting Auto
Extra High
High
Normal
Low
Off
D-Lighting Bracketing 2 frames using selected value for one frame
3?5 frames using preset values for all frames
Single-point AF Mode Yes
Dynamic AF Mode Number of AF points: 9, 21, 39 and 39 (3D-tracking)
Auto-area AF Mode Yes
Autofocus System Nikon Multi-CAM 4800 autofocus sensor module with TTL phase detection
Detection Range -1 to 19 EV (ISO 100, 68°F/20°C)
Lens Servo Autofocus (AF): Single-servo AF (AF-S); Continuous-servo AF (AF-C); auto AF-S/AF-C selection (AF-A); predictive focus tracking activated automatically according to subject status
Manual focus (MF): Electronic rangefinder can be used
AF-area mode 9, 21 or 39 point Dynamic-area AF
Auto-area AF
Single-point AF
3D-tracking (39 points)
Focus Lock Focus can be locked by pressing AE-L/AF-L button
Focus can be locked by pressing shutter-release button halfway (single-servo AF)
Focus Modes Auto AF-S/AF-C selection (AF-A)
Continuous-servo (AF-C)
Face-Priority AF available in Live View only and D-Movie only
Full-time Servo (AF-A) available in Live View only
Manual (M) with electronic rangefinder
Normal area
Single-servo AF (AF-S)
Wide area
Maximum Autofocus Areas/Points 39
Autofocus Sensitivity -1 to +19 EV (ISO 100, 20°C/68°F)
Autofocus Fine Tune Yes
Built-in Flash Yes
Flash Bracketing 2 to 3 frames in steps of 1/3, 1/2, 2/3, 1 or 2 EV
Built-in Flash Distance 39 ft. (ISO 100)
X-Sync Speed 1/200
Top FP High Speed Sync Up to 1/4000
Flash Control TTL: i-TTL flash control using 2,016-pixel RGB sensor are available with built-in flash and SB-910, SB-900, SB-800, SB-700, SB-600, SB-400 or SB-300; i-TTL balanced fill-flash for digital SLR is used with matrix and center-weighting metering, standard i-TTL flash for digital SLR with spot metering
Flash Sync Modes Front-curtain sync (normal)
Rear-curtain sync
Red-Eye reduction
Red-Eye reduction with slow sync
Slow sync
Flash Compensation -3 to +1 EV in increments of 1/3, 1/2 or 1 EV
Flash-ready indicator Lights when built-in flash or optional flash unit such as SB-910, SB-900, SB-400, SB-80DX, SB-28DX or SB-50DX is fully charged
Accessory Shoe Yes
Nikon Creative Lighting System (CLS) Built-in flash Commander Mode
CLS Supported
White Balance Auto (2 types)
Choose color temperature (2500K?10000K)
Cloudy
Direct Sunlight
Flash
Fluorescent (7 types)
Incandescent
Preset manual (up to 4 values can be stored)
Shade
White Balance Bracketing 2 or 3 exposures
Live View Shooting Photography Live View Mode
Movie Live View Mode
Live View Lens servo Autofocus (AF): Single-servo AF (AF-S); full-time-servo AF (AF-F)
Manual focus (MF)
Live View AF-area mode Face-priority AF
Wide-area AF
Normal-area AF
Subject-tracking AF
Live View Autofocus Contrast-detect AF anywhere in frame (camera selects focus point automatically when face-priority AF or subject-tracking AF is selected)
Live View Scene Auto Selector Auto mode
Auto (flash off) mode
Movie Metering TTL exposure metering using main image sensor
Movie Maximum recording time 20 minutes at highest quality
29 minutes 59 seconds at normal quality
Movie File Format MOV
Movie Video Compression H.264/MPEG-4 Advanced Video Coding
Movie Audio recording format Linear PCM
Movie HD 1,920x1,080 / 30 fps
HD 1,920x1,080 / 25 fps
HD 1,920x1,080 / 24 fps
HD 1,280x720 / 60 fps
HD 1,280x720 / 50 fps
HD 1,280x720 / 30 fps
HD 1,280x720 / 25 fps
Movie Audio Built-in microphone, monaural
External stereo microphone (optional)
Monitor Size 3.2 in. diagonal
Monitor Resolution 921,000 Dots
Monitor Type Wide Viewing Angle TFT-LCD
Monitor Angle of View 170-degree wide-viewing angle
Monitor Adjustments Brightness, 5 levels
Brightness control using ambient brightness sensor
Virtual Horizon Camera Indicator Yes
Playback Functions Auto Image Rotation
Full-Frame and Thumbnail (4, 9, or 72 images or calendar)
Highlights
Histogram Display
Image Comment
Movie Playback
Movie Slideshow
Playback with Zoom
Slideshow
In-Camera Image Editing Color Balance
Color Outline
Color Sketch
D-Lighting
Distortion Control
Edit Movie
Filter Effects
Fisheye
Image Overlay
Miniature Effect
Monochrome
NEF (RAW) Processing
Perspective Control
Quick Retouch
Red-Eye Correction
Resize
Selective Color
Side-by-Side Comparison
Straighten
Trim
Image Comment Yes
Interface Accessory Terminal: Remote Cord: MC-DC2 (available separately); GPS unit: GP-1 (available separately)
HDMI output: Type C mini-pin HDMI connector
Headphone Connector
Hi-speed USB
Stereo Microphone Input
Wi-Fi Functionality Eye-Fi Compatible
WU-1b Wireless Mobile Adapter
GPS GP-1 GPS unit
GP-1A GPS unit
Save/Load Camera settings Yes
Total Custom Settings 50
My Menu Yes with customization
Recent Settings Yes
Date, Time and Daylight Savings Time Settings Yes
World Time Setting Yes
Battery / Batteries EN-EL15 Lithium-ion Battery
Battery Life (shots per charge) 900 shots (CIPA)
AC Adapter EH-5b AC Adapter
Requires EP-5B Power Supply Connector
Battery Charger MH-25 Quick Charger
Tripod Socket 1/4 in.
Approx. Dimensions (Width x Height x Depth) 5.6 in. (141 mm) x 4.4 in. (113 mm) x 3.2 in. (82 mm)
Approx. Weight 26.8 oz. (760 g) camera body only
Operating Environment 0?40 °C (+32?104 °F)
Supplied Accessories

EN-EL15 Rechargeable Li-ion Battery
MH-25 Quick Charger
UC-E15 USB Cable
BM-14 LCD Monitor Cover
DK-21 Rubber Eyecup
AN-DC10 Strap
DK-5 Eyepiece Cap
BF-1B Body Cap
BS-1 Accessory Shoe Cap
NikonView NX2 CD ROM