New Logos For HDMI Cables Unveilled
The HDMI Licensing, LLC has anounced the new logos for the cables that support the HDMI Specification Version 1.4. According to the new guidelines, HDMI adopters may no longer use HDMI version numbers in the labeling, packaging, or promotion of any cable product. This is effective immediately for any references to the HDMI Specification Version 1.4, and Adopters have a one-year grace period for removing references to earlier versions of the HDMI specification when describing their cables, HDMI Licensing, LLC said.
Effective as of January 1, 2012, all non-cable products cannot make any reference to HDMI version numbers. Until that time Adopters can use HDMI version numbers only when the feature or features associated with that HDMI version number is clearly specified. For instance, a manufacturer can describe a product as featuring "HDMI v.1.4 with Audio Return Channel and HDMI Ethernet Channel," but may not describe a product as being "HDMI v.1.4 compliant."
With the release of the HDMI Specification Version 1.4, there are five cable types, all with different capabilities and performance characteristics. To help ensure that retailers, installers, and consumers easily identify the right cable for the right application, the cable type name must be clearly marked on every cable.
In addition, HDMI Licensing, LLC has created a set of distinctive cable type logos to be used in cable packaging.
All cables must labeled as one of the five types listed below: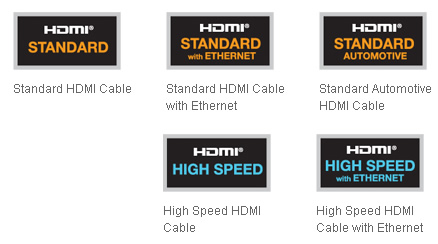 The major enhancements introduced in the HDMI 1.4 specification include:
HDMI Ethernet Channel - Adds high-speed networking to an HDMI link, allowing users to take full advantage of their IP-enabled devices without a separate Ethernet cable.
Audio Return Channel - Allows an HDMI-connected TV with a built-in tuner to send audio data "upstream" to a surround audio system, eliminating the need for a separate audio cable. (more)
3D - Defines input/output protocols for major 3D video formats, paving the way for true 3D gaming and 3D home theater applications.
4K Support - Enables video resolutions far beyond 1080p, supporting next-generation displays that will rival the Digital Cinema systems used in many commercial movie theatres.
Content Type - Real-time signaling of content types between display and source devices, enabling a TV to optimize picture settings based on content type
Additional Color Spaces - Adds support for additional color models used in digital photography and computer graphics.
HDMI Micro Connector - A new, smaller connector for phones and other portable devices, supporting video resolutions up to 1080p.
Automotive Connection System - New cables and connectors for automotive video systems, designed to meet the unique demands of the motoring environment while delivering true HD quality.
For more information, visit
http://www.hdmi.org