New HyperX FURY DDR4 and Impact DDR4 Product Lines Support Automatic Plug N Play Overclocking
HyperX, the gaming division of Kingston Technology, is adding higher frequency memory modules to the HyperX FURY DDR4 DIMM and HyperX Impact DDR4 SODIMM product lines.
FURY DDR4 DIMMs and Impact DDR4 SODIMMs both offer automatic Plug N Play overclocking functionality. FURY DDR4 is now available up to 3466MHz and Impact DDR4 is now available up to 3200MHz. Both product lines are available as single modules and as various kit configurations from 8GB to 64GB.
HyperX FURY DDR4 is a cost-efficient upgrade for Intel and AMD's latest platforms. It features Plug N Play, which enables automatic memory overclocking at standard DDR4 1.2V settings. The new FURY DDR4 additions are available in black, red and white low-profile heat spreader color options that feature the FURY asymmetrical heat spreader design with black PCB.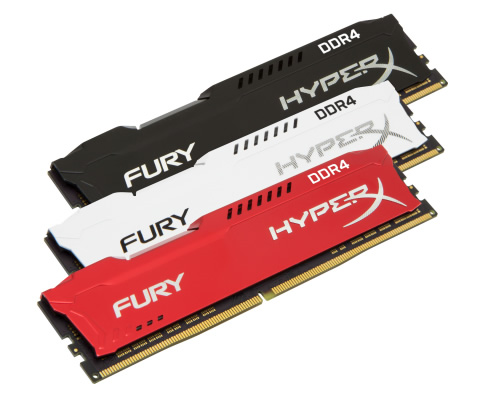 HyperX is also expanding its Impact DDR4 SODIMM family with new higher speeds in capacities up to 16GB modules and kit configurations up to 64GB. Voltages are based on standard 1.2V values, and support XMP profiles for easy overclocking. Upgrading using the Plug N Play feature allows for automatic overclocking to the highest published frequency within the system speed allowance.
HyperX FURY DDR4 DIMMs and HyperX Impact DDR4 SODIMMs are now available.
HyperX FURY DDR4 Specifications
Capacities
Singles: 4GB, 8GB, 16GB
Kits of 2: 8GB, 16GB, 32GB
Kits of 4: 16GB, 32GB, 64GB
Frequencies: 2400MHz, 2666MHz, 2933MHz, 3200MHz, 3466MHz
Latencies: CL15, CL16, CL17, CL18, CL19
Voltage: 1.2V
Operating Temperatures: 0°C to 85°C
Dimensions: 133.35mm x 34.04mm

HyperX Impact DDR4 SODIMM Specifications
Capacities
Singles: 4GB, 8GB, 16GB
Kits of 2: 8GB, 16GB, 32GB
Kits of 4: 16GB, 32GB, 64GB
Frequencies: 2400MHz, 2666MHz, 2933MHz, 3200MHz
Latencies: CL14, CL15, CL17, CL20
Voltage: 1.2V
Operating Temperatures: 0°C to 85°C
Dimensions: 69.6mm x 30mm