New Apple 9.7-inch iPad with Apple Pencil support Costs $329
Confirming previous reports, Apple today updated the iPad with support for Apple Pencil plus even greater performance, starting at $329.
The new 9.7-inch iPad and Apple Pencil give users the ability to sketch ideas, jot down handwritten notes or mark up screenshots. The new iPad features a large Retina display, the A10 Fusion chip and sensors that help deliver augmented reality, and provides portability, ease of use and all-day battery life.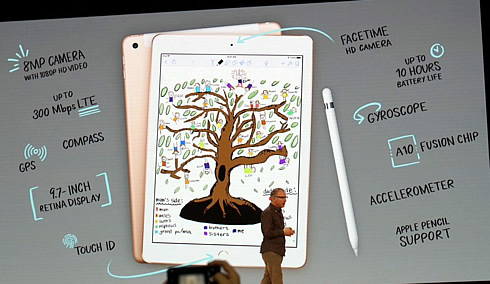 iPad's 9.7-inch Retina display delivers detail and vivid colors, and features a higher-resolution touch sensor that enables Apple Pencil support. First introduced for iPad Pro, Apple Pencil delivers a fluid drawing experience. Sensors measure both pressure and tilt, and provide pixel-perfect accuracy and low latency for activities from note taking to illustration in apps like Notability, Pages, Numbers, Keynote and Microsoft Office. iPad's palm rejection technology even makes it possible to rest your hand on the screen while you use Apple Pencil.
The new iPad features the Apple-designed A10 Fusion chip with 64-bit desktop-class architecture, delivering 40 percent faster CPU and 50 percent faster graphics performance - when compared to the previous 9.7-inch iPad - for multitasking and graphics-intensive apps. The front- and rear-facing cameras offer low-light performance and HD video recording for document scanning, moviemaking and FaceTime calls.
The new iPad is a large viewfinder for AR experiences. Its Retina display, powerful chip, enhanced cameras and sensors, including a gyroscope and accelerometer for accurate motion tracking, are designed to support AR apps.
The new 9.7-inch iPad features an aluminum unibody construction and ultrafast wireless that can deliver two times faster cellular data connections. With Apple SIM, users can connect to wireless data plans right from their device when traveling in more than 180 countries and regions.
iOS 11 introduces new features for iPad. The Dock provides quick access to frequently used apps and documents from any screen, and makes it easier to multitask with Split View and Slide Over. Drag and Drop makes moving images, text and files between apps easy. Apple Pencil is more deeply integrated into iPad with support for inline drawing. The Files app provides a central place to access and organize files no matter where they are located - on iPad or in the cloud with built-in support for iCloud Drive and providers like Box, Dropbox and others.
iPad comes in silver, space gray and a new gold finish and starts at an Apple retail price of $329 (US) for the 32GB with Wi-Fi model and $459 (US) for the 32GB Wi-Fi + Cellular model.
Apple Pencil is available for purchase separately for $99 (US).
Schools can purchase iPad starting at $299 (US) and Apple Pencil for $89 (US).

Smart Covers for iPad are available for $39 (US) in charcoal gray, midnight blue, (RED), white and pink sand at apple.com and Apple Stores.
iWork update
Apple is updating its iWork suite of productivity apps - Pages, Numbers and Keynote - with new features that make it easy to add more creativity to your documents, spreadsheets and presentations on iPad. Users will be able to draw, sketch or write with Apple Pencil directly in the Pages, Numbers and Keynote apps. With Apple Pencil, tools allow all users, from students to professionals, to bring their documents to life with drawings, illustrations, diagrams and more. Apple Pencil can also be used to add color, texture and more to any drawing.
Smart Annotation, launched today in beta, is a new tool in Pages that allows users to easily give, receive and incorporate feedback in a document using Apple Pencil. With Smart Annotation, comments and proof marks will dynamically anchor to text. And as a user integrates feedback and the document changes, remaining annotations will stay with the text they were attached to.
Book creation is now possible in Pages for iOS and macOS, making it easy for anyone to create interactive digital books, from short stories to travel books. Users can start a book using a variety of templates, and then customize it with drawings using iWork's new drawing tools or with image galleries and videos from their Photos library. Users can collaborate in real time with their classmates or colleagues to create books together on iPad, iPhone, Mac and iCloud.com. Books can then be shared and will display in iBooks.
Additional new features include Presenter Mode in Pages, allowing users to transform their iPad or iPhone into a virtual teleprompter for distraction-free reading. The text can auto scroll at an adjustable speed, and text size, spacing, font and background color are all customizable during text playback. Integration with Box lets users collaborate in real-time in Pages, Numbers and Keynote documents stored in Box.
Pages, Numbers and Keynote on iOS and Mac are free and come preloaded onto most devices. Today's updates are available to download on the App Store and Mac App Store.
Schoolwork App That Personalizes Learning
Apple also announced Schoolwork, a new app that helps teachers create assignments, see student progress and tap into the power of apps in the classroom.
Schoolwork features Handouts, an easy way to create and send assignments with almost any type of content, from web links to PDFs and documents.
With Schoolwork, teachers can assign a specific activity within an app and direct their students directly to the specific point within the app. Popular education apps like Nearpod, Tynker and Kahoot are already integrating support for Schoolwork.
Developers can update their apps to take advantage of Schoolwork by utilizing ClassKit, a new education framework, to make it easy to assign activities and view student progress.
With Schoolwork, teachers have a snapshot of each student's overall class performance and can check on students' app activities and progress on their assignments.
Developed in collaboration with educators, Everyone Can Create includes teacher and student guides, lessons, ideas and examples to help teachers bring creativity and new communication skills into their existing subjects like English, math and science.
Beginning later this spring, Apple Stores will begin teaching Everyone Can Create as part of their regular Today at Apple sessions for educators.
Apple also announced that Classroom, a teaching assistant that helps teachers manage student iPads and guide students through lessons, keep them on track and share work, is now coming to the Mac.
With Classroom, teachers can launch apps, books and webpages on all student devices at once or send and receive documents. Classroom lets teachers view student screens during class to help students stay focused, assign shared iPads to specific students for class and even reset a student's password. The Mac version of the app will be available in beta starting in June.
Last but notleast, starting today, Apple announced that any teacher or student with a Managed Apple ID has access to 200GB of free iCloud storage.