New AMD Radeon Software Crimson Edition Available For Download
The recent formation of the Radeon Technologies Group (RTG) has made the new Radeon Software Crimson Edition graphics software suite available for download. Initially announced on November 2, AMD's new graphics software delivers redesigned functionality, supercharged graphics performance and new features.
The new user interface has been named Radeon Settings. Radeon Settings has been built ground up in Qt (Qt is a software development framework with modular cross-platform libraries and tools) resulting in 10x faster start up, and 3X Faster initialization of the display than with the AMD Catalyst driver, according to AMD. It also has new navigation, a new game manager, new overdrive, and new video, display and AMD Eyefinity technology sections.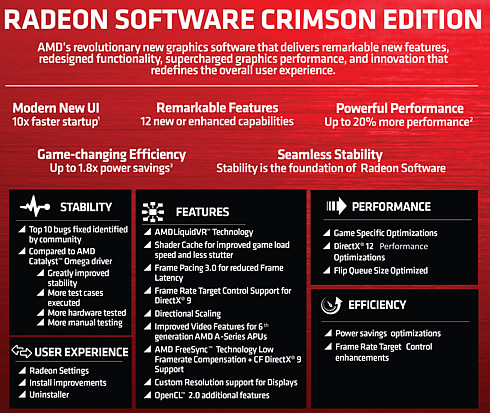 The software platform also showcases the latest AMD technologies:
AMD LiquidVR technology is AMD's initiative dedicated to making VR as comfortable and realistic as possible by helping reduce the motion-to-photon latency

Asynchronous Shaders break complex serial workloads into many parallel tasks, resulting in more parallelism, lower latency and more responsive VR.

Radeon Software Crimson offers a new "Shader Cache" option that reduces stutter and can launch your games up to 33 percent faster than last year's Catalyst Omega drivers, AMD says. The feature can be enabled on a per-game basis inside the game-specific options in Radeon Settings' new Games hub.
AMD FreeSync Technology enhancements
Support for AMD Crossfire in DirectX 9 games

Low framerate compensation - uses an adaptive algorithm to keep your games as smooth and tear-free as possible under the minimum refresh window.
Working with monitor vendors to enable AMD FreeSync technology through HDMI
AMD's variable refresh rate display technology gives you a smooth gameplay experience inside of predefined frame rate windows, such as 45fps to 75fps. Nvidia's proprietary G-Sync solution has long handled sub-optimal frame rates in a superior fashion, by doubling or tripling individual frames in order to maintain the smooth look without flickering effects.

Custom Resolution support for Displays

Up to 56% more screen real estate with Windows 10 through Virtual support resolution (Requires Windows 10 with 150+ DPI capable monitor)

Frame Pacing 3.0 for smooth game play
Frame Rate Target Control Support for DirectX 9 - Support for DirectX 9, DirectX 10 and DirectX 11

AMD's Frame Rate Target Control lets you cap the maximum frame rate output of your GPU, so that it doesn't waste power rendering frames you won't notice anyway. Whereas before FRTC only worked with DirectX 10 and 11 games and was capable of limiting frames to between 55fps and 95fps, the new software embraces DX9 titles, and the frame rate limits are being expanded to between 30fps and 200fps.

Directional Scaling helps improve smoothness of edges when displaying 1080p video on 4k displays

AMD's latest sixth-generation APUs will video look smoother, with less motion blur, AMD says new Advanced Detail Enhancement technology in the drivers will sharpen images further as well, building on the 1080p Detail Enhancement introduced in last year's Catalyst Omega drivers. The AMD A8-8600P and higher APUs and Radeon R9 380 and higher GPUs pick up an updated dynamic contrast ratio algorithm, while the Fiji GPU-based Radeon Fury, Fury X, and Nano graphics cards have a new directional scaling feature that more intelligently scales 1080p and 2K imagery to fit 4K screens. The goal: to eliminate the "staircase effect" common when up-scaling images to higher resolutions.

Improved Video Features for 6th generation AMD A-Series APUs
In terms of performance, Radeon Software Crimson Edition also showcases the latest AMD technologies and advances:

up to 33% faster game load times in Star Wars Battlefront
up to 20% more gaming performance in Fable Legends 2
improved cursor and keyboard responsiveness
up to 1.8x GPU power savings with Frame Rate Target Control
Increased power savings of up to 23%
In addition, wih the Radeon Software Crimson Edition software AMD is delivering a number of tools to help developers code, analyze, and debug the next great applications such as OpenCL 2.0 optional features and AMD CODEXL 1.9.
Beyond new features, Radeon Software Crimson lets you tinker with your displays: setting custom resolutions, timings, refresh rates, and pixel clocks for each screen in your setup.
AMD also says it conducted far more testing than that to help ensure Radeon Software Crimson's stability, with 100 percent more automated testing and 25 percent more manual testing across 15 percent more system configurations.