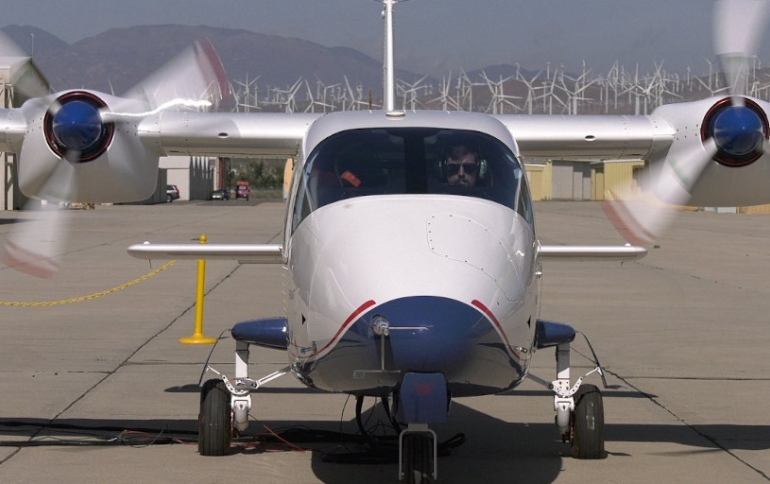 NASA Unveils the X-57 "Maxwell" Electric Airplane
NASA on Friday showcased an early version of its first all-electric experimental aircraft, the X-57 "Maxwell," at its aeronautics lab in the California desert.
The X-57 has been under development since 2015 and remains at least a year away from its first test flight in the skies over Edward Air Force Base.
The primary goal of the X-57 project is to share the aircraft's electric-propulsion-focused design and airworthiness process with regulators, which will advance certification approaches for distributed electric propulsion in emerging electric aircraft markets.
The X-plane is being built by modifying a baseline Italian Tecnam P2006T to be powered by an electric propulsion system. The advantage of using an existing aircraft design is that data from the baseline model, powered by traditional combustion engines, can be compared to data produced by the same model powered by electric propulsion.
The project is being executed through four phases, referred to as "modifications", of testing.
The X-57's final configuration features 14 electric motors and propellers (12 high-lift motors along the leading edge of the wing and two large wingtip cruise motors).
The high-lift motors are electrically powered to generate enough lift for X-57 to be able to take off at standard Tecnam P2006T speeds, even with the high aspect ratio experimental wing.
The high-lift motors and propellers are designed to activate, along with the wingtip cruise motors, to get the X-plane airborne. When the plane levels out for cruise mode, the high-lift motors will then deactivate, and the five propeller blades for each motor will then stop rotating, and fold into the nacelles, so that they don't create unwanted drag during cruise. The two wingtip cruise motors will maintain flight during this phase of the flight.
When the time comes to land, the motors will then reactivate, and centrifugal force will cause the propeller blades to unfold and create the appropriate lift for approach and landing.
The design driver for X-57 will also seek to reach the goal of zero carbon emissions in flight, which would surpass the 2035 N+3 efficiency goals. Electric propulsion provides not only a five-to-ten times reduction in greenhouse gas emissions, but it also provides a technology path for aircraft to eliminate 100 Low Lead AvGas, which is the leading contributor to current lead environmental emissions.
NASA deemed the Maxwell ready for its first public preview. NASA on Friday also showed off a newly built simulator that allows engineers, and pilots, to get the feel of what it will be like to manoeuvre the finished version of the X-57 in flight, even as the plane remains under development.
Due to current battery limitations, the Maxwell's design is envisioned for use in short-haul flights as an air-taxi or commuter plane for a small number of passengers.