Motorola Launches Moto 360 Smartwatch, New Moto X, Moto G Smartphones, And The Moto Hint
Motorola used IFA to announce a major refresh of its product line: a new Moto X, new Moto G, the Moto Hint wireless ear bud, the Motorola Power Pack Micro and the launch of the Moto 360 smartwatch. The new Moto X is featuring a curved metal frame, a 5.2" AMOLED 1080p display, and authentic materials such as FSC certified woods and genuine Horween leather. The Android smartphone supports voice control and can be customized through Motorola's online customization studio, Moto Maker, available in the United States and select international markets.
The new Moto X measures 140.8 x 72.4mm (5.54 x 2.85-inches) with its tapered back ranging from 3.8-9.9mm (0.15-0.38inches).Inside the Moto X also gets an overhaul with a Qualcomm Snapdragon 801 chipset like the Galaxy S5 and HTC One M8. There is also a bump from an Adreno 320 450MHz GPU to an Adreno 330 running at 578MHz.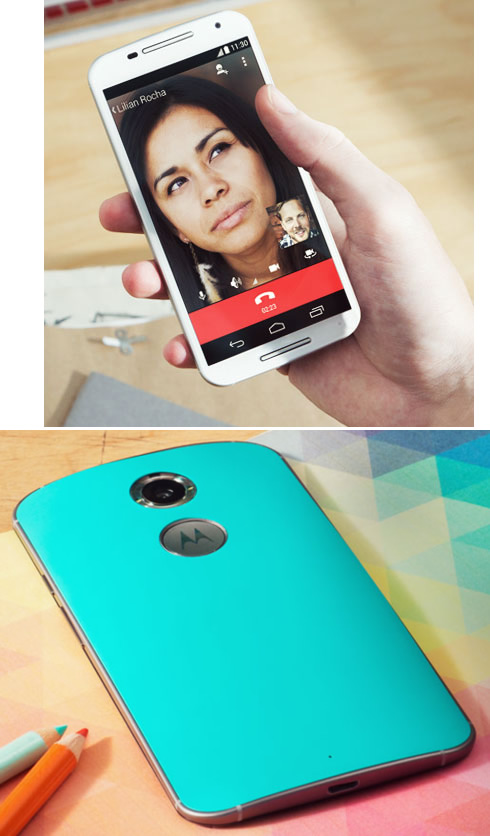 The device is ready for an upgrade to the impending Android L (expected to be Android 5.0) within 30 days of launch – a launch that should happen this month.
On top of this the Moto X camera gets a boost from a 10 megapixel sensor (f2.4) with LED flash and 1080p video to a 13 megapixel sensor (f2.25) with dual flash and 4k (Ultra HD) video recording. The new handset also has four microphones and a 2300mAh battery.
The new Moto X will be coming to countries in North America, Latin America, Europe and Asia starting later this month. Moto X will be available for as low as $99.99 with a new two-year customer agreement on select carriers in the US. It will be available off-contract and unlocked in the US from $499.99 on motorola.com.
The updated Moto G now comes with a 5" HD display (1280 x 720 pixel, 294ppi) plus stereo sound. It has an all-day battery, quad-core speed, the latest Android OS, plus the ability to customize thephone with Motorola Shells.
Its rear camera steps up from 5MP (f2.4) to 8MP (f2.0) and on the front from 1.3MP to 2MP. It also features a microSD slot and
uses the old Snapdragon 400 1.2GHz quad core processor with Adreno 305 GPU. But unforunately, the new Moto G has no 4G.
The new Moto G is available starting today unlocked and off-contract for $179.99 USD on motorola.com, as well as retailers in the US. Moto G also goes on sale today in India, France, UK, Brazil, Spain, and on motorola.de in Germany. By end of year, the new Moto G will be available through several carrierd around the world.
Moto 360 is a classically-designed smartwatch powered by Android Wear. It offers updates or you can just speak to get the info you need, keep track of your steps and know your heart rate thanks to a built-in pedometer and heart rate monitor.
The Moto 360 has a 1.5-inch screen with a 320 by 290 pixel resolution. The bottom of the screen has a black band for the display driver and an ambient light meter. At 49g (1.72oz) with a 46mm (1.81-inch) diameter and 11mm (0.43-inch) height, the IP67 water resistant device is substantial without being overly bulky.
It is powered by a TI OMAP 3 processor, has 4GB of integrated storage and an integrated heart rate monitor. The battery has a 320mAh capacity and should last "all day," according to Motorola. Its battery can be charged on its wireless charging dock at night.
Moto 360 will be available in black leather and a limited edition gray leather with suede finish in the US today starting at noon EST for $249.99 USD on motorola.com, Google Play, and through Best Buy stores and BestBuy.com. Additionally, Moto 360 will be available in two metal options later this fall for $299.99 USD. For those who buy a Moto 360 today, there will be an option to purchase a metal band later this fall for $79.99 USD. Leather bands will also be available independently for $29.99 USD at that time.
Moto Hint is a discreet wireless earbud. Despite its diminutive size, the Hint is also smart. The main pull is the Hint is voice activated and this ties in with Google Voice search allowing you to ask questions, answer calls and receive turn-by-turn navigation directions all without touching or looking at your phone. When paired with your Moto X, you can ask questions like "What's today's forecast?".

Moto Hint will be available on motorola.com and select retailers in the US for $149.99 USD later this fall and will expand to other regions in time for the holidays.
Motorola Power Pack Micro is a portable battery that provides instant access to back-up power. It also includes Motorola Keylink, a phone and key finder which helps locate your phone or keys when they've been misplaced.
Power Pack Micro will be available on motorola.com in the US for $39.99 starting today.

Specifications
Power Pack Micro
Design Materials / Colors: Dark canvas, light canvas, spice, red, violet, lemon lime, turquoise, royal blue
Dimensions (L X W X H): 41mm x 17mm x 60mm
Weight: 1.7 oz
Battery capacity: 1500 mAh,
Amps: 1.0 amp output
Moto Hint

Bluetooth Profiles

A2DP 1.3
Hands Free (HFP) 1.6
AVRCP 1.4, HSP 1.2
Phone Book Access Profile (PBAP) 1.1
Generic Audio Visual Distribution Profile (GAVDP) 1.2
Bluetooth Technology 3.0 + EDR

In-Ear Sensors:

IR Proximity detectors
Power and Battery

Put Moto Hint in ear to turn on.
Put Moto Hint in the charging case to turn off
Up to 100hrs standby time
Up to 10 hours talk time with charging case

Moto X

Operating system: Android 4.4.4 KitKat
Storage (ROM)
Motomaker: 32GB
Dimensions:

Height 140.8 mm
Width 72.4 mm
Depth 9.97mm
Weight 144 grams

Camera:

Rear camera: 13MP F2.25
Front Camera: 2MP (1080p)

Audio: Speakers: front-facing and at bottom
Processor: MSM8974-AC 2.5GHz Qualcomm Snapdragon 801 with quad-core CPU
RAM 2GB
Display: 5.2" (423 ppi), 1080p OLED, Corning Gorilla Glass 3
Connectivity:

Wifi 80211.ac
BT 4.0LE
USB centered at bottom
3.5mm Headset Jack

Battery: 2300 mAh

Moto G

Operating system: Android 4.4.4 KitKat
Storage (ROM):

SS-8GB
DS-8GB & 16GB versions
DS DTV - 16GB

SIM card slot
SD Card Slot
Dimensions: 70.7 x 141.5 x 10.99mm
Weight < 149g
Camera:

Rear camera: 8 MP AF
Front Camera: 2 MP

Audio: 2 Speakers: front-facing, 2 Mics
Processor: AP 1.2GHz Quad
GPU Adreno 305 450MHz Single
AP + BP MSM8226
RAM < 1GB
Display: 5" 720p HD
Connectivity:

Wifi 80211.ac
BT 4.0LE
USB centered at bottom
3.5mm Headset Jack

Battery: 2070 mAh
Moto 360

Available models

Light stainless steel case + gray Horween leather band
Dark stainless steel case + black Horween leather band
Light stainless steel case + stone Horween leather band


Compatibility:

Smartphones running Android 4.3 or higher (check compatibility at g.co/WearCheck)


Operating system: Android Wear
Display: 1.56" 320 x 290, 205ppi Backlit LCD, Corning Gorilla® Glass 3
Watch case dimensions: 46mm diameter by 11.5mm high
Weight: Leather band model: 49g
Battery: 320mAh, All day (mixed use)
Wireless charging with charging dock included
Processor: TI OMAP 3
Memory: 4GB internal storage + 512MB RAM
Connectivity: Bluetooth 4.0 Low Energy
Sensors:

Pedometer
Optical heart rate monitor (PPG)
Water resistance IP67


Other:

Single physical button
Vibration motor
Dual microphones